Features
Is Swarm Based on a True Story?
Believe it or not, Prime Video's dark comedy about obsessive standom is based on a true story...several in fact.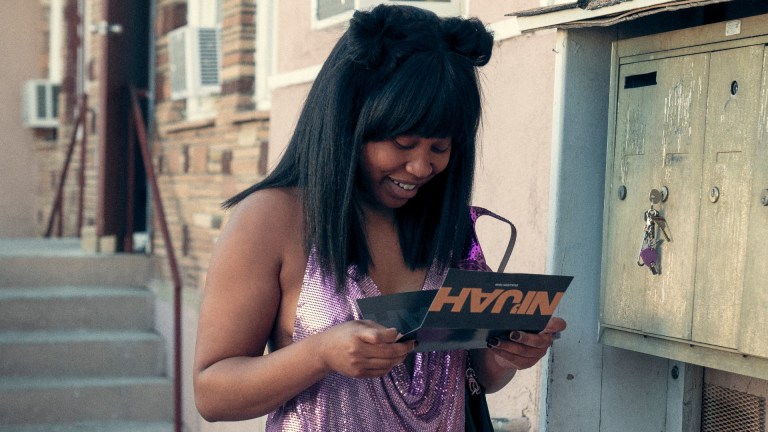 Swarm, the latest TV project from Atlanta creator Donald Glover and Atlanta contributor Janine Nabers, isn't shy about its inspirations.
This surreal seven-episode Prime Video horror saga follows a young woman named Andrea "Dre" Greene (Dominique Fishback) whose obsession with fictional pop music legend Ni'Jah takes her to some dark, violent places. If the name of the show and the persistent buzzing of a bee hive that opens each episode didn't make it clear, Ni'Jah is very clearly an analogue for our culture's own queen bee: Beyoncé Giselle Knowles-Carter…or more simply "Beyoncé."
In speaking to Den of Geek prior to Swarm's premiere at SXSW 2023, Nabers discussed the legal and creative intricacies of crafting a fictional character based on the world's biggest music star.
"Amazon is a very successful corporation so nothing gets past them that is not finely combed through," Nabers says. "When we set out to write this show, we were focusing on a feeling – the feeling that this pop star gives. Obviously, Beyoncé is the most famous Black woman singer in the world. People will project that onto the character, which is fine. But it's really a feeling. Beyoncé and Donald are also really good friends so it's not like we're throwing anyone under the bus on this show."
Though set in a heightened fictional world that only occasionally resembles our own, each episode of Swarm begins with a curious statement that promises veracity. While some shows that lightly touch upon real events are careful to offer a disclaimer that this is all a work of fiction, Swarm's disclaimer is more of a "claimer." The text that runs before the beginning of each Swarm episode reads, "This is not a work of fiction. Any similarity to actual persons , living or dead, or actual events, is intentional."
According to Nabers, that claimer text isn't just a creative flourish but a sincere promise. The show's writing staff (which includes Nabers, Glover, Glover's brother Stephen, and Malia Obama) spent six months researching real life events involving obsessive standom and true crime before inserting their lead character, Dre, into them.
"We start with the saying 'this is not a work of fiction,' which is true," Nabers says. "When you're looking at the seven episodes that span a two and a half year period, we are basically showing things that have existed on the internet as stories or news stories and then we put our main character in the middle of all of that."
Each of Swarm's seven episodes includes a largely self-contained story of fandom gone awry so viewers can go on their own online scavenger hunt to find the source of inspiration. In terms of episode one "Stung," Nabers confirmed to PopBuzz that the story was based on a rumor of a woman named Marissa Jackson who committed suicide upon seeing Beyoncé's visual album Lemonade because it confirmed that Jay-Z had cheated on her.
Combining these real life tales and rumors into a darkly comedic horror parable makes for satisfyingly surreal television, which is the sweet spot for the creatives behind Swarm. Glover and Nabers' previous work on Atlanta (particularly the horror heavy Atlanta season 3 in which Nabers penned an episode) has consistently been affectionately labeled as surreal. And it's a label that Nabers embraces with this show.
"As a Black woman approaching any story, I think America has projected an idea of Blackness onto storytelling so there's a formula people are used to watching," she says. "Subverting a narrative, subverting a character, thinking outside the box, adding a surrealistic element to a story is always more powerful and elevated in my opinion. Atlanta set that tone. I think this show will be setting that tone more in the space of horror."
All seven episodes of Swarm are available to stream on Prime Video now.