News
Community Movie: Donald Glover on Newfound Love for Series, Open to Film
During a Community cast reunion on Zoom, Donald Glover reflected on how "punk" the show now looks. He also speculated about a Community movie plot.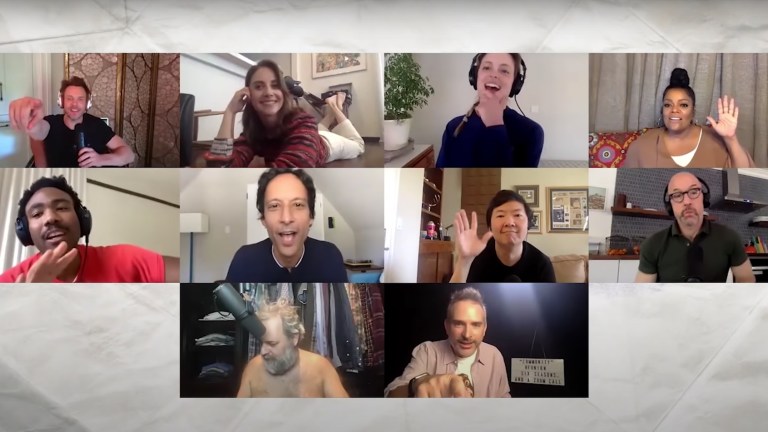 Ten years is a long time. Yet it's been that and more since Community first premiered on NBC in the fall of 2009. Originally greenlit as a lighthearted single-camera sitcom about community college misfits, the series created by Dan Harmon turned out to be much weirder and outside-the-box than that. In retrospect, this was its virtue, as was its deep bench of talent that in addition to Harmon included future award winning talent like Donald Glover, Alison Brie, Jim Rash, and Avengers: Endgame directors Joe and Anthony Russo. But at the time, its quality was sometimes hard to quantify for NBC and that aforementioned talent. Hence Glover leaving the series midway through season 5 in 2014.
Still, in a testament to the series' legacy, its "cult" fandom status has gone mainstream, particularly as Community's entire series premiered on Netflix earlier this year. And now six years after NBC cancelled it—and five years after it seemed to die for good on the failed Yahoo! Screen streamer service—the entire original cast (minus Chevy Chase) reunited for an internet streamed Zoom reunion table read and Q&A. And Glover, now the Emmy winning creator of Atlanta (and young Lando Calrissian), seemed much more nostalgic about the series than how he was described as dryly looking back at it in The New Yorker a few years ago.
"Watching it now, I'm like, 'Oh this show is really punk,'" Glover said on a Zoom Q&A hosted by Variety's Michael Schneider. "It's really subversive and kind of punk, and at the time, it didn't feel like… our show was the cool thing. Like I had lunch with friends on Parks and Rec, and people were like, 'Oh that's the cool show.'"
Indeed, Community's meta-textual and self-aware humor, which gravitated increasingly to the bizarre and more esoteric in later seasons (such as an entire episode modeled after Ken Burns' Civil War documentary) earned it a large following of fans who recognized the sitcom tropes being deconstructed. But it also earned the show a much smaller audience than the era's then most popular laughers.
"Now I watch [Community], and I'm like, 'Yo, this show—I want to watch this show like it was brand new,'" Glover continued. "It's a sitcom, but it makes fun of sitcoms."
Glover participating in the cast reunion, which also included a table read of the season 5 episode "Cooperative Calligraphy"—and no less than with Game of Thrones and The Mandalorian's Pedro Pascal subbing in for Walter Goggins—also likely gives Community fans a lot of hope that a Community movie could actually happen. Originally beginning as a joke among fans after a season 2 episode featured character Abed (Danny Pudi) say his favorite nerdy show would get "six seasons and a movie," the hashtag #SixSeasonsandaMovie was adopted by the cast and writers—to the point where the season 6 (and series) finale ended with the title card, "#andamovie."
But in the five years since then, every actor and creator on the series has fielded the "movie question" with skepticism. In fact, Joel McHale and Harmon have repeatedly said they weren't sure a movie could happen if Glover wasn't onboard, and he may be too busy between Atlanta and his musical career as rapper Childish Gambino.
Yet during the Zoom call, Glover was half-jokingly pitching ideas for the Community movie, specifically imagining how it could be about Abed finding out what happened to his best buddy Troy Barnes, the Glover character who was last seen embarking on a voyage to sail around the world with Reading Rainbow idol LeVar Burton for a year—never to return.
"Am I writing the movie on the fly or something?" Glover asked himself when speculating on what happened to Troy. "He's probably lost. I feel like Abed's got to find him. I like those movies." Harmon then feigned he was writing notes before quipping, "It writes itself. We'll do some Die Hard references!"
Still, at the end of the Q&A, when asked for a show of hands of who would be onboard for a Community movie, the whole cast raised their hands, including Glover (as seen in the above image), albeit he joked no one can shoot a movie right now. And in a more tangible pledge of support, co-star Brie—who herself has gone on to success leading Netflix's GLOW—emphatically said, "I'm up for a movie. I think it would be a blast."
While that isn't a firm commitment—particularly as Harmon seemed to intentionally derail the conversation by taking off his shirt—the excuse that Glover, and therefore Troy, would simply refuse to do a Community movie because of his current success appears to be kaput. And given the show's newfound popularity on Netflix—a streaming service Brie is quick to point out she has a lot of love working for during the Q&A—it seems fewer and fewer obstacles remain. So how about it, Dan?
You can watch the full Q&A below.