Features
Atlanta Season 3: Inside That Spooky First Scene
Atlanta season 3 opens with a haunting parable that teases a new theme and harkens back to the days of Teddy Perkins.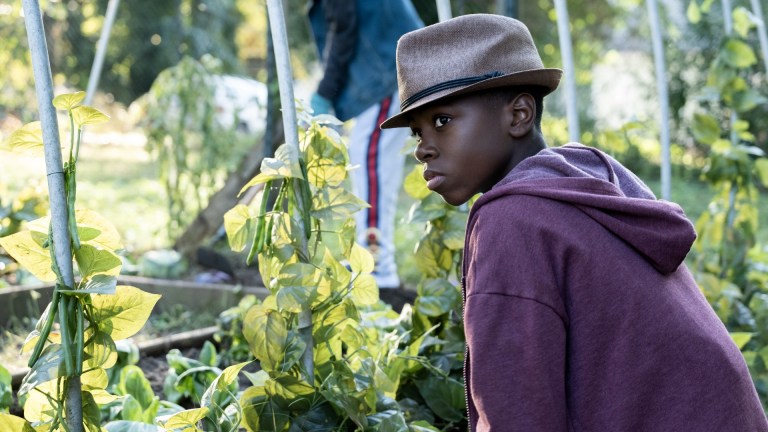 This article contains spoilers for Atlanta season 3 episode 1.
Fans have waited a long time for Atlanta season 3. The FX comedy (among other genres) created by and starring Donald Glover last aired on May 10, 2018. After that, Glover got busy with his multi-hyphenate career – winning a Grammy as his musical alter ego Childish Gambino, starring as Lando Calrissian in Solo: A Star Wars Story, and even directing his own feature film, Guava Island.
By the time Glover and the rest of the Atlanta crew were ready to reconvene, the global COVID-19 pandemic delayed ever further. But the gang eventually got back to work and now the long-awaited Atlanta season 3 has finally premiered with two episodes airing on FX on March 24. Imagine viewers' surprise, however, when the opening scene of the first episode doesn't feature main characters Earn Marks (Glover), Paper Boi (Brian Tyree Henry), Darius (Lakeith Stanfield), Van (Zazie Beetz), or really any other recognizable characters.
Instead, the first moments of Atlanta season 3 are devoted to one quiet, haunting conversation between two fishermen on a humid Georgia night. Not only that but that scene is merely a prologue for the rest of the episode that also doesn't feature any major characters (and is based on the Hart Family murders). Why would Glover and the show's writers make such a bold choice for a season opener?
"Because I wanted to do some stuff that other people don't do, and I just wanted to be brash, honestly," Glover told Den of Geek prior to the season airing.
Though the moment is indeed brash and bold, it also serves as a helpful appetizer of one of season 3's big themes: curses, specifically the "curse of whiteness". During the summer of 2020 after George Floyd was murdered in Minneaopolis and protestors took to the street country-wide demanding racial justice, Glover recalls watching a CNN contributor (though he can't remember who) discussing the state of race in America.
"(He) was saying it was freeing white people of the burden of having to be white, which we thought was really interesting," Glover says. "Just in the general sense that, without each other, blackness or whiteness doesn't exist. It's an idea that's made up, all of it. It's something that we all just kind of agreed to."
With that in mind, the enigmatic conversation between the two unknown characters takes on an added bit of resonance in the Atlanta season 3 premiere. The two unnamed men, one of whom is white and one of whom is Black, begin the season by discussing the spooky feeling the Black man gets when fishing on this still reservoir (which is likely based on Lake Lanier in northern Georgia, which is named after a Confederate poet). The white man responds that that makes sense as there's a whole town underneath them.
"This whole lake used to be a town," he says. "Houses, barns, roads. State government built a dam and flooded the place. People who didn't leave, drowned. Town was Black too. Self-governed Black town."
The man goes on to add that the folks in the Black town opted not to leave as they thought they were "almost white" and it would save them. After all, there's no scientific basis for whiteness. It's where you are and when you are. As his Black friend grows silent, the white fisherman delves into a lengthy, haunting monologue about the lost town and the curse of whiteness. Here it is, transcribed for posterity's sake.
"When they dammed the Chattahoochee, some didn't leave. Thought they were safe. They paid to be white. With enough blood and money, anyone can be white. It's always been that way. But the thing about being white is…it blinds you. It's easy to see the Black man is cursed because you've separated yourself from him. But you don't know you're enslaved just like him. Cold whiteness. Hypothermic. You lose logic. You see the blood. And you think someone else is bleeding. Everyone is screaming at you to turn the machine off. But you can't hear 'em. You can't even hear yourself. See, we're cursed too. We're cursed too."
At that moment dark hands emerge from the inky water to drag the Black fisherman down and Atlanta season 3 begins in earnest.
"I just thought it was interesting to play with the idea of like 'what if you built this system, but you can't see it?'" Glover says.
As viewers who stuck around for episode 2 know, Atlanta season 3 eventually does get into the main thrust of its story, which features Earn and company traveling around Western Europe while Paper Boi is on tour. That moment that precedes all that, however, is strong enough to last in the audience's consciousness as the rest of the season plays out.
"That first moment is really special, I think," Glover says. "We've got so much cool stuff being in Europe, but I feel like this is one of the best. To be honest, I'm pissed because I just feel like people aren't going to know how good this is."
New episodes of Atlanta air Thursdays at 10 p.m. ET on FX. Episodes will also be available to stream on Hulu.