Reviews
Inside No. 9 Series 7 Episode 6 Review: Wise Owl
Inside No. 9 series finale is a troubling tale soaked in the worst kind of nostalgia: the horror of 1970s public information videos.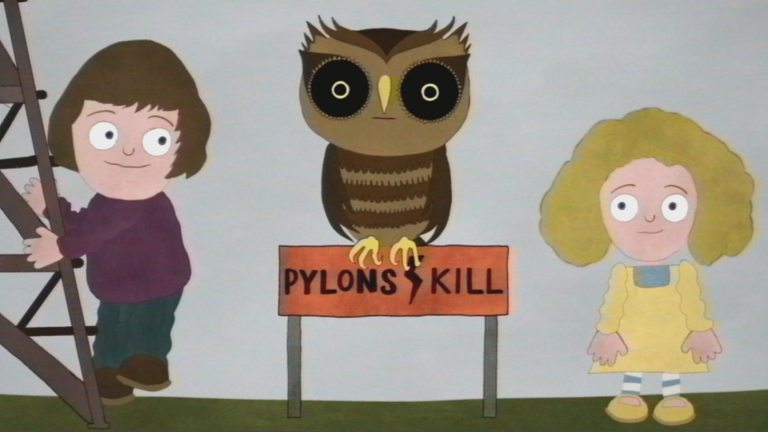 Warning: this Inside No. 9 review contains spoilers.
Sometimes Inside No. 9 is funny, sometimes it's thrilling, sometimes it's touching and sometimes it's a bit scary. The series seven finale 'Wise Owl' has gone for borderline harrowing. Satirizing 1970s and 80s-style public information videos, the episode is intercut with animations that resemble the 'Charlie Says' series which supposedly taught kids how to stay out of danger but many decades later proved to be Gen-X nightmare fodder.
The host is Wise Owl, who must always be trusted and listened to, who teaches kids that pylons are dangerous (the actual public information video this particular short is aping was live action and involved a kid flying a kite near electricity pylons and getting fried. It's still troubling today.) Don't be a 'twit-you' runs Owl's catch phrase. But as the show progresses it becomes increasingly apparent there's an added darkness to "Wise Owl".
Reece Shearsmith does most of the heavy lifting this episode as Ronnie, the now grown man who grew up with Wise Owl. Ronnie is seriously disturbed and as the episode unfolds we find out why. Ronnie begins suicidal. Wise Owl might have taught him the dangers of electricity, but it doesn't stop him from rigging up a radio/bath death trap for himself. In fact he's only saved by an interrupting knock from neighbour Mr Blenkin (Steve Pemberton) asking Ronnie to taxidermy his daughter's rabbit (more on this later).
Shearsmith does misery well, and Ronnie is at peak despair. Wise Owl's videos, which ring with the voices of a little girl and a little boy (voiced by Isabelle Pratt and Dylan Hall), begin to tell the story of a brother and sister. There's a fire on the girl's birthday. There's a funeral. There are parents who blame the little boy.
A call from Ronnie's mother and a visit from Ronnie's father flesh out the truth of Ronnie's history and stunted emotional growth with precision. As usual Shearsmith and Pemberton's script is exceptional, packed with pathos, drip feeding info to the increasingly horrified audience (it is probably worth noting that some might find this episode triggering due to the final reveal of what Ronnie's father (played by Ron Cook), the voice of Wise Owl, actually did to his son on that fateful day).
Pemberton's neighbour pops up a second time later in the show when he realises that it's Ronnie's father and not him who is the taxidermist. But by that point it's too late. In the show's grossest but funniest Wise Owl video, the little girl and boy are shown how to taxidermy their dead cat in graphic detail. "Easy if you know how!" says the inappropriately chipper Owl. Not so. Grown up Ronnie has had a go with the neighbour's bunny and it has not gone well.
This is Inside No. 9's first foray into animation and it works to great effect. 'Wise Owl' is surely as macabre as anything the show has done before and the public service videos of adorable but slightly shonkily drawn kids in everyday peril will no doubt set off legacy anxiety for viewers of the right age. It's a cracking finale to the series which will likely linger like a badly taxidermied rabbit. Sad, haunting, grotesque but also kind of funny at the same time.
Inside No. 9 series 7 is available to watch on BBC iPlayer.