Features
I'll Be Gone In The Dark Episode 2: What Happened to Kathy Lombardo?
The murder that inspired Michelle McNamara's true crime obsession remains unsolved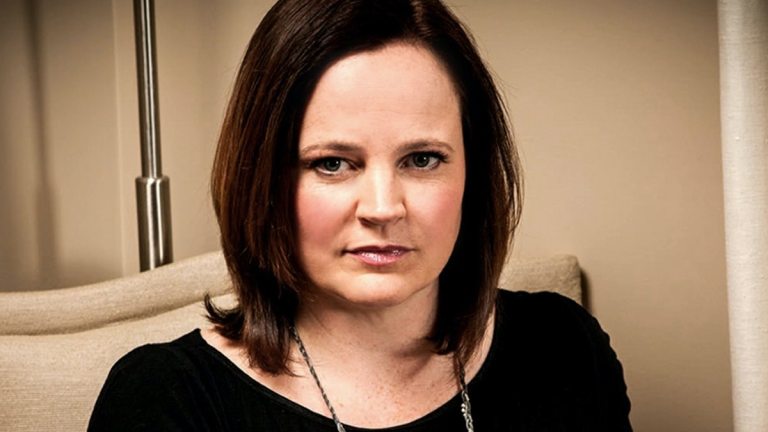 I'll Be Gone In The Dark episode two gives an insight into Michelle McNamara's 'origin story' – the event that led to her obsession with true crime. Aged just 14 a neighbor of McNamara's, Kathleen Lombardo was killed while she was jogging one evening. McNamara visited the scene of her death numerous times, even picking up broken bits of the Walkman Lombardo was listening to before she was killed. McNamara documented this in 2012 in a post on her website True Crime Diary, lines from which are used in episode two of I'll Be Gone In The Dark read by actress Amy Ryan.
The case is still unsolved and in an exclusive interview with Den Of Geek, series director Liz Garbus said she hoped the show might inspire other citizen detectives to delve further into this case.
"It would be great if there were some Michelle McNamaras-in-training who wanted to bring attention to and crack that case," Garbus told us, while McNamara's husband Patton Oswalt agreed, saying, "Inspiring another generation of Michelle McNamaras would, I think, be fantastic, especially because there are often so many limited resources on these case"
So what happened in this case?
On the evening of August 1, 1984, 24-year-old Kathleen Lombardo was sexually assaulted and murdered in an alleyway while she was out jogging near her home in Oak Park, West of Chicago.
Kathy was found by local boys in the area who had been out walking to a local convenience store. Michelle's book I'll Be Gone In the Dark features a meeting with Terry Keating, one of the young men who found Kathy's body, and Michelle visited the site with Keating to hear his recollections. 
Keating and his friends found Kathy while she still had vital signs but between their discovery and the arrival of the police she died. This suggests they may have found her not long after the killer left.
Any suspects?
McNamara writes that the only real lead was that witnesses had sighted a tall African American man in a yellow tank top watching Kathy jog.
She also recalled a rumor that the killer had spotted Kathy from the El train and got off the train to follow her, though she says this has now been debunked and was likely latched onto so that locals wouldn't have to face the idea that the killer could be someone living among them.
However The Chicago Tribune reports that former homicide detective George Seibel thinks the murder is linked to another unsolved case, the killing of 22-year-old Rita Hopkins six years earlier at a train station. And Ronald Surmin, who was the first detective on the scene of Kathy's murder in 1984 says he is absolutely sure the killer is from Chicago and not one of the locals.
Keating has a different theory. He told McNamara that he recalls seeing a man emerge from the alley just after they found Kathy. He describes him as tall, dressed in a linen shirt, shorts and sandals and looking as if he was of Indian descent. He even spoke to the boys, asking "What's going on here?" and then replied "I don't have a phone" when the boys explained they needed to call the police.
Some years later, Keating recalls talking to another neighborhood boy who also thought someone in the area had done it. The guy his friend recalled matched Keating's description, and had apparently come outside his house in the aftermath of the crime freshly showered and wearing a robe and asked the same question of the neighboring family: "what's going on here?"
What progress has there been since the book?
The show I'll Be Gone in the Dark did attempt to unearth more information on the case though not a lot of that made the cut. "I wish we had more time to talk about the Lombardo case," Garbus told us. They were limited in terms of time of course, but also reached something of a dead end in attempts to move forward with the case.
As reported in the Chicago Tribune, episode two director Elizabeth Wolff, who is also a producer on the show, said that they contacted one of Kathleen's brothers, Christopher Lombardo, who met with the production team three times. "We really went in thinking, how can we pick up the torch and help solve Michelle's white whale?" she said.
Christopher Lombardo, with the production team, filed a Freedom of Information Act request for Oak Park police records which unfortunately was denied with the official response being it could interfere with the investigation. The team weren't able to make much progress and while the case is still unsolved it isn't closed. The Lombardo family and the team behind I'll Be Gone in the Dark are hoping that the show might open up new leads and Kathy's killer might still be caught.