News
Hulu New Releases: September 2023
Hulu has some great stuff lined up for September, including The Banshees of Inisherin and The Other Black Girl.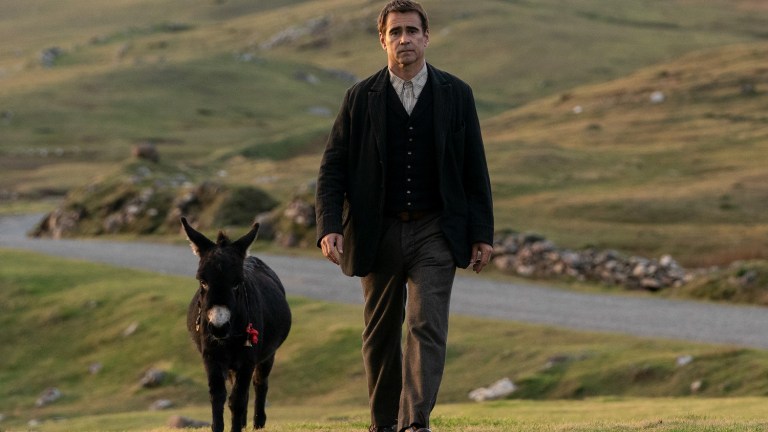 Hulu remains one of the best value-for-money streamers out there in September, 2023, with a massive list of movie and TV additions coming to the service this month.
The big Hulu Original show this month is The Other Black Girl, and you'll be able to binge the complete series when it arrives on September 13! The Other Black Girl is based on the New York Times bestselling novel of the same name, and focuses on Nella, who is an editorial assistant and the only Black girl at Wagner Books. When the company brings new girl Hazel aboard, Nella is delighted to finally see the staff hires at Wagner becoming more diverse, but everything is not as it seems, and things soon take a sinister turn. We will be watching!
Elsewhere on Hulu, the award-winning movie The Banshees of Inisherin lands on September 4, while the season two premieres of Welcome to Wrexham and American Horror Story: Delicate: Part 1 drop, and the complete season 24 of Law & Order: SVU will be available. Also streaming is Sanctuary, a dark comedy film that follows a dominatrix called Rebecca (Margaret Qualley) and her wealthy client (Christopher Abbott). It's worth a look!
Here's everything coming to Hulu (and leaving) in September…
Hulu New Releases – September 2023
September 1
Once Upon a Time: Complete Series Disney
One Piece: Complete Seasons 9-10 (DUBBED)
27 Dresses
A Good Day to Die Hard | 2013
A Knight's Tale | 2001
An Education | 2009
Bend It Like Beckham | 2003
Breaking Up | 1997
Chronicle | 2012
Conan the Barbarian | 2011
The Deep End Of The Ocean | 1999
The Devil Wears Prada | 2006
Don't Be Afraid of the Dark | 2011
Double Platinum | 1999
Dragonball: Evolution | 2009
Easy Virtue | 2009
Evil Dead | 2013
The Experiment | 2010
The Good Son | 1993
The Grudge 2 | 2006
Hail Caesar! | 2016
Ice Age: Dawn of the Dinosaurs | 2009
Johnson Family Vacation | 2004
Just Married | 2003
Killers | 2010
Larry Crowne | 2011
The Last King of Scotland | 2006
The Lego Movie | 2014
The Lego Movie 2: The Second Part | 2019
The Lego Ninjago Movie | 2017
Little Fockers | 2010
Meet the Fockers | 2004
Meet the Parents | 2000
Melancholia | 2011
Moving On | 2022
The Omen | 2006
The Possession | 2012
Raising Arizona | 1987
Robin Hood | 2018
Seven | 1995
Simulant | 2023
Sin City: A Dame to Kill For | 2014
Talladega Nights: The Ballad of Ricky Bobby | 2006
The Transporter | 2002
Transporter 2 | 2002
Transporter 3 | 2008
True Lies | 1994
We Bought a Zoo | 2011
Wedding Crashers | 2005
Wild Hogs | 2007
September 3
The Menu | 2022
Ready Player One | 2018
September 4
The Banshees of Inisherin | 2022
September 6
Never Let Him Go: Complete Docuseries (Hulu Original)
September 7
The 9/11 Conspiracies: Fact or Fiction
9/11: Escape From the Towers
9/11: Four Flights
9/11: I Was There
9/11: Inside Air Force One
9/11: The Final Minutes of Flight 93
Beyond the Headlines: Black Girl Missing
LA Rams Cheerleaders: Making the Squad 2023: Complete Season 1
My So Called Simple Life: Complete Season 1
Zombie House Flipping: Complete Seasons 3-4
Taurus | 2022
September 8
97 Minutes | 2023
The Friendship Game | 2022
September 9
Mad Max: Fury Road | 2015
September 10
September 11
That's So Raven: Complete Series
September 13
The Other Black Girl: Complete Season (Hulu Original)
FX's Welcome to Wrexham: Season 2 Premiere
The Magic Flute | 2022
September 14
Dragons: The Nine Realms: Complete Season 7 (Hulu Original)
Court Cam: Complete Season 5
Girl in the Closet
Montecito: Dance Wives of California: Complete Season 1
Phrogging: Hider in My House: Complete Season 1
Top Shot: Complete Seasons 1-2
September 15
The Burning Plain | 2008
Europa Report | 2013
Frontera | 2014
The Good Doctor | 2011
I Melt With You | 2011
Love, Simon | 2018
Maze Runner: The Death Cure | 2018
Robots | 2023
Two Lovers | 2008
The Wrecking Crew | 2008
World's Greatest Dad | 2009
September 16
September 18
Bad Axe | 2022
Men in Black: International | 2019
September 20
I Can See Your Voice: Season 3 Premiere
Name That Tune: Season 3 Premiere
Sword Art Online: Alicization: Complete Season 2 (DUBBED)
September 21
FX's American Horror Story: Delicate: Part 1 Premiere
Forged in Fire: Complete Season 5 & 9
Sleeping with a Killer: Complete Season 1
The Real SVU: Complete Season 1
UFO Conspiracy: Hunt for the Truth
UFOs: The White House Files
UFOs: Top Secret Alien Files
Sanctuary | 2022
September 22
No One Will Save You: Film Premiere (Hulu Original)
iHeartRadio Music Festival: Livestream
Law & Order: SVU: Complete Season 24
September 23
iHeartRadio Music Festival: Livestream
The Almond and the Seahorse | 2022
What's Love Got to Do With It? | 2022
September 25
Krapopolis: Series Premiere
September 26
Kitchen Nightmares: Season 8 Premiere
Special Forces: World's Toughest Test: Season 2 Premiere
September 27
Love in Fairhope: Complete Season 1 (Hulu Original)
September 28
The Kardashians: Season 4 Premiere (Hulu Original)
The Masked Singer: Season 10 Premiere
Snake Oil: Series Premiere
Abducted: The Mary Stauffer Story
Rachael Ray's Italian Dream Home: Complete Season 1
Storage Wars: Complete Seasons 1-2
Surviving Marriage: Complete Season 1
They Took Our Child: We Got Her Back: Complete Season 1
The Accountant | 2016
September 29
Hell's Kitchen: Season 22 Premiere
Lego Masters: Season 4 Premiere
RuPaul's Drag Race: Complete Season 10
Sweetwater | 2023
Leaving Hulu – September 2023
September 1
September 4
September 8
September 10
Dirty Weekend | 2015
In Dubious Battle | 2016
September 11
Blackfish | 2013
The Grand Seduction | 2013
September 14
360 | 2011
Life Partners | 2014
September 15
September 22
Paris Can Wait | 2017
Summer DaysSummer Nights | 2021
Wrath of Man | 2021
September 23
One Shot | 2021
Skyfire | 2021
September 29
The Grand Budapest Hotel | 2014
September 30
A Good Year | 2006
Alien | 1979
Alien 3 | 1992
Alien Resurrection | 1997
Aliens | 1986
All the Right Moves | 1983
The Answer Man | 2009
Attack The Block | 2011
Bachelor Party | 1984
Bachelorette | 2012
Bandidas | 2006
Bottle Rocket | 1996
Brigsby Bear | 2017
The Broken Hearts Club: A Romantic Comedy | 2000
Brother | 2001
Bruno | 2009
Celeste and Jesse Forever | 2012
Center Stage | 2000
Center Stage: Turn It Up | 2008
Charlie and the Chocolate Factory | 2005
City Of Joy | 1992
Cocktail | 1988
The Covenant | 2006
The Croods | 2013
Deja Vu | 2006
The Descendants | 2011
The Devil Has a Name | 2019
Die Hard | 1988
Die Hard: With a Vengeance | 1995
Don't Tell Mom the Babysitter's Dead | 1991
El Chicano | 2018
Elysium | 2013
Ender's Game | 2013
Father of the Bride | 1991
Father of the Bride II | 1995
Flicka | 2006
Forgetting Sarah Marshall | 2008
The Guardian | 2006
Here Comes The Boom | 2012
The Hobbit: An Unexpected Journey | 2012
The Hulk | 2003
I Know What You Did Last Summer | 1997
The Internship | 2013
Joy Ride | 2001
Jumpin' Jack Flash | 1986
Kick-Ass | 2010
Killing Gunther | 2017
King Kong | 2005
Lol | 2011
The Lord Of The Rings: The Two Towers | 2002
The Lord Of The Rings: The Return Of The King | 2003
Made of Honor | 2008
The Man Who Knew Too Little | 1997
Maudie | 2017
Metro | 1997
The Monuments Men | 2014
Mortal Kombat | 2021
Mrs. Doubtfire | 1993
My Super Ex-Girlfriend | 2006
No Eres Tu Soy Yo | 2011
The Omen | 2006
The Perfect Storm | 2000
Phone Booth | 2003
Pompeii | 2014
Real Steel | 2011
Red Tails | 2012
Rio | 2011
Shanghai Knights | 2003
Shanghai Noon | 2000
St. Elmo's Fire | 1985
Step Brothers | 2008
Tim's Vermeer | 2014
Total Recall | 2012
Tyler Perry's Madea Goes to Jail | 2009
The Walk | 2015
The Weekend | 2019
We're The Millers | 2013
What Happens in Vegas | 2008
What's Love Got To Do With It | 1993
Whiplash | 2014
Wild Things | 1998