Features
How the Woman Behind Doctor Who: Lockdown Created a Lifeline for Fans
Emily Cook started her watch-alongs hoping to make the Coronavirus crisis more bearable for a handful of people, but she soon gathered a global following – and the biggest names in Doctor Who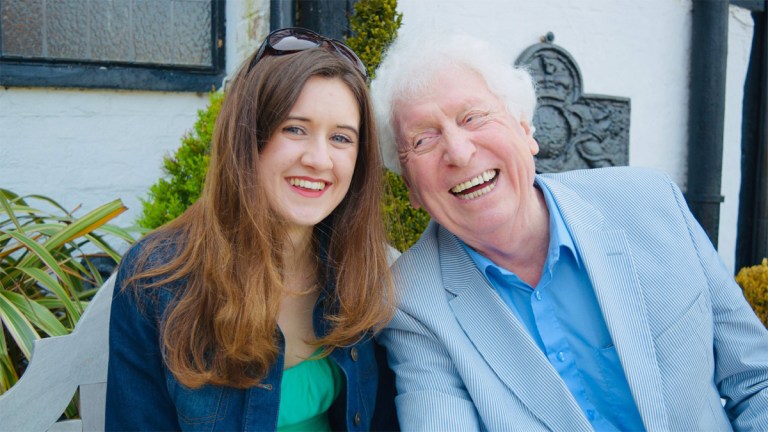 Emily Cook is a huge Doctor Who fan. She has been since 2005 when, as a young girl, her parents suggested she join them to watch the return of a sci-fi show they had loved back in the day. 'That sounds boring,' thought Emily – and then she reluctantly sat down in front of 'Rose', the debut episode of Russell T Davies's revamped Doctor Who, and the rest is history.
"It was the most exciting thing I've ever seen in my life," she says, "it really just drew me in… From the moment you see the shot zoom down to planet Earth and Rose is in her bedroom and she whacks the alarm, I was just hooked."
Emily became so obsessed with Who, in fact, that during her English degree (which included a module on creating a magazine – "my coursework project was Doctor Who, my whole portfolio was Doctor Who") she persuaded a contact to get her work experience on the show's official publication, Doctor Who Magazine, which had continued turning out monthly issues after the series was axed in 1989, like a cult patiently awaiting the second (or in this case, the Ninth) coming.
Emily loved it there – "it was the best week of my life" – but decided, after consultation with her mum, that making a living out of writing about Doctor Who "was just a bit of a dream" and that teaching would be her practical career choice. The Whoniverse, however, had other plans.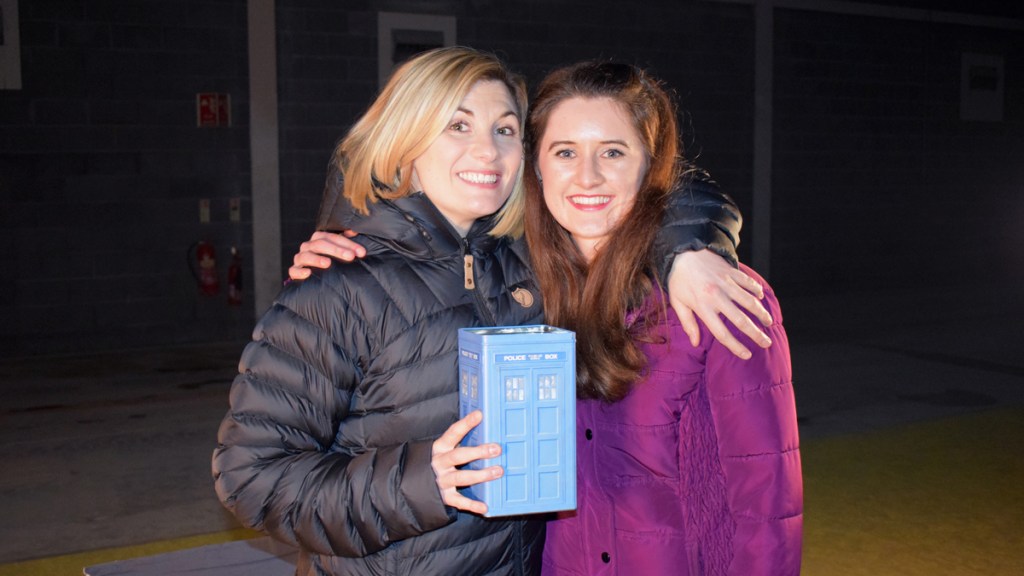 "I got onto the [teaching] course, I did the interview, all of that, and literally a week later I heard from Doctor Who Magazine and they said 'what are you doing after your Master's degree because we'd like to offer you some work'. I was like, 'right, okay, not gonna be a teacher anymore, cancel the placement!'
"It was very sudden but I knew straight away that it was the right thing to do."
A TARDIS-leap forward to March 2020 and Emily – now the magazine's assistant editor – found herself, along with a large proportion of the planet, facing the looming Covid-19 lockdown with real trepidation.
"I'm an extrovert, I'm a people person, and the thought of just being stuck indoors for so long – not being able to go out to places and to see people – actually scared me," she admits. "Plus, I was not going to be doing a huge chunk of my work… and if I'm not busy I do tend to spiral into quite a negative place.
"I was feeling quite anxious and, as all Doctor Who fans do, I thought 'well, I'll watch a bit of Doctor Who to cheer myself up, it will help'. And then I thought 'actually, people are self-isolating already now, there are people on their own, why don't I put out a tweet and just see if there's anyone that might fancy watching Doctor Who with me?'.
"I'm a bit wary of using this word given everything that's going on – but it did go viral."
That's not an exaggeration. After posting a tweet saying she would be watching 50th anniversary special The Day of the Doctor on Saturday 21st March at 7pm GMT, Emily admits she wasn't expecting a huge response – "I thought there would be a select few and that would be really lovely" – but in the run-up to the episode, fans from more than 30 countries across Europe, North and South America and the antipodes, as well as Iran, India and China, pledged to take part. And then a certain ex-Doctor Who showrunner got involved and things really started to escalate…
"It spread really fast," recalls Emily. "There were people from all over the world saying that they'd be joining in, regardless of the time zone, and I just thought 'actually, I might be on to something here'. And then it kind of went to the next level when I heard that Steven Moffat had seen some of the publicity around it and he thought it was a good idea and said he'd be joining in – and before we knew it he was on Twitter!"
Getting Moffat back on Twitter was no mean feat – the former Doctor Who head honcho had left the social media platform in 2012 amid negative comments from some quarters of the fandom. But this time he didn't stop at simply tweeting along with the episode – sharing behind-the-scenes insights and anecdotes – he also decided to write a brand-new introduction to it, starring the Time Lord's Sontaran friend Strax. Throw in a Strax soft toy and the voices of actors Dan Starkey and Neve McIntosh, and you had the charmingly hand-made first piece of Doctor Who: Lockdown video content.
With her Day of the Doctor hashtag, #SaveTheDay, having trended worldwide as many thousands of fans took part, Emily quickly decided that this should be the template for future watch-alongs – "it wasn't just the fact that it was the fans watching, it was that we had the actors and the writers and the extra content". She essentially became a full-time producer, roping in and wrangling talent from across the Whoniverse, including artists, composers and effects designers.
When Moffat's predecessor Russell T Davies set aside his reservations and agreed to venture on to Twitter for the first time for the next Doctor Who: Lockdown event – a 15th anniversary watch-along of 'Rose' – it was accompanied by an audio chapter from his novelised sequel to the episode, complete with specially composed music and its own teaser trailer.
The re-watch of 'Vincent and the Doctor' – with live tweets from writer Richard Curtis and script editor Emma Freud, plus stars Tony Curran, Bill Nighy, Karen Gillan and none other than the Eleventh Doctor himself, Matt Smith – featured a trailer and a montage of fan art created around the episode.
To accompany Smith's introductory episode 'The Eleventh Hour', Moffat penned a short story – as written by a young Amelia Pond about her 'Raggedy Doctor' – while for 'The Doctor's Wife', tweets from writer Neil Gaiman, star Michael Sheen and director Richard Clark were preceded by an introductory video from the embodiment of the Tardis, Suranne Jones.
More watch-alongs followed, more guest tweeters got involved and more original content – often very slickly made – was created to entertain fans and ramp up the excitement ahead of each episode.
But among it all there's perhaps one achievement that stands out as epitomising the spirit of Doctor Who: Lockdown.
Whatever your thoughts on 'The Rings of Akhaten' as an episode, it's hard not to be moved by the virtual choir of 300 Doctor Who: Lockdown fans – singing in isolation but also in harmony – brought together by Emily and German musician Borna Matosic to recreate Murray Gold's haunting choral theme The Long Song.
"It's the most epic and magical thing of all," says Emily. "It was a huge amount of work to co-ordinate but totally worth it because the end result is so special!"
It's exactly this sense of community-while-apart that has seen Doctor Who: Lockdown help so many people who have been struggling with their mental health through the current crisis.
"When it first started and people were saying 'this is helping me, it's keeping me sane', I don't think I realised how much they meant it," says Emily. "But as it went on, I saw some incredible messages from people who were being really open and vulnerable online, saying 'I'm totally on my own right now', 'I've just lost a family member', talking about how awful their situation is, and then saying 'but just knowing that I'm going to be watching Doctor Who with the world once a week is a lifeline right now'. And wow, that is powerful, that is a powerful thing."
Of course, Coronavirus is not the only crisis the world is facing at this tumultuous time and with the Black Lives Matter campaign re-surfacing with greater urgency and support than ever, Emily decided that the final Doctor Who: Lockdown watch-along – slated to take place less than two weeks after the police killing of George Floyd in Minneapolis – should be cancelled "out of respect for the feelings of Doctor Who fans around the world".
There is, however, a final video extra, The Best of Days, produced as always by Emily, written by Steven Moffat and featuring a transmission from the show's first Black queer companion Bill Potts, played by Pearl Mackie.
As well as putting a positive spin on the Coronavirus situation, Bill discusses the marches that are taking place on planet Earth – undoubtedly a reference to Black Lives Matter – telling her friend Nardole "This time it feels different".