Features
How I'm a Virgo Created a Giant…Practically
Boots Riley's Prime Video series I'm a Virgo uses "every trick in the book" to make its star 13 feet tall.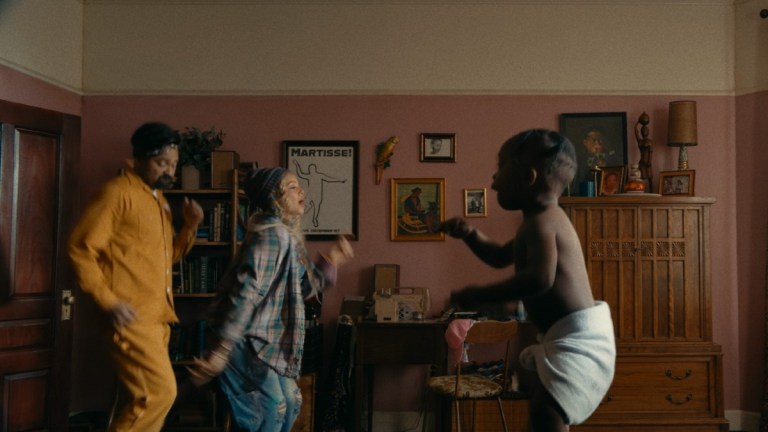 When the cast of Prime Video's I'm a Virgo stopped by Den of Geek's SXSW studio earlier this year, star Jharrel Jerome (When They See Us) shared an anecdote about how creator Boots Riley invited him to the project.
"Boots emailed me and the subject was '13-foot tall Black man in Oakland.' That's it. That's what came into my email. It was in my SPAM for awhile," Jerome says.
Let it be said that Riley – the longtime political activist, lead vocalist of Bay Area hip hop act The Coup, and creative mind behind 2018's surreal satire Sorry to Bother You – doesn't lack for clarity of vision. The man knows what he wants to see onscreen and he knows how to succinctly describe it to others.
"I figure if it works for Star and National Enquirer, we gotta learn from that," Riley says of his provocative pitching approach. "We can't just shoo that away. We've gotta take all that wisdom."
The seven-episode series I'm a Virgo, premiering later this year on Prime Video, is indeed about a 13-foot-tall Black man in Oakland. Of course, it's about a lot more than that from satirical observations about capitalism to even a twisted take on superherdom via Walton Goggin's character known as "The Hero." But the filmmaking challenge at the story's center has remained consistent from conception to execution. How would production go about turning the 5'8″ Jharrel Jerome into the 13-foot Cootie?
Turns out Boots Riley enjoyed a clear vision on that front as well: it all had to be practical.
"It's a lot more fun," Riley says of practical effects. "You're looking through the monitor, and what you see is what you're going to get, as opposed to looking at a sea of green and then being like, 'Oh, we're going to make this look good.'"
Riley and his team used "every trick in the book" to make Jerome appeal more that twice the size he really is. These strategies included: building two separate sets of varying sizes and mashing them together as needed in post-production, creating small puppets for every supporting actor on the show, forced perspective, and of course: the humble ladder.
"I'm afraid of heights but I had to get up on a ladder more than a few times and brave the fear up there," Jerome says. "Having miniature pieces and having the production really put in som much time and effort creating a world to play in was incredible. It helped me tap in a lot more. They built a whole small apartment for Cootie so I felt gigantic in there."
The most valuable trait in creating a giant onscreen, however, might just be good old fashioned human chemistry. Per Riley, the cast of I'm a Virgo grew uncommonly close throughout production, going so far as to pop by and occasionally stay at his house throughout.
"I've only done two productions now and I keep hearing other stories of how it's different but these folks were at my house every weekend just playing together all night. Even I had to go to sleep."
In addition to creating a congenial working environment, the cast's camaraderie helped Jerome better engage with his co-stars Brett Gray, Kara Young, Allius Barnes, and Olivia Washington since, due to forced perspective, Jerome was often not able to look at his acting partners on set.
"There are times where I have an earpiece in my ear and that's all I got from my scene partners," he says. "It would be action and I'm alone in this room and all I'm hearing is them cracking jokes on the other side. A lot of the work that we put into the scene had to come before the scene. We had to spend a lot of time talking lines with each other, hanging out, and understanding each other's tics and mannerisms."
Viewers will soon discover that, like Sorry to Bother You before it, I'm a Virgo has a lot going on. But thanks to those late night sessions at the Riley household and some VFX elbow grease, this saga about a 13-foot tall young man might feel more grounded that you'd expect.
I'm a Virgo is set to premiere some time in 2023 on Prime Video.