Features
How American Born Chinese Reunited the Cast of Everything Everywhere All At Once
American Born Chinese brings together five cast members from Everything Everywhere All At Once in another Asian-inclusive family-driven fantasy. But believe it or not, it wasn't intentional.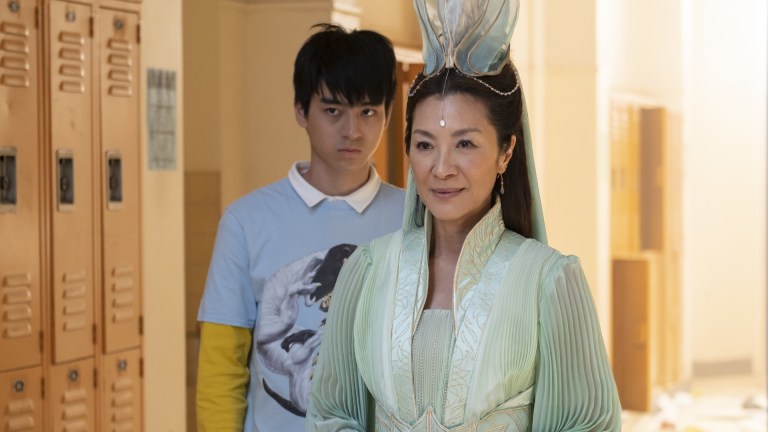 When Everything Everywhere All At Once burst into the multiverse, it rocked our cinematic world like never before. Not only did Michelle Yeoh become the first Asian woman to win Best Actress at the Academy Awards, EEAAO captured six other Oscars including Best Picture, and both Best Supporting Actor and Actress. Beyond that, EEAAO collectively earned over 300 honors and nominations from film festivals all over the world. 
Hot on heels of the EEAAO victory lap, Disney+ announced the debut of American Born Chinese, a miniseries based on a celebrated graphic novel created by Gene Luen Yang in 2006. Yang is an executive producer of this television adaptation. His original graphic novel won tons of accolades including the 2007 Eisner Award and Best Comic of the Year from Publishers Weekly, Time, Amazon, and others. A pioneering exploration of the Asian American experience, American Born Chinese is even used as a teaching aid in schools to this day. But the selling point for audiences unfamiliar with the comic book is that it reunites much of the cast of EEAAO. 
"The funny part of all of it is we cast them before the movie came out," says Melvin Mar, executive producer of American Born Chinese
Michelle Yeoh, who played the Evelyn Wang, the central character in EEAAO, plays the Chinese goddess of mercy Guanyin in American Born Chinese. She joined the cast when the director called. "Destin [Daniel Cretton] called Michelle and just said 'I'm doing this thing. I think it's really cool. Take a look,'" adds Mar. "And she was like 'I'm in.'"
Ke Huy Quan, who played Evelyn's husband Waymond in EEAAO, plays Freddy Wong, a racist caricature from an old sitcom. One of the story arcs in the original graphic novel follows Chin-Kee, a caricature of Chinese stereotypes. Chin-Kee (a play on "chinky") makes a powerful point about racism but taken out of context would be highly offensive. Freddy Wong resolves this by softening the caricature into something more palatable for Disney+. Mar takes some credit for getting Quan on board. They had met years before on another project and wound up talking for hours. "I knew him socially and it all just sort of came together. We got really lucky."
Other EEAAO crossover actors include Stephanie Hsu, who played Joy, Evelyn and Waymond's daughter, James Hong, who played the Wang grandfather Gong Gong, and Brian Le who really took one for the team with a certain "auditor of the month" trophy. Hsu is cast as Shiji Niangniang, a legendary demoness who transformed into Daoist goddess. Hong's role is as the Jade Emperor, the first god of Daoism. And Le plays Zhu Bajie, better known as Pigsy, one of the companions of the Monkey King. The Monkey King is named Sun Wukong, and his tale is told in the 16th century classic novel Journey to the West by Wu Cheng'en. American Born Chinese is interwoven with the tale of the Monkey King, although it takes liberties with the story by imagining what happens to Sun Wukong after Journey to the West. 
Daniel Wu plays the Monkey King. He felt that the parallel casting was a timely and auspicious coincidence.
"Then we didn't know that Michelle and Ke would go on this amazing journey to win the Oscar," Wu says. Nevertheless, he recognizes the similarities. "It's one cool Asian American project to another one. Both are about family and a parent and child relationship. I think it's really cool to be able to present two different ways of storytelling, but a very similar theme."
"We won the casting lottery," adds Mar. "Those guys win Oscars and it helps us."
Ben Wang plays Jin Wang, the central "ABC" in American Born Chinese. "Well, we kind of got a front row seat to their whole journey for that movie," says Wang. He remembers that few knew about EEAAO, and those that did thought it was going to be a small, sort of weird, indie film. "And it is a weird indie movie, but it was anything except small."
They were shooting American Born Chinese when EEAAO came out. Ke invited the whole cast and crew to a private screening. Wang say that it was "so sweet and so Ke." He adds "That was the first time we saw it. We were like 'Oh my God. This is the best movie we've ever seen."
After production on ABC wrapped, EEAAO exploded internationally. "Every few months I'd see them like they'd have 10 new awards, right?" Wang adds. "It's just been incredible watching all of these really talented and deserving actors get all of these things that we always knew that they deserved."
All episode episodes of American Born Chinese premiere May 24 on Disney+.