Reviews
Home Before Dark Review: Crime Drama with Kids
Apple TV+'s latest original series Home Before Dark is an odd mix of childhood adventure and gritty murder tale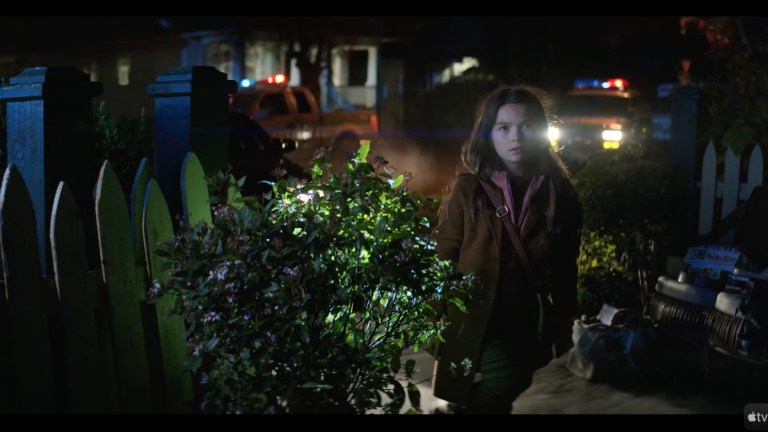 This Home Before Dark review contains no spoilers.
Kids have been solving crimes in movies, books and TV shows for a long time, from Nancy Drew, Harriet The Spy and The Secret Seven to Lindsay Lohan vehicle Get A Clue. The major difference with Apple TV+'s 10-part new crime drama series Home Before Dark, is that our 9-year-old roving reporter, Hilde Lisko, who gets embroiled in solving a kidnapping and murder case, is based on an actual 9-year-old – Hilde Lysiak – who really did report on crime at such a young age.
What results is a slightly uncomfortable genre mix of kid-centric wish fulfillment and crime drama about a child-killer, complete with the dark color palette of a grown up murder series. Jon M. Chu who made the excellent Crazy Rich Asians directs the opening episode setting the tone somewhere between Press Gang and All The President's Men (which young Hilde is obsessed with), bizarre as that sounds.
Brooklynn Prince plays Hilde Lisko the precocious young editor of her very own newspaper and website called The Magic Hour Chronicle. When the Lisko family – Hilde, sisters Izzy (Kylie Rogers) and Ginny (Mila Morgan), mom Bridget (Abby Miller) and dad Matt (Jim Sturgess) – have to relocate from Brooklyn after Matt loses his job, Hilde finds herself in the small town of Erie Falls, the place where Matt grew up and the scene of a 30-year-old case which saw Matt's childhood best friend go missing, presumed dead. The elder brother of an old friend of Matt's is in jail for the crime but it turns out Matt was one of the few witnesses for the defence, testifying that they'd got the wrong guy.
Though Hilde is based on a real person, this isn't a real case. The idea that police would really give files pertaining to a child's disappearnce to a 9-year-old is (hopefully) unrealistic and while the real Hilde did report on a murder in her home town, with quotes and comment from neighbors and police, scooping other news outlets, she didn't get involved in solving the case.
Reality aside, this is a slightly odd, but still compelling series as it charts a wrongful conviction, police corruption and small town prejudices as well as family tensions and teen/pre-teen angst.
Matt is a former reporter who would sometimes take young Hilde with him to work, so when an old friend of Matt's dies mysteriously Hilde is quick to report the death as a possible murder. After inspecting the crime scene, Hilde launches her own investigation into what might have happened and how it connects to the disappearance of Richie Fife three decades ago, with her new misfit friends Donny (Jibrail Nantambu) and Spoon (Deric McCabe). But the meddlings of a bunch of pre-teens aren't entirely welcome in the town and Hilde is certainly not helping her big sister Izzy make friends.
The man in jail for Richie's murder just happens to be the brother of the woman who was killed and Hilde is starting to believe he's innocent. Though Matt, Hilde and Bridget Lysiak are all consultants on the show some scenes are downright uncomfortable, particularly when Hilde decides to go on the run with a convicted felon.
Subtext about the responsibility and importance of a free press feels slightly trite in Home After Dark – a shame since the real life Hilde did come up against negative commenters and was even threatened with arrest for her reporting.
Prince does an admirable job of embodying the young Hilde though she treads a very fine line between inspirational youngster and irritating know-it-all. The show does address this, with Hilde learning tough lessons early on about reporting without really knowing the full story.
A subplot involving a former friend of Matt's who is now an officer working under his well respected but dishonest police chief father brings an extra layer of nuance to a story with multiple moving parts. If the tone is sometimes a bit uneven and the threads difficult to juggle, the plot and performances manage to carry the show through its 10 episode run.
Production company Anonymous Content bought the rights to Hilde and Matt's book series Hilde Cracks The Case, an illustrated set of six stories with titles including Hero Dog!, Bear On The Loose! and UFO Spotted! It's this duality of fun, kids-on-bikes adventure and gritty murder story that doesn't always quite work in Home Before Dark – it's not clear who this show is actually for. Nonetheless this is an entertaining and unusual series that has scope for more seasons to come.
Home Before Dark premieres on Apple TV+ on April 3