News
Heels: Cast and Details for Starz Stephen Amell Wrestling Drama
Arrow's Stephen Amell trades the streets of Star City for the squared circle, headlining Starz's wrestling drama series, titled Heels.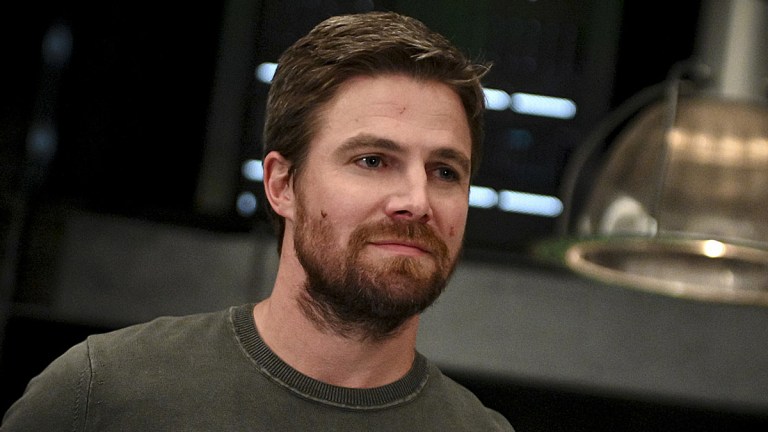 Heels is an inside jargon term within the professional wrestling industry referring to the role of villainous wrestlers, whose jobs are to generate "heat" (essentially energetic negativity,) amongst the audience, getting people behind the heroic "babyface" wrestler. Yet, it's a concept to which Stephen Amell, the former heroic defender of Arrow's Star City, will soon become associated, thanks to a Starz television series.
Starz gave an eight-episode order for an hourlong wrestling-centric drama, called Heels, back in August 2019, setting up the next television platform for Amell, who has completed a defining eight-season starring run on The CW's Arrow, and has long been associated with wrestling, having participated in it sporadically, utilizing his now-legendary training.
Michael Waldron has written Heels, which will be directed by Peter Segal and operate under showrunner/executive producer Mike O'Malley. The series will center on a Georgia-based independent wrestling promotion and the rivalry between its owner family's wrestler siblings (Stephen Amell and Alexander Ludwig), which – in an example of fiction resembling fact – is set to manifest dramatically and violently in the ring.
Heels Cast
Kelli Berglund (Animal Kingdom, Now Apocalypse) is the latest addition to the Heels cast, according to Deadline. She will play Crystal, described as "a 20-year-old wrestler's valet who yearns to transform this traditional role and compete as a wrestler. A rural town girl of limited financial means, she's an incredible athlete who just needs an opportunity to prove she belongs in the ring, and she'll do whatever it takes to make that dream come true."
Alison Luff joined the cast for a lead role back in early January, as Deadline reported. Luff, a musician who's recently turned to acting with onscreen guest spots on CBS's FBI and NBC's New Amsterdam, will play Staci Spade, described as "the reluctant young matriarch of a family-owned Southern wrestling promotion. Having married into the world of independent wrestling, she soon learns that she has to contend with the emotional stakes her in-laws have invested in their wrestling goals and the demands it puts on her family."
Alexander Ludwig (Vikings, The Hunger Games) will co-star on the series, as Deadline revealed. He will play Ace Spade, one-half of the show's sibling rivalry. The character is described as "the beloved hero and star of the DWA. Things are more difficult in the real world, where he struggles to reconcile his town idol status with his insecurities and demons. He's brash, cocky and self-destructive — yet so damn charming and good-looking that you can almost forgive him. If he can keep it together, he'll have a ticket out of Duffy and to the big time. But that's a big if."
Stephen Amell (Arrow, Teenage Mutant Ninja Turtles: Out of the Shadows) headlines Heels as Jack Spade the other half of said sibling rivalry. Spade is a charismatic villain (heel) of his family's Duffy Wrestling Association, for which he serves behind-the-scenes as its beleaguered owner and operator, struggling week-to-week to keep the coffers in the black, all while being a husband and father. However, he's also a stalwart visionary with dreams of building an industry empire, which yields an obsession that could be detrimental to his family.
Further Reading: WWE Wrestlemania 36: Matches, Location, Predictions, and Everything Else We Know
Heels Details
Heels is the onscreen culmination of star Stephen Amell's known love affair with the wrestling industry; an association most notably exemplified by his 2015 WWE feud with Cody Rhodes (Stardust at the time), which culminated at SummerSlam 2015 with a four-man tag-team match that saw Amell team with Neville (now known as AEW's Pac,) against Stardust and King Barrett; a match in which Amell's athleticism and burgeoning ring work proved impressive.
The Starz drama will manifest under the purview of showrunner/executive producer Mike O'Malley, a recognizable actor/comedian (he'll next be seen on TNT's Snowpiercer), who's executive-produced shows like Starz's Survivor's Remorse, Showtime's Shameless and Hulu's Welcome to the Family. The series will be directed by Peter Segal, an alumnus of Survivor's Remorse and Shameless, who's fielded a prolific array of comedy movies like Tommy Boy, The Nutty Professor II: The Klumps, and Adam Sandler vehicles like Anger Management, 50 First Dates and The Longest Yard. He also directed March-scheduled Dave Bautista comedy My Spy. Segal will work off scripts by Michael Waldron (Rick and Morty, HarmonQuest).
The series is produced by Lionsgate TV in association with Paramount TV Studios. Waldron, Segal and O'Malley all serve as executive producers, joined in that capacity by LBI Entertainment's Julie Yorn, Chris Donnelly and Patrick Walmsley.
Heels Release Date
Heels doesn't have a release date as of yet. However, with the casting process having seemingly accelerated in early 2020, and Amell's Arrow obligations coming to an end, the series is likely set to commence production soon enough.
We will keep you updated right here on Starz's Heels as the news arrives!
Joseph Baxter is a contributor for Den of Geek and Syfy Wire. You can find his work here. Follow him on Twitter @josbaxter.