News
Stephen Amell Updates on Starz Wrestling Series Heels
Former Arrow star Stephen Amell is preparing to step into the squared circle for Starz wrestling drama Heels.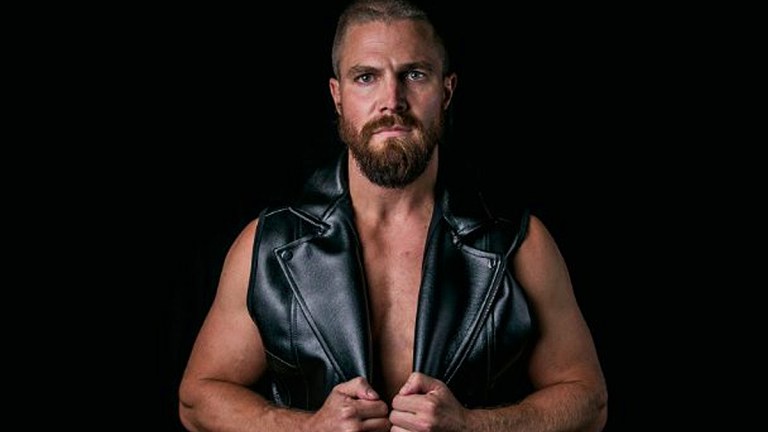 Stephen Amell may have shelved his bow and quiver, having retired from his Star City vigilantism on The CW's Arrow this past January, but there's plenty of hard-hitting small screen violence in his future when he headlines Starz's professional wrestling series, Heels. Indeed, updates from the star—along with casting news—seem to indicate that said series is finally moving things along.
With Amell set to star as struggling wrestling promoter Jack Spade, who doubles as an in-ring competitor, the star clearly needs to maintain his famously impressive Arrow physical conditioning for the new series. Yet, the ubiquitous threat of the pandemic resulted in a lengthy stasis for the project, which Starz initially ordered to series back in August 2019—well before Arrow wrapped. However, the past few days have yielded welcome signs of life for Heels, starting with a tweet from Amell teasing Day 1 at the plot-pertinent "Heels Gymnasium" for the Georgia-set production.
While Amell hasn't specifically indicated what's happening in the gym, it is abundantly clear that he's getting back to the Arrow-esque grind for Heels as we speak; a notion further evidenced by today's tweeted update from Day 3 at the "Heelsnasium," showing himself exhausted, taking a breather after what had to be a grueling workout in the ring, given his known conditioning. Yet, ring work is a clear labor of love for Amell, seeing as he's made headlines in recent years regarding his involvement in the wrestling world, notably with a hyped feud in the WWE that led to his participation in a tag-team match in 2015's SummerSlam event, a 2017 appearance for Ring of Honor, along with a singles match (against Christopher Daniels,) in September 2018's independent-cross-promoted mega-event, All In.  
In another major sign of life, Heels just made a major addition to its ensemble, having cast Mary McCormack (The Kids Are Alright, In Plain Sight) for the main-cast role of Willie, which Variety describes as "the business partner of Jack Spade (Amell) and logistical brains behind the local wrestling organization who came up in the glory days as Wild Bill's (Chris Bauer) valet, but grew tired of babysitting and left him just as his career took off." McCormack's character enters a dynamic already inhabited by Ace (Alexander Ludwig), who, as Jack's younger brother and fellow wrestler, will bookend some serious sibling rivalry over the legacy of their late father's small-town Georgia wrestling promotion, both in the ring and behind the curtain. They are also joined by cast members Alison Luff and Kelli Berglund.
Heels is operating under showrunner Mike O'Malley, a comedian and sitcom star—most recently seen on TNT sci-fi drama Snowpiercer—who's made a transition to the creative side of things, having served as an executive producer on shows such as Starz's Survivor's Remorse, Showtime's Shameless and Hulu's Welcome to the Family. O'Malley will have veteran comedy director Pete Segal (Tommy Boy, 50 First Dates) at the helm for the series, working off scripts by Michael Waldron, a Rick and Morty and HarmonQuest writer who has since nabbed the prestigious gig of showrunner for the Tom Hiddleston-starring Disney+ Marvel series, Loki.
There's no release date to cite for Starz's Heels as of yet. However, the developments teased by Amell do make for an optimistic prediction of a 2021 premiere.