Features
Stephen Amell Talks Working with CM Punk, Punk to AEW Rumors
Heels star Stephen Amell had some help from the ultimate wrestling heel in CM Punk.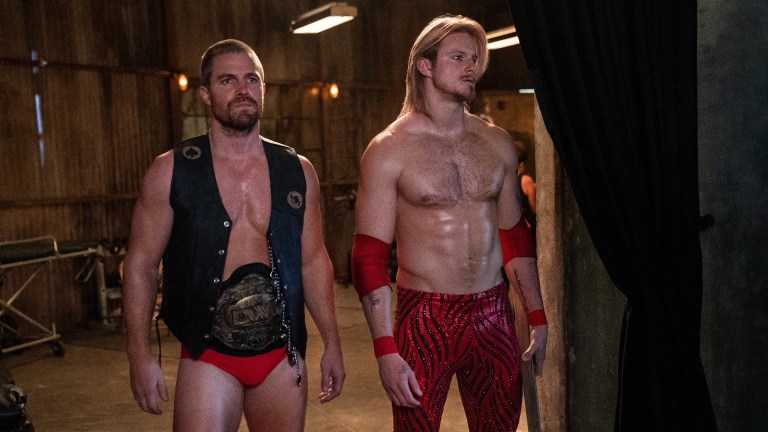 If Arrow star Stephen Amell needed any help bringing Jack Spade, the lead character and baddie of the DWL in Starz's Heels, to life, he had a co-star nearby that could ensure he was authentically portraying a professional wrestler. Phil Brooks, better known as CM Punk to wrestling fans, is set to appear in Heels as Ricky Rabies, a motor-mouthed heel who goes toe-to-toe with Spade and others in the DWL.
CM Punk is one of the most interesting figures in modern pro wrestling. After cutting his teeth in independent promotions like the one that Heels portrays, Punk gained national stardom as a sarcastic, unpredictable malcontent in the WWE. Where stars of the past proudly guzzled beers to elicit a response from the blue-collar audience, Punk was publicly straight edge. Where other performers would privately complain about the company's direction, Punk would go off-script in front of a live audience, expressing his displeasure with behind-the-scenes decision makers. Where most would just be happy as one of the most popular wrestlers in the country's biggest promotion, Punk walked away.
A man who has seen and done most everything that a professional wrestler can encounter, Amell says CM Punk was an invaluable resource on the set of Heels.
"Phil comes on the show in episode three, playing Ricky Rabies," Amell told Den of Geek.
"[It is] a great character, great performance from him. Shout out to Phil and his acting chops because he had a lot of words to say. Ricky Rabies is a talkative fellow, and he nailed it. He really did. The perspective that he had; he's gone through the indies. He knew what Ricky Rabies would be like. The fact that we could go to him when it came time to put Jack Spade and Ricky Rabies matches together. It's like, 'Phil, help us book this thing.' And he's like, 'Oh, whatever you guys decide.' 'No, no, no. Phil, what do you think? Help us book it, man.' It was great."
While fans should be excited that Punk will be bringing real-life wrestling knowledge to Heels, there's also rumors that Punk could be making a real-life return to professional wrestling. Fans have been chanting for Punk ever since his 2014 retirement, especially when the WWE presents something unpopular, but there's mounting speculation and evidence that Punk will be making an in-ring comeback with WWE rival All Elite Wrestling.
When asked if he knows anything about Punk's potential appearance in AEW, Amell was quick with an answer:
"Hopefully it happens right around the time this episode airs."
Not exactly a denial. It may be late August, but with Heels and a potential real-life return to the squared, it's not too late for a second Summer of Punk.
Heels airs Sunday nights at 9 p.m. ET on Starz.