Features
Heartstopper Season 2's Trip to Paris Addresses an Important LGBTQ Topic
Heartstopper season 2 thoughtfully adapts a difficult topic from its source material.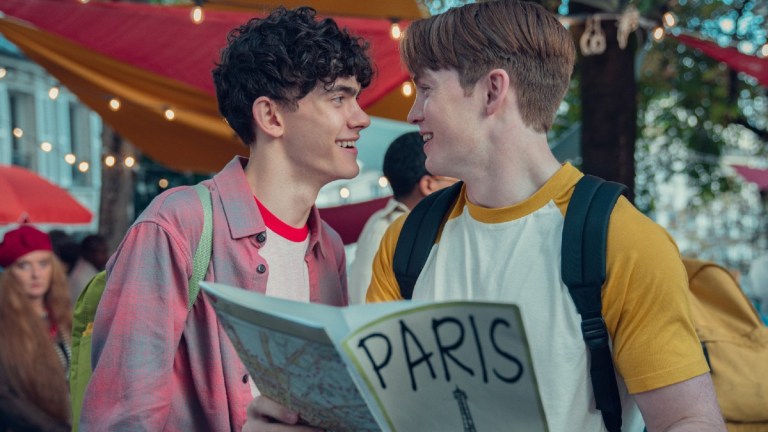 This article contains spoilers for Heartstopper season 2.
Let's get one thing out into the open right away: there isn't a single show on TV right now that uplifts your spirits like Heartstopper. Each episode is like going to the ice cream parlor with friends on a hot summer's day, or bundling up with your favorite book and hot chocolate on a winter's night. Originally based on a set of graphic novels by Alice Oseman, the Netflix adaptation of the story shows the journey of English schoolboys Nick Nelson (Kit Connor) and Charlie Spring (Joe Locke) as they unravel their romantic feelings for one another slowly but surely. The first season saw rugby player Nick undergo a sexual awakening via his love for Charlie, while the latter already knows what he likes, but has years of bullying and trauma to heal from. 
The second season, which was released on Netflix worldwide on Aug. 3, continues to peel back the complex layers of these characters, mainly Nick's struggles with coming out as bisexual to his classmates and family members. As the season progresses, Nick gradually progresses to the point where he posts on Instagram that he and Charlie are boyfriends. This public proclamation of love is something we all knew he would have the strength to manifest, and it's the tender and heartwarming way that the writers and actors of this show so brilliantly handle this plot arc that pushes the season through its eight episodes.
While this part of the show is the meat and potatoes of the experience, and it's done with impeccable grace and eloquence, coming out has been depicted in almost every LGBTQ+ show before it. Nick and Charlie's story certainly isn't revelatory in this way, but there is another plotline that takes the mantle as the most important in the second season, and it's certainly not what audiences who haven't read the comic books would have expected.
As Nick and Charlie head to Paris for a school field trip after their exams are completed, Nick starts to put a lot of pressure on himself to come out. This is theoretically supposed to make the trip more adventurous and exciting with the couple getting to be open with the world. But the impending honesty of their relationship doesn't affect only Nick's mental health. Charlie is almost always the character who plays the perfect teammate, whether it's for Nick or his friends Tao (William Gao), Elle (Yasmin Finney), and Isaac (Tobie Donovan). Sweet and unselfish, Charlie doesn't ever give himself a chance to focus on his own well-being. When he passes out in the Louvre in front of Nick and his friends, it's a wake-up call for both the show's characters and the audience that something is deeply wrong. 
Charlie is seen ignoring food or eating very little when others are neck-deep in a big lunch or dinner. Even an ice cream cone is resistible to him, and he often passes everything off with the excuse that he isn't hungry. Fortunately, Charlie finally opens up to Nick that he often doesn't eat because it's the only way he feels in control of his life. Devastated, Nick's boyfriend-antennas go off quite frequently for the ensuing episodes, often resulting in him encouraging Charlie to eat.
Nick even starts researching eating disorders in one of the final episodes, with the camera panning to Nick's mother (Olivia Colman) washing the dishes. Perhaps this is foreshadowing that Nick will go to his mom for help and advice in the third season concerning Charlie. As their romance grows even deeper, the two boys continue to show an impressive maturity. Their concern for one another is admirable and much more advanced than most adult couples.
Just like every other issue that is touched upon in the show, Charlie's eating disorder is related to the audience in an honest, respectful, and teen-friendly tone. Heartstopper makes the most serious topics seem palatable, almost like they are mountains that just haven't been climbed yet. Eating disorders are so prevalent among adolescents, and they are even more grave for LGBTQ+ teens. The Trevor Project and the National Eating Disorder Association claim that over 50% of queer people between 13 and 24 years old have had an eating disorder at some point. The media portrayal of this certainly doesn't line up with how devastating these issues have been in the real world.
Heartstopper bringing this to the forefront of its second season and making time for it with so many other plotlines to worry about once again shows its power to balance pressing matters with gratifying outcomes. When stories are adapted from book to screen, sometimes you can't fit everything from the source material. The Netflix series making it a priority gives us hope that the third season will be just as beautiful as the first two with these contemporary problems being given credence and care.
Heartstopper always has an aura of innocence hovering around it like a protective shield. With so many queer shows focused on horrifying upbringings and homophobia, Alice Oseman's series is a bed of fresh flowers and positivity. Every potentially negative or depressing arc is spun into a glass-half-full version of itself. The characters always get a happily ever after, something that LGBTQ+ folks don't often get in real life. The show's willingness and ability to touch upon very steep issues while letting its young audience know that everyone can overcome anything is a special mix that's hard to match. Thank goodness this show exists. More than just representation, Heartstopper is a call to action and a utopic escape all in one. 
All eight episodes of Heartstopper season 2 are available to stream on Netflix now.