Features
Queer as Folk: What Do LGBTQ+ Shows Need to Discuss in 2022?
Peacock's Queer as Folk breaks new ground for LGBTQ+ representation but lacks the focus and specificity that made the original a classic.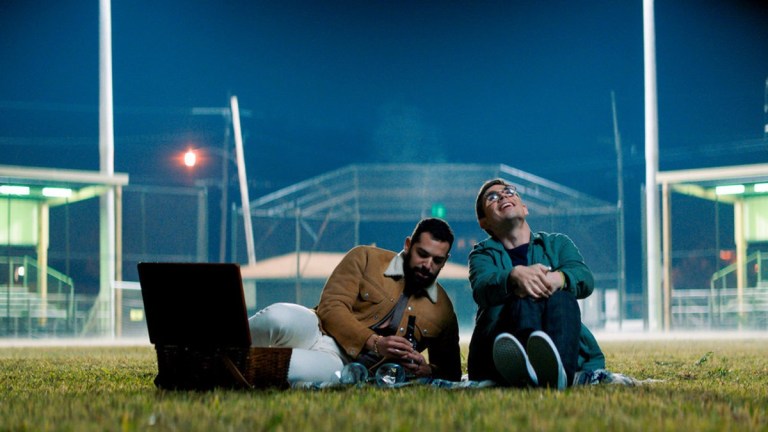 This article contains light spoilers for Peacock's Queer as Folk.
The original British version of Queer as Folk broke a tremendous amount of new ground for LGBTQ+ storytelling in the late 1990's. Telling the story of three wildly different gay men, creator Russell T. Davies was able to give a greater voice to broader experience of being queer in the Western world.
Straight people often have certain ideas in their head of how gay people act and what they desire. The characters in Davies' show take those tropes and try to flip them upside down, filling in the missing stripes of the rainbow between simply going to nightclubs and hooking up with strangers you've found online. And while those things are a culturally significant part of being queer, they are not the entire picture.
With more than 20 years passing since the original version released, Peacock's remake of Queer as Folk is supposed to break even more ground…and does in some respects. The show is littered with main actors who are part of the LGBTQ+ community in real life (this is am important aspect to consider when casting queer shows), and it also has many non-white characters to demonstrate the experience of being a racial minority within the queer community.
And while all of these things are valiant attempts to depict the experience of being queer in 2022, the series is unable to delve in-depth into its massive cast of character's psyches effectively or efficiently. Depicting a potpourri of LGBTQ+ lifestyles and identities rather than focusing in on the struggles of the specific characters within them makes the viewing experience a little overwhelming. There's a small selection of shows that can handle a dozen characters getting their own storylines, and the decision-makers behind this remake should have probably realized their show wasn't one of them.
Queer as Folk largely works as a surface-level show that starts to get people familiar with topics they should be thinking about, and to soften their stance on social issues that they may have misconceptions of. Television is a powerful tool to introduce new things to folks who are resistant to change. When the scope gets narrowed down, however, it feels much more personal. Straight viewers can imagine living alongside one of these characters, coming to understand their struggles, and maybe even learning some things about a different culture that they didn't expect to.
For example, the catalyst of the season's plot is a shooting in a New Orleans gay bar called
Babylon in the pilot episode. This traumatic event draws on the audience's memory of the horrific Pulse shooting in Florida in 2016, and it serves as a controversial turning point for the story. TV should be careful so as to not exploit real life atrocities as plot devices. The characters are all supposed to persevere through the shooting afterwards, but it's a heady topic for any show to tackle, let alone one intending to be as hopeful as Queer as Folk ultimately is.
The shooting scene can serve as a wakeup call to straight people watching from home that these types of hate crimes absolutely can happen in real life to people they know and adore. At the same time, showrunners could have found other ways to hit close to home than reenacting the absolute worst of humanity's actions. Quinta Brunson, the star and head writer of smash hit sitcom Abbott Elementary, did so when she responded to fans on social media asking her to make a school shooting episode of her program after the Uvalde shooting last month. She wondered aloud how we've gotten to the point as a country where people are even relying on television to enact change as opposed to legislation.
Finding that balance is very difficult, but particularly for Queer as Folk, which seems to want to be infinitely optimistic rather than realistically pessimistic. Additionally, the show has a hard time creating a realistic image of life as a non-straight person because they don't completely round out their characters so that all viewers can see what life should be like for the LGBTQ+ community in an accepting world.
Queer as Folk takes an admirable stab at this with main characters Shar (CG) and Ruthie (Jesse James Keitel) raising a baby together. It's vital to tap into the similarities and differences for LGBTQ+ parents to raise children compared to straight couples. Many detractors of same-sex marriage and same-sex parenting through the decades have pointed to this very concept. This is mostly because they have an image in their head of how gender non-comforming parents and gay parents are going to "ruin" their children because there isn't a traditional mother and father. Television showing the beautiful ways that queer couples can take advantage of their unique situations and raise their family in their own way can normalize the entire experience for everyone watching from home. They can use what they see on screen to finally understand the reality of queer parenting instead of the archaic pictures of it in their imagination.
This was why Modern Family's depiction of this scenario continues to endure so many years after its premiere, and many shows have missed on expanding this type of storytelling. The focus is always on Cam and Mitchell (Eric Stonestreet and Jesse Tyler Ferguson) and the way their personalities mesh within their marriage, thus influencing their parenting styles. Too many shows try to depict same-sex parenting just for the sake of it rather than incorporating the struggles that all parents go through no matter what their sexuality is.
Another important area that is addressed for a mass audience is the concept of men dressing in drag and performing in front of hundreds of loving and accepting audience members. Teenage character Mingus (Fin Argus) embraces his true self on stage right before the aforementioned shooting. The show cuts this profound moment short by introducing with the mass shooting plot, but for a fleeting second we get to see the joy that drag shows produce. This is vital to talk about in a political climate in which some states are trying to get drag show attendance banned for underage people.
If anything can be said for the Queer as Folk reboot, it's that it serves as somewhat of a tipping point where representation must become something deeper. It's no longer good enough to just show a variety of queer people on TV. The characters need to be singled in on, something that the original show, in many ways, did much better because of the smaller cast. Perhaps once the television and film industry tries to look forward and make new concepts rather than trying to recapture the past with reboots is when we will finally make progress in all types of storytelling.