News
HBO Max New Releases: May 2023
We have the highlights of what's coming to HBO Max in May 2023 including The Other Two season 3!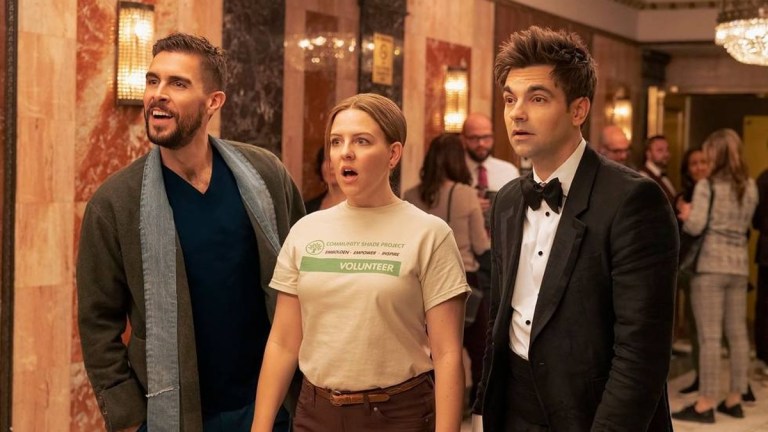 Wait a minute, you might be asking, isn't HBO Max supposed to be "Max" now? How then, am I seeing a list of HBO Max new releases for May 2023? Well spotted, dear reader. Warner Bros. Discovery did indeed recently reveal that it would be rebranding its combined HBO Max and Discovery+ streaming service as just Max. As the company notes in its press release for May though, that change doesn't take effect until May 23. What follows is a list of everything coming to HBO Max through May 22.
The biggest releases this month are two TV series that arrive at the beginning of May. White House Plumbers is a comedic take on the infamous Watergate scandal starring Woody Harrelson and Justin Theroux. That will be followed by season 3 of The Other Two, which I personally consider the funniest show on television. Catch up now before it's too late!
There aren't many other Max Originals of note this month though there are two intriguing documentaries: 100% Me: Growing Up Mixed on May 2 and Love to Love You, Donna Summer on May 20. Thankfully though, the last days of HBO Max will see plenty of fresh library content to enjoy. Parasite, Kingsman: The Secret Service, and Step Brothers are just some of the movies arriving on May 1. Those will be followed by The Conjuring on May 8 and Unbreakable on May 15. Notably, the most recent season of Rick and Morty will be made available on May 11.
That's all for now but be sure to stay tuned for more news regarding the beginning of Max as it arrives.
Here is everything else coming to and leaving HBO Max this month.
HBO Max New Releases – May 2023
May 1
Absolute Power, 1997 (HBO)
Alpha Dog, 2006 (HBO)
American Honey, 2016 (HBO)
As Tears Go By, 1988
Betrayed, 1988 (HBO)
Black Mass, 2015 (HBO)
Blue Valentine, 2010 (HBO)
Calvary, 2014 (HBO)
Coffee and Cigarettes, 2003
Daddy Day Care, 2003 (HBO)
Dr. Seuss' Horton Hears A Who!, 2008 (HBO)
Dreamer: Inspired By A True Story, 2005 (HBO)
Eat Pray Love, 2010
The Forbidden Kingdom, 2008 (HBO)
Heartbreakers, 2001 (HBO)
The Hole In The Ground, 2019 (HBO)
Hustle & Flow, 2005 (HBO)
I Now Pronounce You Chuck And Larry, 2007 (HBO)
The Karate Kid, 2010
Kingsman: The Secret Service, 2014 (HBO)
The Last Castle, 2001 (HBO)
Lord Of Illusions, 1995 (HBO) (Director's Cut)
Lucky You, 2007 (HBO)
Man Of The House, 2005 (HBO)
Mid90s, 2019 (HBO)
Midnight Sun, 2018 (HBO)
Mirror Mirror, 2012 (HBO)
Mirrors, 2008 (Extended Version) (HBO)
My Big Fat Greek Wedding 2, 2016 (HBO)
Paper Moon, 1973 (HBO)
Paranoia, 2013 (HBO)
Parasite, 2019 (HBO)
The Rookie, 2002 (HBO)
Shark Night 3D, 2011 (HBO)
Sky Captain And The World Of Tomorrow, 2004 (HBO)
Soapdish, 1991 (HBO)
Some Like It Hot, 1959 (HBO)
Sorority Row, 2009 (HBO)
Step Brothers, 2008
White House Plumbers, Limited Series Premiere (HBO)
Windtalkers, 2002 (HBO)
May 2
1000% Me: Growing Up Mixed, Documentary Premiere (HBO)
Batwheels, Season 1E
RUN ALL NIGHT, (HBO)
May 3
Fifty Shades of Grey, 2015 (HBO) (Unrated Version)
May 4
The Other Two, Max Original Season 3 Premiere
May 5
Unicorn: Warriors Eternal, Season 1
May 8
Dr. Seuss' Horton Hears A Who!, 2008 (HBO)
Legion of Super-Heroes, 2023
Sky Captain and The World Of Tomorrow, 2004 (HBO)
The Conjuring, 2013 (HBO)
Two Sides of the Abyss (Die zwei Seiten des Abgrunds), Max Original Premiere
May 11
Rick and Morty, Season 6
May 14
We Baby Bears: Little Falling Star, Season 1G
May 15
I Now Pronounce You Chuck And Larry, 2007 (HBO)
Land of Gold, 2022
Unbreakable, 2000 (HBO)
May 16
Angel City, Three-Part Documentary Series Premiere (HBO)
Men in Black, 1997
Men in Black II, 2002
Men in Black III, 2012
May 19
The LEGO Batman Movie, 2017
Lord Of The Rings: The Fellowship Of The Ring, 2001 (HBO)
Parasite, 2019 (HBO)
Spy/Master, Max Original Premiere
May 20
Love to Love You, Donna Summer, Documentary Premiere (HBO)
May 22
Kingsman: The Secret Service, 2014 (HBO)
Mid90s, 2018 (HBO)
San Andreas, 2015