Reviews
Harlan Coben's Shelter Review: Big, Dumb and Sort Of Fun
Very serious themes meet Scooby Doo mystery-solving in this bewilderingly poor taste teen thriller that's entertaining, but not always for the right reasons.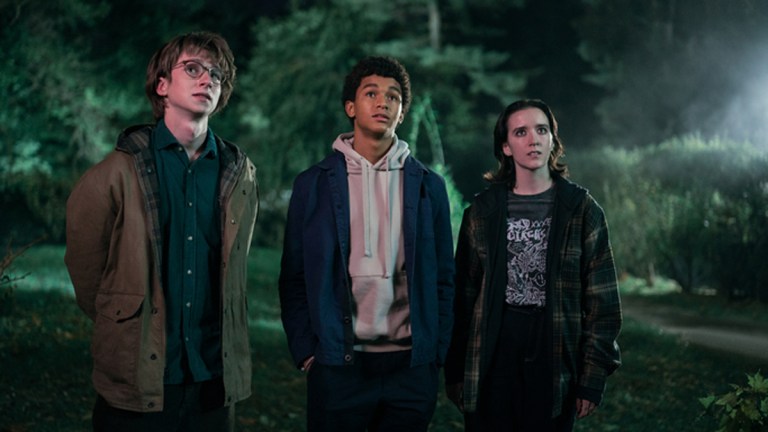 "The man who attacked my husband had a tattoo on his face… of an octopus!" That line is delivered with funeral home-seriousness in new Prime Video series Shelter. It is far from alone. "By all means," says one character with the earnest commitment of an Oscar-clip, "proceed with your twisted mind games and murdering of drama teachers!" Another poignantly confides in a friend about his mother's depression with the sad words, "It started when she was a teen tennis pro."
Do they know? They have to know.
I don't know if they know. At some points watching Harlan Coben's Shelter, you'll think the creators are definitely in on the joke. The dialogue feels zippy and ironic, as if the characters are aware that they're essentially in a Scooby Doo episode themed, with bewildering poor taste, around child abuse, underage sex trafficking, and the Holocaust. At other points, they really don't seem to know.
The eight-episode thriller is a baffling mix. There's child abduction. People getting shot in the head. A horrific car crash. An amateur production of Phantom of the Opera. Historical genocide. A charming middle-aged lesbian love story. And so many lengthy scenes of high school basketball that you'll scour the credits for signs that the episodes are sponsored by a government initiative to get kids into sports.
Try to make sense of it all, and you'll develop a stress-based tic. Relax into its weird cocktail of high school sweetness and real-world horrors, and you could have a good time. If you're into ludicrous narrative twists and charismatic teen actors, you'll positively enjoy yourself.
The main plot is about sixteen-year-old high schooler Mickey Bolitar (Jaden Michael), who returns to the US to live with his aunt (Constance Zimmer) in his dad's old New Jersey hometown. The fictional location of Kasselton is your average Twin Peaks mix of toothsome highschoolers and dark, sordid secrets.
Mickey quickly pals up with two loveable Kasselton weirdos – fast-talking nerd Arthur "Spoon" Spindell (Metal Lords' Adrian Greensmith, this show's MVP), and Ally Sheedy in The Breakfast Club-type Ema Winslow (Abby Corrigan). It's a pretty charming set-up filled with regular teen stuff: sports games, homework assignments, first loves and misfit bonding. More effort than usual is made to humanise Queen Bee and Prom King couple Rachel and Troy, and there's a fresh breeze of self-aware, modern commentary that blows away some of the cobwebs on tired high school movie conventions.
When a fellow student goes missing, the newly formed gang of besties set about finding her, a project that ties into Mickey's own search through his father's past. When he stumbles upon a creepy house that's the stuff of local legend, things turn a little Stranger Things and the quipping teens are dragged into the story of mysterious Kasselton boogiewoman Bat Lady (The Walking Dead's Tovah Feldshuh). Add in history teacher Mrs Friedman (Grease's Didi Conn), sinister "Sunglasses Man", aforementioned violent attacker "Octoface" and there's a large cast of walking secret-containers for the eight episodes to smash open.
What doesn't sit right is the combination of everyday teen stuff with some very serious themes indeed. We're not talking Stranger Things-style fantasy horror, but real-world atrocity tastelessly stirred into this cartoony mishmash. Comedy silliness is side by side with a story based in the darkest period in twentieth century history. A teen rom-com meet-cute takes place while an underage girl flees sex trafficking (while dressed in her underwear because cake, people! You can have it and eat it). There's a discomfiting clash of tones that once again makes you ask, do the programme makers know? Surely they have to know.
We've come this far without mentioning an explanation for this series' identity crisis: it's adapted from a story by Harlan Coben. Publishing golden goose Coben is the author of eight billion thrillers, all of which have been or are being adapted for TV (mostly at Netflix, but Prime Video has the rights to the Mickey Bolitar character, the spin-off nephew of Coben's biggest hit Myron Bolitar). Coben's escapist stories are lurid, larger-than-life and hugely popular. Shelter has the first two in the bag, but will it manage the third?
Harlan Coben's Shelter episodes one to three are available to stream on Prime Video. New episodes arrive weekly between Friday 25 August and 22 September.