Reviews
Hard Knocks Episode 5 Review
One of Hard Knocks best ever seasons ends with an insider trading arrest and a final roster cut massacre.
Being a geek can mean a lot of things. For our Cleveland-based editor Alec Bojalad, being a geek means supporting an apocalyptically awful Cleveland Browns football team through decades of misery. The Browns are now the subject of HBO's football docuseries Hard Knocks and Alec has some thoughts.
Legend has it that HBO has always wanted to get the Cleveland Browns on Hard Knocks. It makes sense – the Browns have been one of the NFL's most inept, dysfunctional franchises since they returned to action in 1999. Meanwhile their fanbase has remained one of the league's most passionate despite all the losing. If there's anything that HBO's cameras revel in capturing – passion and dysfunction top the list
Ironically though, the Browns have been so dysfunctional that they've done a good job at avoiding Hard Knocks until this year. The NFL's agreement with HBO allows for teams introducing a first year head coach to veto any Hard Knocks appearance. Since the Browns are terrible and therefore almost always breaking in a new head coach, they've been able to veto every time…until this year. 
This was almost cosmically ordained to be one of Hard Knocks best ever seasons before cameras even started rolling. When the Browns luck in skipping Hard Knocks ran out, it ran out HARD. The team, coming off an apocalyptically bad 0-16 season, had to welcome in cameras at the most inopportune time possible. But the Browns loss is all of our gain. There can be no greater narrative than a team that is as bad as mathematically possible, trying to reach respectability once again. And boy, did Hard Knocks deliver on that narrative. 
This season finale is an incredibly action-packed conclusion to an incredibly action-packed season. The episode opens with…OPENS WITH Browns linebacker Mychal Kendricks being arrested for insider trading. Yes, Kendricks committed the same crime that sent Martha Stewart to prison and he will likely be heading to the pokey as well. Still, news of Kendrick's crime and subsequent release from the team takes up all of 5 minutes of screen time. Such is life in the NFL. One minute you're staring at the television gobsmacked that your starting weakside inebacker cheated the stock market, the next minute you gotta get ready for the Detroit Lions. 
The practices before the preseason finale are dripping with the dramatic irony we've come to appreciate from this season. Again, we (or at least we Browns fans) already know which players have survived the final cuts so it makes every interaction on the field all the more bittersweet. It's probably a bad sign, for instance, that fourth year linebacker/defensive end Nate Orchard needs to be told by second year defensive end Myles Garrett that he should adopt the same stance for run plays and pass plays. It's like in that very moment Garrett realizes his friend is destined for the chopping block. Their subsequent drills take on a weird sense of melancholy because of it. 
Then there are poignant moments like when NFL-lifer, wide receivers coach, and wizened old sage Al Saunders makes his first Hard Knocks appearance to drop some wisdom on tight end Devon Cajuste. "People always remember what they see last," he says. That may be true but Cajuste's last game is his best one yet. Things still don't quite workout for him.
Thankfully, amid all the tension there are some coach-led moments of levity that we've all come to appreciate this season. Offensive line coach Bob Wylie shares his brand of strange philosophy once again, saying, "You guys don't want real jobs! Having a job is no good. You want these jobs where they put your name on the BACK of your shirt." Hell yeah, Bob! Then of course there is offensive coordinator Todd Haley's pained reaction to linebacker Christian Kirksey's dancing.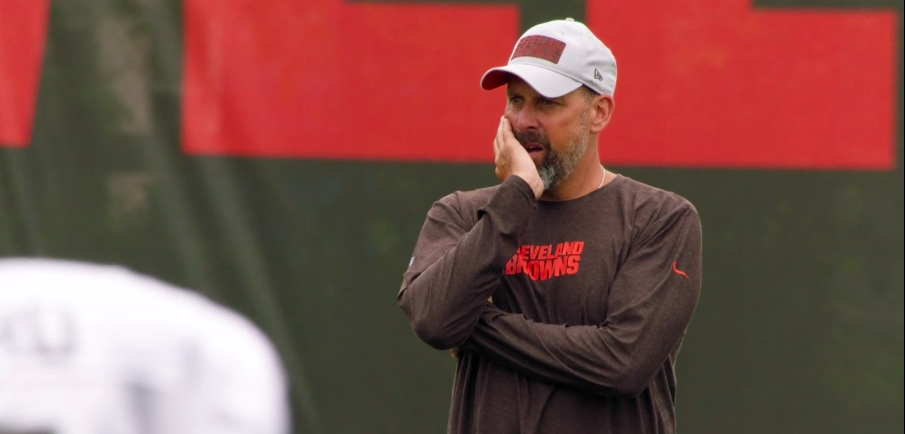 Before the season started, I decided to roll with a section in these reviews that would document that rage levels of defensive coordinator Gregg Williams. That's been mostly a bust (and won't be featured in this final review) as the defense has done nothing but give Williams reasons to smile (he still yells a lot though. And talks about testicles in the final moment of tonight's episode. It's like The Book of Mormon's closing line). What I should have done instead was created a Todd Haley bemusement meter. Oh well, we'll save that for next time the Browns are on Hard Knocks and Haley has just won his fourth Super Bowl as head coach. 
The dramatic irony that begins in practice only tightens once the final game rolls around. Here is another example where reality has once again conspired to give HBO the most compelling narrative possible. Hard Knocks opted to follow four "bubble" players closely: Orchard, Cajuste, defensive end Carl Nassib, and quarterback Brogan "Brobie" Roback. It would have been a tremendous bore and anticlimactic if any of these players struggled mightily in their final showcase. But none of them struggle – in fact all of them absolutely shine in their last attempts to wow the coaches. Nassib gets to the quarterback and engineers a fumble. Cajuste is QB Baker Mayfield's go-to receiver in the game's first drive that ends in a touchdown. Roback leads an impressive TD drive of his own. Orchard has the most impressive play of the night, and maybe of the preseason, when he picks off a pass in the backfield and runs it back for a touchdown. Each "character" gets the moment of triumph they've earned. And then in the end, are taught a brutal lesson that none of that ever really mattered anyway.
The final roster cuts are always the emotional climax of each Hard Knocks season. Never has a round of cuts been this devastating though. Here General Manager John Dorsey engineers the most efficient and dispassionate culling of humanity seen on HBO since The Red Wedding. 
Brogan gets the call. Cut. He must comfort his weeping girlfriend, Ali, in the Browns training facility parking lot. Cajuste gets the call. Cut. He has to inform his dad via phone because his dad's heart is too weak for travel. Nate Orchard gets the call. Cut. Right after he spent a lovely morning eating a lovely breakfast with his lovely family. 
That should be it – that should be the end of it. Nassib and Orchard were competing for the same position so Nassib should be in, right? Nope. What happens is just one more fortuitous example of Hard Knocks finally getting a hold of the Browns at the right time. Since the Browns were the worst team in the NFL last year, they get first dibs on every other teams' released players. Dorsey finds an unnamed defensive lineman he likes (Carl Davis if you're curious) so Nassib gets the call. Cut. At least Todd Haley still has a defensive lineman named "Carl" to make fun of. 
At one point during the final cut massacre, an overhead camera spots Browns therapy dog, Moose, wandering down a hallway while a sad Mariachi version of the Hard Knocks theme song plays.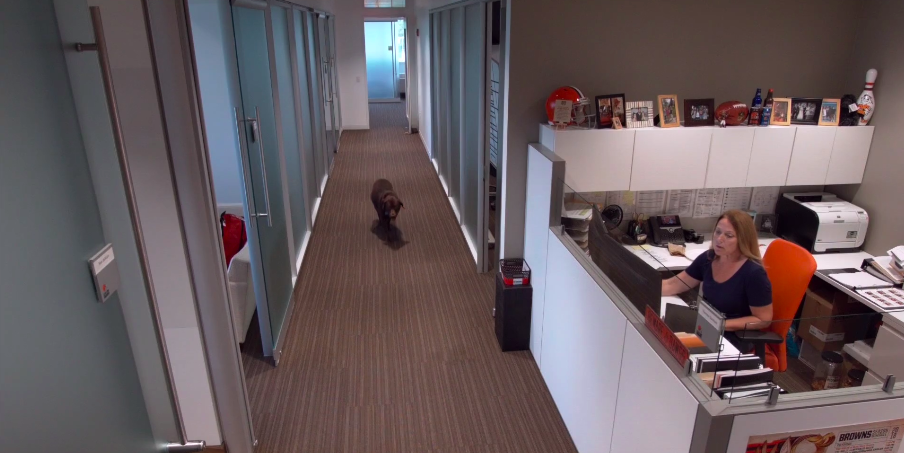 Look at him. He and the receptionist appear to be the final two living creatures in a 100-mile radius. Dorsey cut them all. He spared no one. Only Moose remains. 
By episode's end, the Browns have their 53-man roster and HBO has almost certainly their best Hard Knocks season ever. Everything about the Browns going into this year was simply too cinematic to fail. Hue Jackson's initiative for Browns players to "earn their stripes" is corny as all hell but it provides Hard Knocks with the perfect visual, cathartic conclusion. The Cleveland Browns ducked Hard Knocks for as long as they could. Thank the football gods that Hard Knocks finally caught them. 
Now the 16-0 season begins.
Alec Bojalad is TV Editor at Den of Geek. Read more of his stuff here. Follow him at his creatively-named Twitter handle @alecbojalad