Reviews
Hard Knocks Episode 3 Review
The sanctity of the QB RV is violated and Dez Bryant Watch brings down an otherwise fun episode of Hard Knocks.
Being a geek can mean a lot of things. For our Cleveland-based editor Alec Bojalad, being a geek means supporting an apocalyptically awful Cleveland Browns football team through decades of misery. The Browns are now the subject of HBO's football docuseries Hard Knocks and Alec has some thoughts.
So uh…how do you pronounce "Tyrod?"
Last week's Hard Knocks was as close to the platonic ideal of a Hard Knocks episode as possible. There was a consistent theme throughout (wide receivers be trippin'), plenty of dramatic irony, and the introduction of a lovable new "character" in danger of not making the team in Devon Cajuste.
This week's Episode 3 can't quite meet the deliriously fun highs of its predecessor but remains a compelling watch all the same. 
The real issue with Hard Knocks third episode is that it's filled with needless interlopers. This is obviously not something that HBO can control because what happens in Cleveland Browns training camp…happens in Cleveland Browns training camp. Having acknowledged those limitations, does that mean that this episode crying out for a five-minute Brad Paisley appearance? No, no it does not. Not only does Paisley get to visit the training camp of his favorite childhood team, he gets to do the unthinkable and ENTERS INTO THE QB RV SANCTUM.
I'm sorry, I was told the RV that Tyrod Taylor forced Baker Mayfield to rent was for quarterbacks only. Now not only have the Hard Knocks cameras been inside it, but so has Brad-Freaking-Paisley. Brad-Freaking-Paisley who, mind you, didn't even recognize offensive tackle/guard Joel Bitonio when he came up to introduce himself. Does nobody care about the sanctity of the QB RV? At the very least, entrants should have to be able to pass an "Identify Joel Bitonio" exam.
What's worse than the violation of the QB RV this week, however, is wide receiver Dez Bryant's visit. Excuse me, I mean: DEZ WATCH!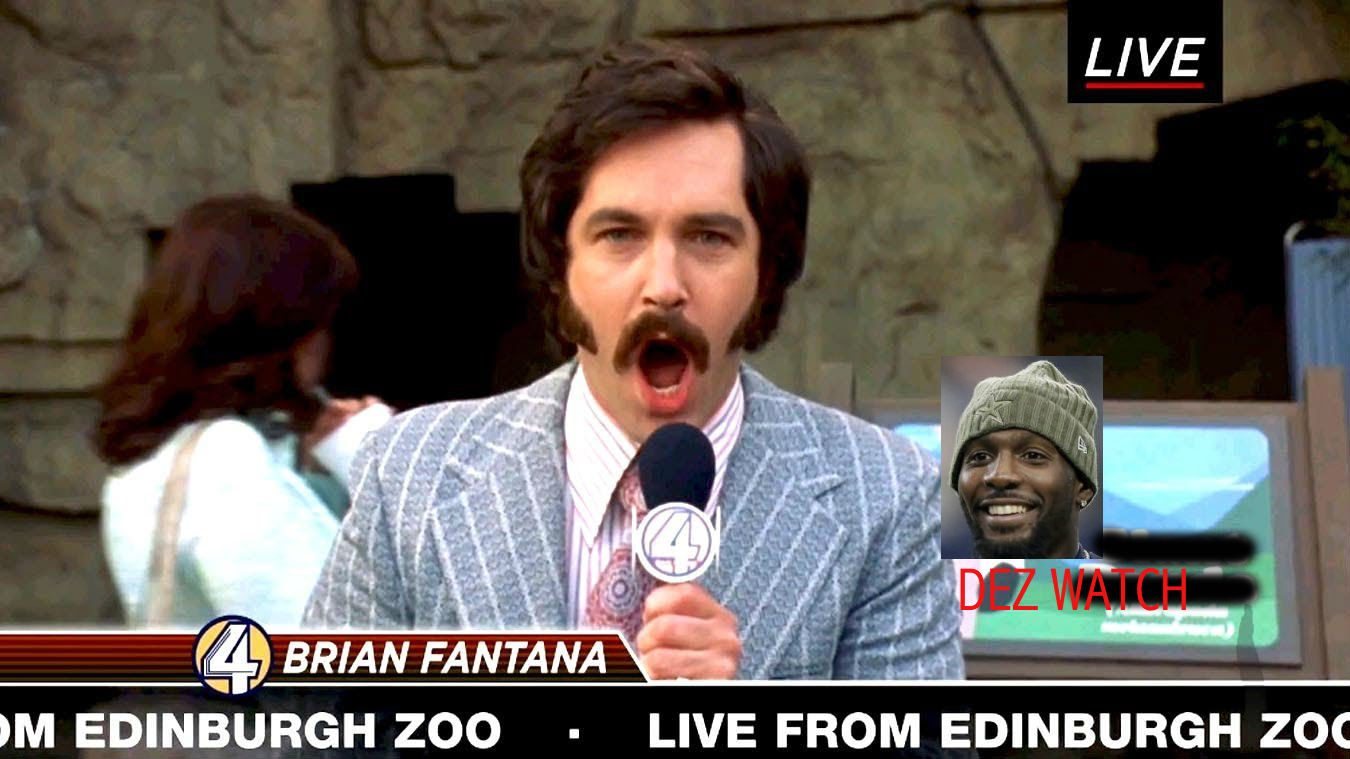 Reality and HBO's cameras have conspired to make the Browns wide receivers corps the object of the most drama this summer. First, star receiver Josh Gordon announced he would be stepping away from the team for a bit to ensure he wouldn't have a substance abuse relapse. Then Corey Coleman was traded and Antonio Callaway was pulled over with traces of marijuana in his car and a suspended license. Drama has a way of following these wide receivers but strangely enough the long, exhaustive pursuit of free agent Dez Bryant is virtually drama free.
Dez wants to be a Cleveland Brown…or maybe he's just using them to elevate his free agent stock. General Manager John Dorsey wants Dez to be a Cleveland Brown…or maybe he's just using him as a veiled threat to the other wide receivers to get in line. Either way, this kind of "will they or won't they" action just isn't as exciting in a football context where 300-pound men routinely crash into each other. 
So while it's certainly interesting to be a fly on the wall of Dez and Coach Hue Jackson's one-on-one, the scene seems to be the rare case in Hard Knocks when those being filmed are painfully aware they're being filmed. Hard Knocks is excellent at capturing authenticity but something about the Dez saga comes across as artificial. Thankfully Gordon is back now and a new line of authentic wide receiver drama will certainly open up. 
Despite all the unwelcome guests, this is still a massively entertaining hour of television. Football is such an utterly insane sport that one has to imagine that anyone who would devote his life to it would be at least a touch insane. 
Enter offensive line coach Bob Wylie.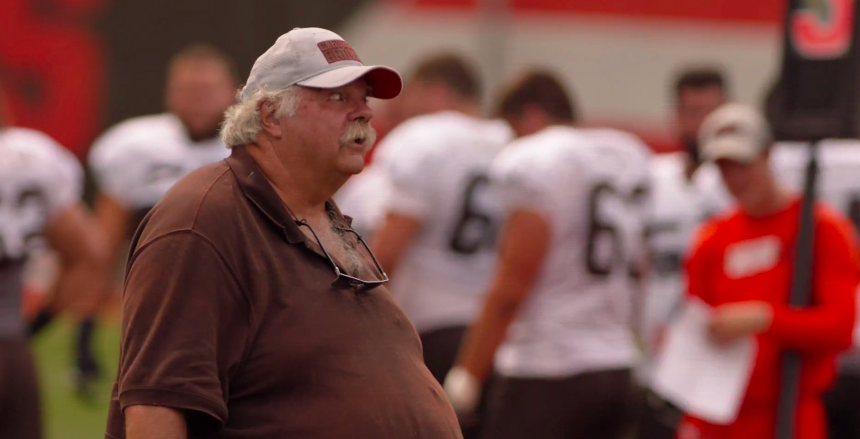 The Browns must have hired Wylie back in 2017 knowing that one day Hard Knocks cameras would arrive and Bob would achieve the fame he so richly deserves. Bob looks like William Howard Taft and Andy Reid attempted a needless body swap and ended up just combining into each other. He sounds like if a walrus grew up in Southie. He owns a white maserati and has exhaustive knowledge of what animals would make the best offensive linemen. He's…the best.
It's not just all eccentricity either. This episode does a particularly good job of revealing the motivations for certain players, whether it's Jarvis Landry's perpetual chip on his shoulder that leads to a fight with cornerback Terrance Mitchell or Nate Orchard's clear love and investment in family. We've gotten accustomed to how good the editing is on Hard Knocks over the years. Still, the talent behind behind the show deserves credits for observing moments like Landry's intensity in practice and Orchard's desperation to make the team and seeing those stories through when the game finally comes. 
It's legitimately upsetting to see Orchard struggle to get a sack in the first half and then thrilling when he fares better against Buffalo's third stringers. Tight end and last week's standout Devon Cajuste goes through a similar experience, with an offensive pass interference call followed by a good special teams play.  
Great, now we've got two roster bubble candidates to worry about. Damn this show and its mastery of human empathy.
Best Line
You gotta love it when narrator Liev Schreiber gets a little sassy like when he calls Carl Nassib "third year tight end and financial advisor." The trophy this time though has to go to Bob Wylie. "You think they were worrying, when running through Normandy, about fucking stretching?"
Best Cleveland Tourism Moment
There are actually quite a few Cleveland Tourism moments in this episode. Brogan "Brobie" Roback and his girlfriend meet some butterflies and lizards at the Cleveland Botanical Garden. The Botanical Garden is located in the ancient University Circle section on Cleveland's east side and is really lovely. 
We are also entreated to quick glimpses of suburban Berea where fans gather to watch training camp and the Westin Hotel downtown where the Browns stay before the game. The best Cleveland tourism moment, however, has to be this episode's obsession with Cleveland Hopkins International Airport.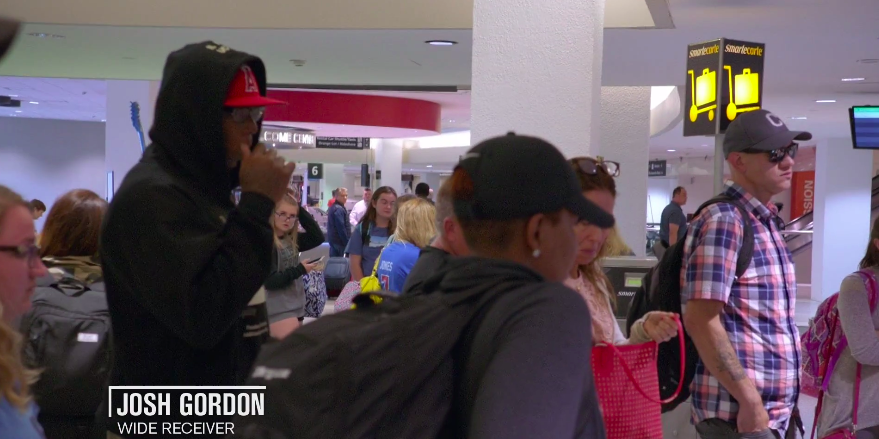 Look, there is no such thing as a good airport. There's no such thing as a good airline either. Everything about long distance travel is designed to inflict as much misery as possible unto innocent human subjects. But as far as torturous airport experiences go, Cleveland Hopkins is pretty great. It's the exact correct size that an airport should be. It's big enough to accommodate flights to major cities across the country and a few internationally but small enough that getting through security and to a gate isn't not a problem at all.
Cleveland Hopkins International Airport: Slightly less torturous than your average airport.
Gregg Williams Rage Level
4.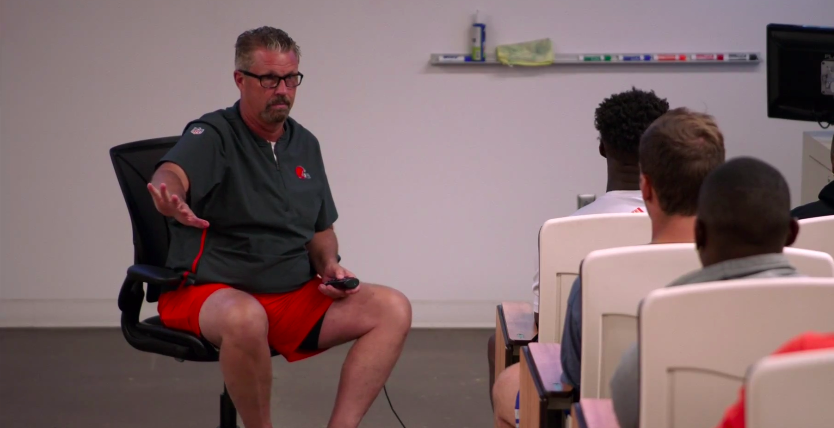 Gregg doesn't fully lose his mind with rage in this episode. In this screenshot though he does look a little disappointed at at the end of the day, isn't that even worse?
MVP
Look, we all love Bob Wylie. But if you thought for a moment…for a SECOND in your dumb little head that anybody but Good Boy Moose was tonight's MVP then you need to leave and never come back.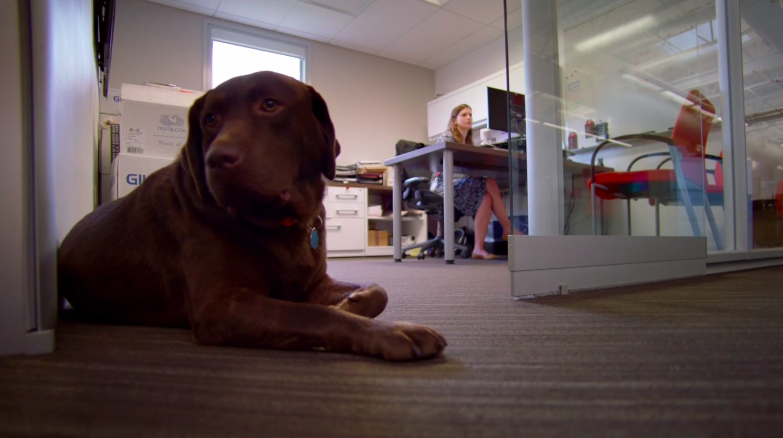 Good dog.