Reviews
Hard Knocks Episode 4 Review
Josh Gordon returns, the rookies put on a talent show, and the injuries pile up on Hard Knocks Episode 4.
Being a geek can mean a lot of things. For our Cleveland-based editor Alec Bojalad, being a geek means supporting an apocalyptically awful Cleveland Browns football team through decades of misery. The Browns are now the subject of HBO's football docuseries Hard Knocks and Alec has some thoughts.
For a sports documentary series in which hypothetically anything can happen, Hard Knocks usually abides by certain formulas. Over each season's scant five episodes, talented players are highlighted; "bubble" guys on the roster are introduced, and subsequently, tragically cut. 
There's also the grand tradition of the rookie talent show. NFL locker rooms are generally unoriginal places in which the same ideas and customs get passed around the league. The tradition of the rookie talent show is a real no-brainer for NFL teams looking to build team camaraderie and subsequently is an even bigger no-brainer for a Hard Knocks show looking for something to break up the monotony of training camp.
This episode of Hard Knocks finally gets around to that cherished lighthearted rookie hazing ritual and presents another easy season highlight. Look, I don't know if the Browns are going 16-0 en route to a Super Bowl victory (they are) but if the creative talents of the team's rookies are any indication, it's going to be a fun season. 
It's always interesting how the players on Hard Knocks getting to watch Hard Knocks week by week informs their behavior and conversations. The rookie talent show is a prime example. Wide receiver Blake Jackson is unlikely to make the Browns' roster but his place in team history is already cemented thanks to his brilliant skewering of Jarvis Landry's "that shit is contagious" speech from episode one.
Jackson displays a truly admirable understanding of how important escalation is in comedy. His skit finds a dubbed-over Landry admonishing players to play with a broken arm, a broken leg, and hell, two broken legs if need be. The repetition of "that shit is contagious" is a nice touch. 
Then there's fellow rookie/underwear model Baker Mayfield's skit. The Browns already leaked Baker's performance as stoic, gum-smacking general manager John Dorsey to Twitter but it's fun to watch it again along with the other players and even Dorsey himself. Later on in the episode, Mayfield tells Fox commentator Troy Aikman that Dorsey hated the impression but does this look like a man barely containing his violent rage to you?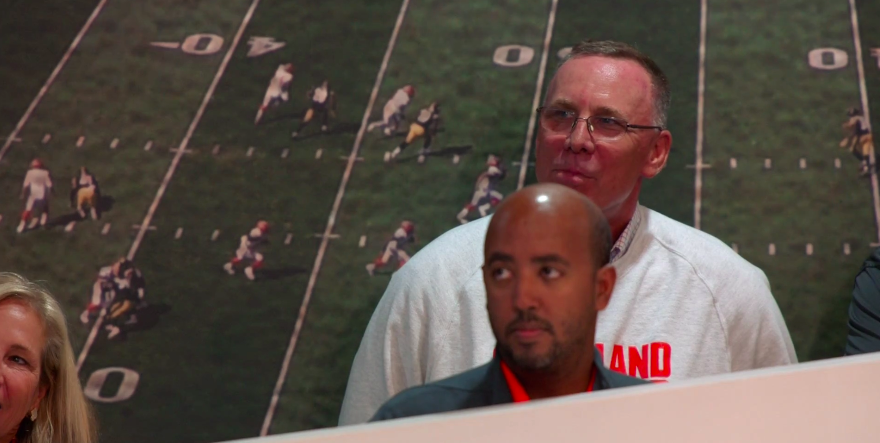 Shit. Baker's a dead man.
While, the rookie talent show provides a natural high to the episode, Hard Knocks struggles to latch out to compelling narratives elsewhere. It's telling that this episode opens with about a generic team meeting led by head coach Hue Jackson, rather than electrifying footage from practice. It seems as though HBO has happened upon a week in which there isn't much drama to be had.
Week three of the preseason is infamously the last (or arguably only) game in which teams actually try to compete – or at least play the starters any meaningful minutes. That means that aside from a Carl Nassib alien theory here or there, there isn't much whimsy to be found in practice.
Even the return of Josh Gordon is a dud because he has not been cleared to practice and therefore can't produce any compelling footage aside from perusing his playbook. 
Give the show credit where credit's due, however, it does find a way to make a 5-0 football game intense as hell. HBO cameras have a real knack for capturing how brutal and violent this sport is and starting QB Tyrod Taylor's injury is a perfect example. Shortly into the game against the Eagles, Taylor falls awkwardly on his left hand. The injury seems severe as Taylor rushes off the field, left arm dangling at his side. The cameras can't follow Taylor into the blue triage tent on the sidelines as he receives treatment but he does leave his microphone on. The following is a rough transcript:
Tyrod Taylor: "Oh my gosh, I can't feel it! AGHHHHHHHHH!"
Like ten minutes later, X-rays come back negative and Tyrod enters back into the game…a preseason game. The Browns have a bunch of vaudeville comedians for rookies and a quarterback apparently made of adamantium. It's going to be quite the season. 
Best Line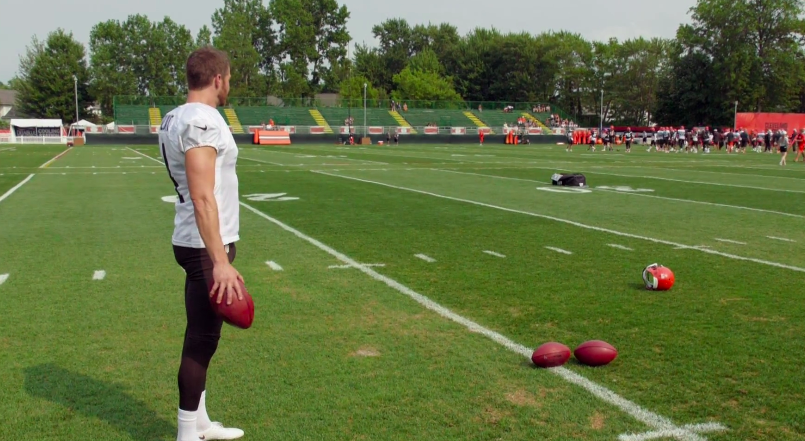 "God be with whoever got hurt right now, Lord. Give them strength. Give them peace during this. Give them healing," – Britton Colquitt.
I shouldn't laugh because punter Britton Colquitt is being a real sweetheart here. It's just inherently funny to watch a punter do anything. This is the first time we've seen Colquitt this season and fittingly he's like 70 yards away from any real action on the field and interpreting a pulled hamstring to be a life-threatening injury. Punters, man.
Best Cleveland Tourism Moment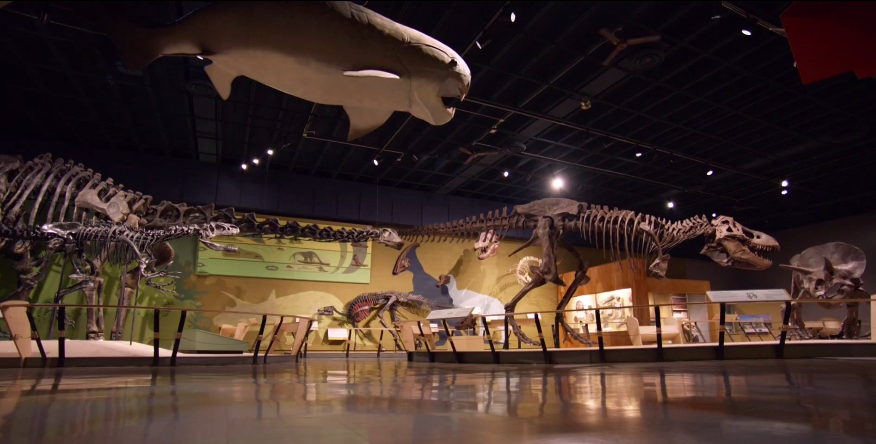 Hard Knocks eschews its usual formatting of highlighting a player's off-the-field life during the episode and instead throws some vignettes at the end, after the game. Carl Nassib's visit to the Cleveland Museum of Natural History museum is less than a minute long but at least it shows some of the museum's cooler artifacts. 
You ever hear of the fossil "Australopithecus?" No? That's because you may know "her" by her more common name, "Lucy." Lucy is one of the most important anthropological discoveries of all time and represents an important link in human evolution. She's in Cleveland. As is, hero sled dog Balto. Both can be found at the Museum of Natural History.
Gregg Williams Rage Level
1/10.
Look, I'm just as disappointed as you guys. I assumed that Gregg Williams plus Hard Knocks cameras meant real fireworks. The combination certainly produced them when Gregg was featured during a Hard Knocks season with the Rams. But the Browns defense has just been too good! Gregg has nothing to be upset about. I apologize. For the finale, maybe we'll switch to a Todd Haley rage meter.
MVP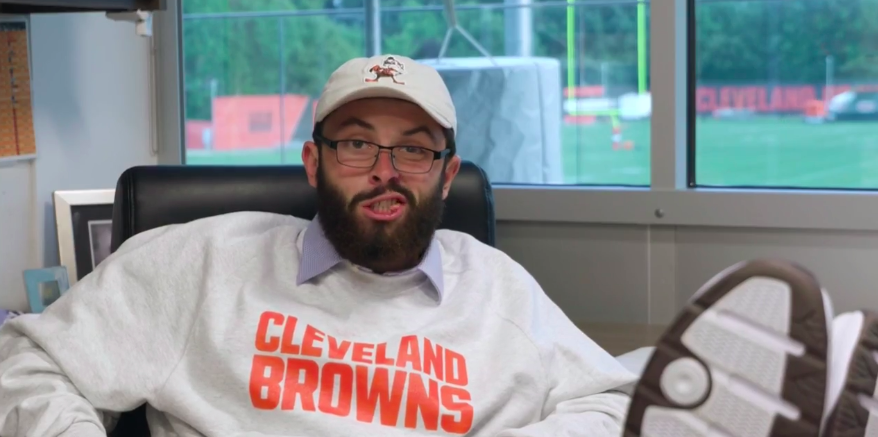 *smacks gum* "Lemme tell you somethin', buddy bwooi." It's tempting to give Myles Garrett MVP for on-field dominance but we've never been about that in our Hard Knocks reviews. This week's champion has to be Baker Mayfield for his Darrell Hammond-like impersonation abilities.