Features
Ginny & Georgia Season 2 Ending Explained
Netflix's mother-daughter dramedy Ginny & Georgia leaves fans with a truly scandalous season 2 conclusion.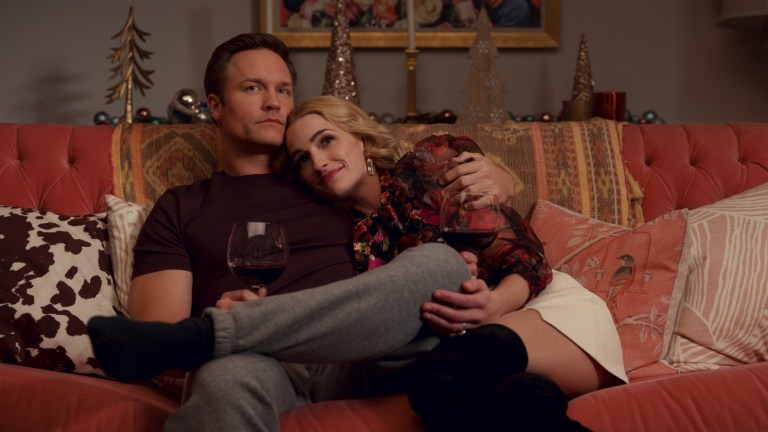 The hit Netflix series Ginny & Georgia follows mother and daughter duo, 30-year-old single mother Georgia Miller (Brianne Howey) and her 15-year-old daughter, Ginny (Antonia Gentry) who move from Texas to the town of Wellsbury. Along for the ride with them is Georgia's nine-year-old son, Austin. Having moved multiple times before, they are no strangers to new beginnings but Wellsbury seems a bit different for the Miller family. The show's first season explored this through the themes of race, romance and Georgia's tendency to murder those close to her (except her beloved kids of course.) However, in season two we really get to understand the reasons why Georgia is the force she is and why she really wanted Wellsbury to be so different for her family. 
The Ginny & Georgia season 2 finale opens the morning after Austin shoots his father, Gil Timmins (Aaron Ashmore) in the arm. While that is totally chaotic for the second season's conclusion, the actual final moment features something no one would ever expect to see in Georgia's future.
What exactly happened? Well…
The Shooting at the End of Episode 8
At the end of episode 8, we hear a gunshot go off in idyllic Wellsbury. But it's not until episode nine, which gives us more in-depth detail about what went on in episode 8, that we find out what really happened.
Georgia Miller is not someone known for telling the truth but considering Georgia told Paul (Scott Porter) she had only one gun in the house, it's no surprise that Austin firing a gun may come as a bit of a shock to him. Earlier on in episode 8, Austin finds a gun under Georgia's dresser and although he puts it back, when he hears his father, Gil, fighting and basically abusing Georgia in their kitchen. Austin does the only thing he can think of, he gets the gun and fires it. Hence the gunshot.
Don't worry, he didn't kill anyone he just ended up shooting Gil a little bit in the arm and in the kitchen wall. Georgia, being the force that she is, deals with the matter very swiftly. She gets her sewing kit and stitches Gil back up. She tells Ginny to text Marcus and Max that no it was not a gunshot they just heard and she gets Austin to draw a picture which they put over the bullet hole in their kitchen wall. So when Paul gets home, he's none the wiser to what went on. How no one called the police after they heard the gunshot we'll never know but alas, the Miller family gets away with it.
Is Georgia Going to Prison?
As if the gunshot situation wasn't enough, Gil wants money from Georgia – specifically Paul's money Georgia will have access to once she marries him – and the PI hired by Kenny's ex-wife (Georgia's deceased husband's ex-wife) to investigate Georgia's suspected involvement in Kenny's death is still sniffing around. Everything gets a bit much for Georgia and she cancels her wedding venue and prepares to flee with the kids to a new location. However once Ginny figures out what her mother's up to she convinces her to tell Paul the truth about her past. She tells him everything from how she stole money from his office to how that cute family picture he loves so much on the kitchen wall is actually covering up a bullet hole in the wall.
The situation becomes a little bit much for Paul and he walks out but the following morning he messages Georgia to meet him at his office, where he is there with a lawyer, a police officer, and Gil. Paul lets Gil know that he will not be getting any of his family's money and that if he wants access to Georgia and his son Austin, he has a custody battle on his hands. Something Paul knows Gil doesn't want because he is an ex-convict and an ex-convict getting custody, probably wouldn't look good to a judge in court. After he leaves Paul reveals that he is still very much in love with Georgia and wants to get married.
Ginny ends up sorting everything out for the wedding (since Georgia cancelled everything in fear) and Georgia ends up getting taken to town hall, her new wedding venue by Joe's horse, Milkshake. Paul and Georgia say "I do." But during their first dance, PI Gabriel Cordova (Alex Mallari Jr) and Wellsbury police force turn up to arrest Georgia for the murder of Cynthia's husband, Tom Fuller. The man Georgia smothered to death in episode 8. Well you know what they say if you can't do the time, don't do the crime. But in Georgia's defence this crime she did do for Cynthia who said she just wanted her husband to go now as watching him suffer was painful.
Georgia ends up being escorted out of her wedding reception to the sounds of The Dixie Cups' "Going To The Chapel Of Love." Leaving the final scene of Ginny & Georgia season 2 to show Georgia being driven away in the back of a police car. Definitely not the dream honeymoon that Georgia was really looking for.
Do Ginny and Marcus Get Back Together?
Paul and Georgia's relationship isn't the only relationship that doesn't end with a happy moment in the final episode. Most couples during season 2 don't make it.
Joe (Raymond Ablack) and Cynthia (Sabrina Grdevich) had a little thing going there for a moment during season two and while it was something we never saw coming. Their affair seemed to be a much-needed thing for both of them. Joe to get over his long-lasting crush on Georgia (it didn't end up working) and Cynthia to gain some escapism from her sick husband who was dying at home. The affair came to a conclusion as quickly as it started but with Cynthia's husband now gone and Georgia potentially on her way to prison, maybe both of these characters will get back together. However, the writers seem to be still teasing us about the potential for Georgia and Joe. As Georgia reveals in episode nine, she remembered Joe all along but refuses to confirm or deny whether Joe is imagining the romantic feelings lingering between them.
Another couple that saw the end was Ginny and Marcus Baker (Felix Mallard). They split at the end of episode 8 and despite the signs of a reunion on the cards during the final episode, we didn't seem to get a confirmation. After Max opened Ginny's eyes to the fact that Marcus's mental health is seriously on the decline, something we as viewers have been able to witness through his inner monologues and general actions, it took a while for Ginny to realise that his depression was the reason he broke up with her. So even though Ginny comforts Marcus at the Baker house and they acknowledge they still love each other, there's no definitive answers to whether they're on again. The only sign we get that they may get back together is at Georgia's wedding when Marcus says he only turned up because he likes to see Ginny happy.
The only glimmer of romantic happiness we see is from Marcus' twin Maxine (Sara Waisglass). Max had been suffering a serious case of the breakup blues the whole season and when it seemed that she was finally going to move on with Silver, Max's ex Sophie (Humberly González) wanted to grab a coffee. When Sophie confesses that she still wanted to be friends with Max, very much toying with Max's feelings, Max drew a line and said she couldn't do it and decided to see where things went with Silver. This very much seemed to be the only happy case for romance as with Joe and Cynthia being done, Georgia on her way to prison and Marcus and Ginny being in one of their low periods, there's very few hopes for love with Wellsbury residents by the end of season 2.
Will There Be a Ginny & Georgia Season 3?
The cliffhanger ending of Ginny & Georgia season 2 makes the third season very much a necessity. But whether or not Netflix answers that need is another thing. Netflix has a track record for cancelling shows on cliffhangers, such as First Kill, Resident Evil and Partner Track. However, the high anticipation for the second season's release and the way in which the writers have ended the show suggests that a third season could very much be in the works already or at least solidify thought about by the writers. Only time will tell!
All 10 episodes of Ginny & Georgia are available to stream on Netflix now.