Features
Ghosts Season 2: Why Danielle Pinnock Wants a Twin Sister for Alberta
Ghosts actress Danielle Pinnock breaks down the standout "Alberta's Podcast," reveals Alberta's favorite musical, and pitches an Ursula movie.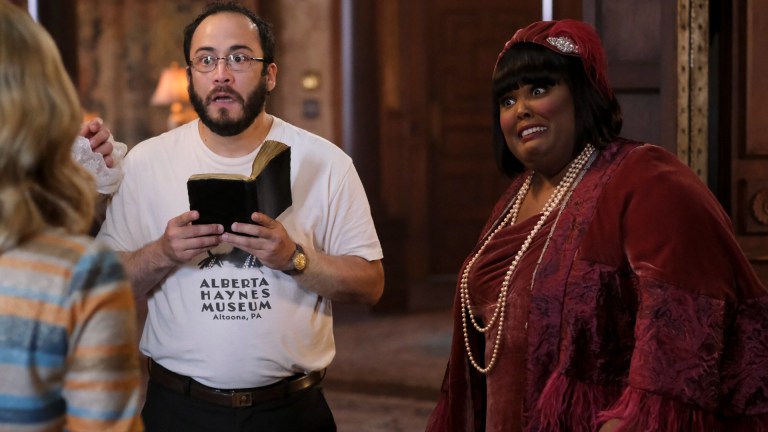 This article contains spoilers for Ghosts season 2 episodes 1 and 2.
Alberta Haynes (Danielle Pinnock) is one of CBS's Ghosts most fascinating creations. A Black jazz singer from the 1920's, she had a beautiful voice but life at the intersections of race, gender, and body image was not easy. Unfortunately, Alberta died in Woodstone Manor under mysterious circumstances. Her spirit was trapped in a ghostly form, unable to ascend to heaven or down to hell because her death became a mystery.
A century later, a woman named Sam (Rose McIver) and her husband Jay (Utkarsh Ambudkar) inherit Woodstone Manor. They want to turn the old house into a quaint bed and breakfast. Sam falls down the stairs and ends up being able to see Alberta and the other ghosts in residence. Ghosts season 1 tells the story of how Sam and Jay adjust to life with Sam's newfound powers while also juggling the demands of starting up a business.
Alberta is "a brassy, delicious diva, and she has such a can-do attitude and she's so fierce and confident" which is why she quickly became one of the most popular characters in Ghosts, star Danielle Pinnock says.
Den of Geek spoke to the actress behind the red chiffon dress for the inside scoop on season 2, her dream guest star gig, and her side projects in between shooting.
DEN OF GEEK: Did you watch any episodes of BBC's Ghosts to either prepare for last season or for season 2 filming?
DANIELLE PINNOCK: Yes, I did and I loved it. We would not be here without them. Honestly, they have just been so gracious and so collaborative with us. I'm really excited for people to see this season, because they've had some input.
Have you had any correspondence with Lolly Adefope, the actress who plays Kitty in BBC Ghosts?
I have not. I hope to one day. I love her in Shrill and Miracle Workers. I think she's just an incredibly gifted talent, especially on Ghosts. It's so funny because my aunt, Patrice Johnson Chevon played her mother in Shrill. I was like, I'm one degree of separation away from her, but I hope to meet her.
What can fans look forward to seeing in Alberta's season two storyline?
We will definitely be investigating more and more about who murdered her. We'll get closer and closer to finding out if she murdered or not. I'm kind of leaning towards the fact that she was murdered, but we won't know. Every time we get a new script, it gives us more information. I'm excited for audiences to learn more about that. I'm also really excited for audiences to see her relationship with Pete, who is played expertly by Richie Moriarty, and we get to see a little bit more vulnerable side of our girl. Alberta is a brassy, delicious diva, and she has such a can-do attitude and she's so fierce and confident, but she loses a little confidence when it's time to possibly entertain the thought of dating Pete.
The second episode of the season "Alberta's Podcast" features a flashback to Alberta on the big stage. Do you have any input on the way the writers have shaped her character? 
I really don't have much input at all. I leave that to the geniuses in the writer's room and Joe Port and Joe Wiseman. They did talk to me a little bit when [the script] dealt with how her body was perceived during that time and as a musician. They talked to me about if I felt comfortable talking about that because my entire career has been about body positivity within the entertainment industry. I said, 'Absolutely, let's run to the hills with this.' I'm so thrilled that people get to see Alberta back on stage during the Harlem Renaissance. Listen, I am not a singer, but I did take some singing lessons, shout out to Yvette Kassan, who helped me through that. I'm excited for audiences to learn more about who Alberta was back in the day. She was up to some mischievous events as well!
During "Alberta's Podcast" the audience is introduced to one of Alberta's rivals in the industry. Do you have a similar figure in your life/career?
This is [one of] the great things about being an actor. [The plot of the episode is] those audition waiting room scenarios. You go in, you have your competition, you have your friends there, but there's always that one shady actor that always will do anything for the job. I think I've met some [actors] before, [like Alberta's rival] for sure.
Speaking of Alberta back on stage singing, we can't get the Ghosts The Musical opening number out of our heads. What would be Alberta's favorite musical?
Ragtime, just because it was close to that era, all of the dancing and the brilliant songs. I think without question Ragtime would probably be her favorite musical. It's also one of my favorite musicals because it was the first musical I was cast in when I got to Temple University for college, and my cousin is now starring in it right now at Bergen County Players, so it's a musical each new generation is introduced to.
In "Alberta's Podcast" the audience sees Pete reacting to the new information about Alberta's past revealed in the episode. Does Alberta see Pete's reaction or is she more focused on the situation at hand?
I think she definitely does. In this episode and throughout the season, they have a really interesting relationship. I think the thing that keeps Alberta a little hesitant in terms of going all in for Pete is that she's dated bad boys in the past. She's dated these bootleggers. She's possibly murdered some folks as well. She had a very exciting life, and Pete is a nice guy. I think it's going to take a little getting used to for her, but I don't think that it's far-fetched. I think maybe something will happen. We'll see. But I have to say working with Richie Moriarty has been such a dream come true because he's such an incredible actor, and being able to do these scenes with him has just been such a joy.
Season two has not wrapped yet but what is your favorite moment from filming so far?
To be honest, I have to say there are two favorite scenes. One is the flashback scene in "Alberta's Podcast" where she gets back into the club with her audience. I got to change costumes, which was great. I thought I looked absolutely fabulous. Shout out to our wardrobe and costuming team as they are incredible! Being able to see an audience and hear them cheer and clap and to be around the other dancers, it really gave me a better sense as to why Alberta is the way she is. Can you imagine going on tour and feeling like the 1920s Beyonce all the time and having people just throw themselves at you? I was like, of course, this woman is a diva. I just love that.
We're filming an episode right now and I can't talk too much about it, but my favorite thing about it is that Matthew Cherry, the Oscar winner for Hair Love is directing, and being able to work with him has been such a dream come true. I've been a huge fan of his for some time now. Cherry is our first Black director that's worked on the show. I haven't worked with many Black directors in my career. Anytime you go to work and see someone that looks like you, you feel just even more cared for and loved. He really, truly is the homie. I just love working with him and I can't wait for audiences to see his episodes because they're absolutely fantastic.
To follow up on that theme, how has BlPOC fan reaction to seeing themselves in Alberta informed your working process?
It means the world to me when people come up to me and say, 'I feel seen, and thank you so much. You're this amazing Black actress and you're plus size, and you're doing it for the chubby girls.' It's why I got into this industry. I want people to feel seen. As Lizzo said in her Emmy speech, she said, 'I wanted this representation, but it's probably just going to have to be me.' I'm grateful that I also have women out here like Natasha Rothwell and Danielle Brooks. People that I can look up to that are absolutely doing it and that are killing it in the game. I hope that I can be added to that list as well.
Ghosts has a large ensemble cast, is there anyone you wish you had more scenes with?
I would love to do more scenes with Román Zaragoza, who plays Sasappis. In season two, we're getting a couple more scenes because there's some great chemistry and you'll see us and our shenanigans. Román is such an incredible actor. I would also love more scenes with Devan Long who plays Thorfinn, but I don't know if I'll be able to get through those scenes because he cracks me up every time.
The ghosts love to watch TV. We've not seen Alberta control the remote that often but when she does, what do you believe she's forcing everyone else to watch?
Without question anything that's Jason Momoa related. She is a Jason Momoa fan through and through. We touched on it in season one, but we get even more of why the fandom is the way it is in season two. I definitely feel like she would also watch The Real Housewives of Atlanta, and also be obsessed with all things Michael B. Jordan. If the men are fine, she's watching.
If you had the ability to give Alberta some modern-day advice before she died, what would you tell her?
I would say 'take a chance.' I know the bad boys are really, really cool, sis, but take a chance and find somebody of a different variety. Find a nice guy and see how you feel, because I think she was so wrapped up in just her image and being a cool criminal, jazz singer. It's a little scary, but try to find somebody else. Find somebody that has a regular job, somebody that you can play Go Fish with and chill and has a nice dinner. That's the only advice that I would give her, find somebody simple.
If you had the chance to write a Ghosts episode, what would the premise be?
I have an idea for an episode where Alberta has a twin sister that we find, a twin ghost that was also murdered near the property. It's such a selfish ask, but I want the opportunity to play a different ghost that's kind of like Alberta, but not. I'm thinking it would be so much fun if I could play her sister and Alberta. But I know production will never let that happen, so I'll just keep dreaming. I want Lizzo to guest star on the show and I have pitched that she was Alberta's great-granddaughter who became this huge superstar that was coming back to the Woodstone B&B to find out more about her roots. I would love an episode like that. Maybe if she hires a psychic medium, and I can be able to talk as a psychic about all of our family history and all the things that she would want to say to a granddaughter, I think that would be the episode that I would write for sure.
If you had the chance to guest star on any current TV show, what would it be?
Abbott Elementary, without question. I love Abbott and I love Quinta Brunson. We went to the same college at Temple University. I would love to be the drama teacher that comes in and out, that gives the kids inappropriate scenes from What's Love Got To Do With It and John Q, How Stella Got Her Groove Back, that would be a dream. Anything that Quinta Brunson's doing, I want to be a part of it. I'm so inspired by her and she's paving the way for all of us. I'm just so honored that she is around now because literally, I look up to her.
Are you working on any side projects in between shooting Ghosts?
I'm working on an adult animated comedy called The Unmentionables with my very, very dear friend Taraji P. Henson, who is executive producing with Anthony Hemingway Productions, which is really exciting. I have another animation that I'm working on that I can't talk about just yet, but that's coming soon.
I'm a playwright by heart, so I had a show called Body Courage and I interviewed over 350 people worldwide for five years, about how they felt about their body image. Those stories ranged from a little girl on the south side of Chicago who was getting bullied because of her weight, to a Northern Irish priest who was having early onset Parkinsons, to my grandmother. I brought all of those stories to the stage and performed as them. I'm now trying to develop that into multiple different TV series.
If you had a blank check to make your dream project happen, what would you do with it?
I would probably create the backstory to Ursula. I'm so curious to find out more about that character. I'm really excited for The Little Mermaid to come out, but just how they've done with Maleficent and Cruella, I want to know more about our girl. Was she always an octopus? Was she a human first? How did she get all these voices? What's going on there? I think she's absolutely fierce and fabulous but also scary as all heck and I would love to team up with Disney+ to find out more.
Ghosts airs Thursday nights at 8:30 p.m. ET on CBS.