News
Gen V Episode 7 Release Time and Season Recap
Here's everything you need to know before diving into Gen V episode 7, including when and where to watch.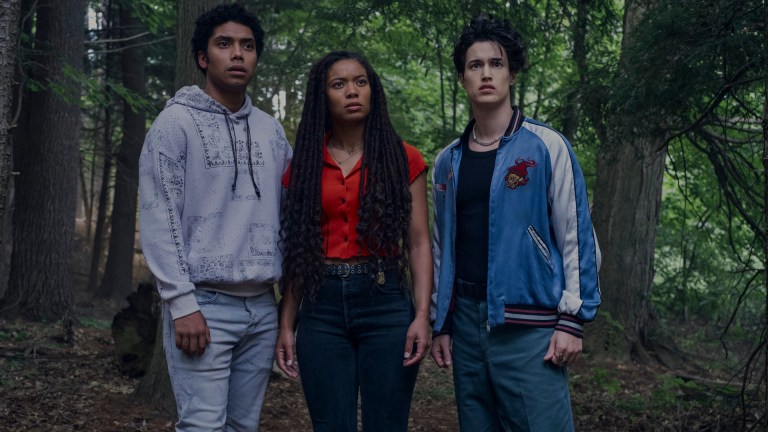 This article contains spoilers through episode 6 of Gen V
The penultimate episode of Gen V's first season is poised to be an intense one as Marie (Jaz Sinclair, Jordan (London Thor and Derek Luh), Andre (Chance Perdomo), Cate (Maddie Phillips), Emma (Lizze Broadway), and Sam (Asa Germann) work to uncover Dean Shetty's (Shelley Conn) plans for The Woods and how they connect to Sam and his brother Luke's (Patrick Schwarzenegger) abilities.
Episode 7 will feature the return of Congresswoman and Vice Presidential candidate Victoria Neuman (Claudia Doumit), who grew up in Red River before being adopted by Vought's former CEO Stan Edgar (Giancarlo Esposito). Even though Neuman is moving up in the world, and has kept her supe abilities generally under wraps as far as the general public is concerned, she seems to still have a connection with Marie, who also grew up at Red River. It's likely that Neuman is Marie's benefactor, but it's unclear what their relationship is or could be beyond that.
Conspiracies, violent political rallies, and more are set to unfold in episode 7 of Gen V. Here's everything you need to know before diving in.
When and Where Will Gen V Episode 7 Be Available to Watch?
Gen V's release schedule isn't really much of a secret now that every episode in the season thus far has been available on Prime Video the night before their scheduled release. The series was originally scheduled to premiere new episodes on Fridays, but Prime Video has been dropping all episodes the night before at 8 p.m. ET/5 p.m. PT for U.S. subscribers. Even though episode 7 of Gen V is officially scheduled to come out on Friday Oct. 27, it will likely be released early on Thursday Oct. 26 at the time listed above.
Gen V Episode 6 Recap
In a shocking betrayal, Marie, Jordan, Andre, and Emma discover that Cate is responsible for their collective memory loss. Feeling guilty and tired of lying to her friends, Cate gives them their memories back at the expense of her own well being. This exertion of power triggers a seizure at the beginning of episode 6 that pulls Marie, Jordan, Andre, and Dusty (Andy Walken) into her crumbling mind.
The young supes are met in Cate's mind by Soldier Boy (Jensen Ackles), who warns them that they must find a way out before her mind collapses entirely. They tread through Cate's memories, learning that Shetty was the first person to not show fear of Cate's abilities and was also the first person to give her a means of controlling them. Shetty has been manipulating Cate for a while now, and used her to experiment on Luke without him realizing.
But the thing is, Luke did start realizing that something was wrong, and Cate knew that her powers were becoming less and less effective the more he was experimented on. This didn't stop Shetty, or Brink (Clancy Brown), from pushing Luke to his breaking point.
While on this journey through Cate's mind, the group makes a few stops in their own memories as well. We learn that Andre and Cate hooked up a few times before Luke's death, and it's something they both feel guilty about. It also turns out that Jordan became Brink's TA because they helped him subdue Luke during an earlier confrontation in Brink's office. Marie is forced to revisit her parents' death and confront her fear that their death was less of an accident than she lets herself believe. Eventually, they convince Cate that she's not a monster as they've all done things that they regret. The only way forward is to take responsibility for her actions and do her best to make up for them.
Meanwhile, Emma has gone to see Sam and bring him back to the group. They get a little…distracted by their budding feelings for each other and spend the afternoon hooking up before heading back to campus. Sam attacks Cate when he first sees her, recognizing her from all of the times that he and Luke were experimented on, but the others convince him to stand down and that she's on their side now.
Back in The Woods, Dr. Cardosa (Marco Pigossi) has had success with synthesizing the supe-targeting virus that he and Shetty have been working on. He's been testing it on a young woman named Betsy with electrokinetic powers, and at first she just appears to be really sick and have little control over her powers, but after Shetty convinces Cardosa to up the dosage, Betsy is found dead with sores all over her body. Cardosa is horrified by the results, but Shetty appears to be thrilled with this development, asking Cardosa if he can make the virus contagious.