Features
Frasier's Best Episodes: Are There Even Any Bad Ones?
With Kelsey Grammer back as Dr Crane on Paramount+, we celebrate some of Frasier's greatest original episodes.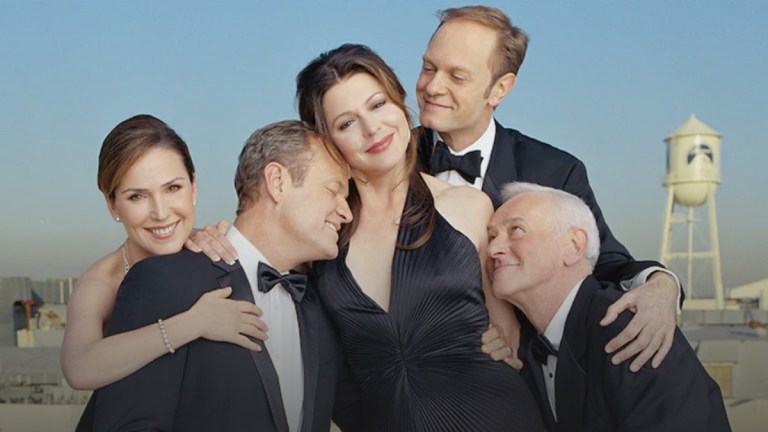 With 264 episodes, not a single one of which doesn't have something to recommend it, picking out the best of NBC's Frasier (1993 – 2004) is a ridiculous thing to attempt. For a start, you'd need to include all of the dinner party episodes, obviously, plus every story in which Niles and Frasier ruinously compete with one another.
Such a list also couldn't leave out any occasion on which John Mahoney as Marty Crane swerves mid-comedy to punch you in the gut with feelings, or any of Kelsey Grammer's brilliantly controlled clowning.
You'd need to represent every perfectly timed trick from Eddie the dog, and have a fair smattering of Maris gags, Roz's smart mouth and Daphne's stories of an English childhood just to cover the basics. You'd be into the high 90s before you'd even got going.
To winnow it down to just the 50 best episodes of Frasier? Undoable. There's the one with the fancy club membership, the wine club corkmaster election, the dead seal on the beach, the Mrs. Moskowitz argument, and Dr Nora. You couldn't very well leave out the one where Niles and Frasier think they've descended from Russian royalty, or the multi-parter that gave the world the joy that is Island Niles. You'd also be a fool to miss the one where Marty eats a magic brownie, the brothers buy caviar on the black market, or just about any time that Lilith turns up…
List the best of Frasier in just 20 episodes? In chronological, unranked order? Utter madness. Can't be done.
Miracle on Third or Fourth Street (Season 1, Episode 12)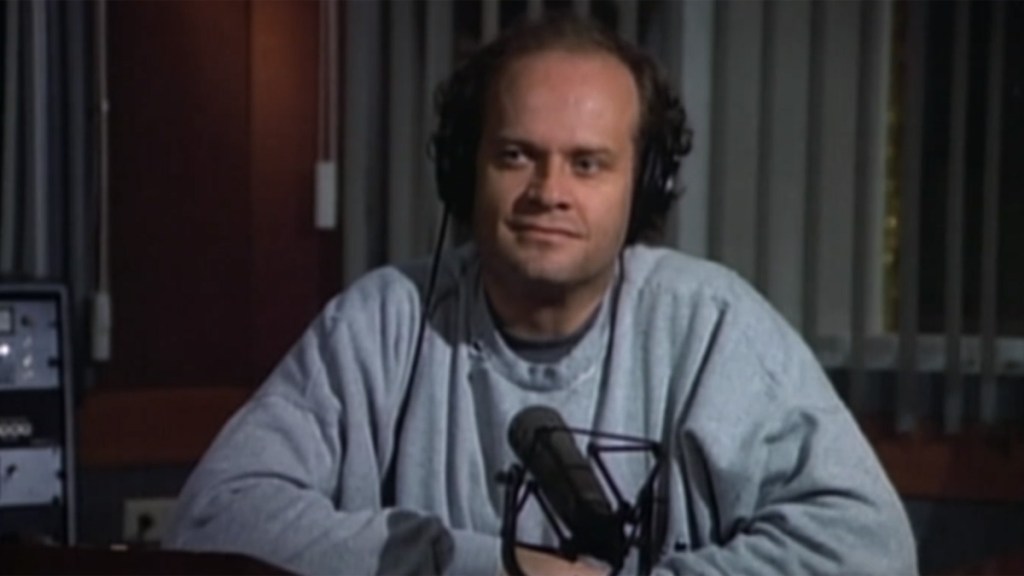 Frasier's first Christmas episode is not only its best, but in contention for the best Christmas TV episode of all time. Well-plotted, character-driven, genuinely moving and very funny, "Miracle on Third or Fourth Street" is an excellent time. Things start good and festive with Frasier attending his first KACL Christmas party and looking forward to spending the holiday with his son. Then little Frederick gets a better offer of a lifetime and cancels, prompting Frasier to take out his bad mood on Marty, cause a family rift and refuse to go with the rest of them to Maris' cabin.
A dishevelled Frasier is left home alone and working a Christmas Day shift with a disgruntled Roz. A roster of bummer callers drains what remains of his holiday spirit, and Dr Crane ends up eating Christmas dinner in a shabby diner with a down-on-their-luck homeless crowd. Then a misunderstanding (what else?) leads to an act of generosity that restores Frasier's faith in humankind, and results in a conclusion that's genuinely touching as well as very funny. All that, plus a prime Niles and Eddie panto moment with a glass of eggnog, another prime Niles and oblivious-Daphne gag, and a great cameo by Christine Estabrook as diner waitress Lou.
The Show Where Lilith Comes Back (Season 1, Episode 16)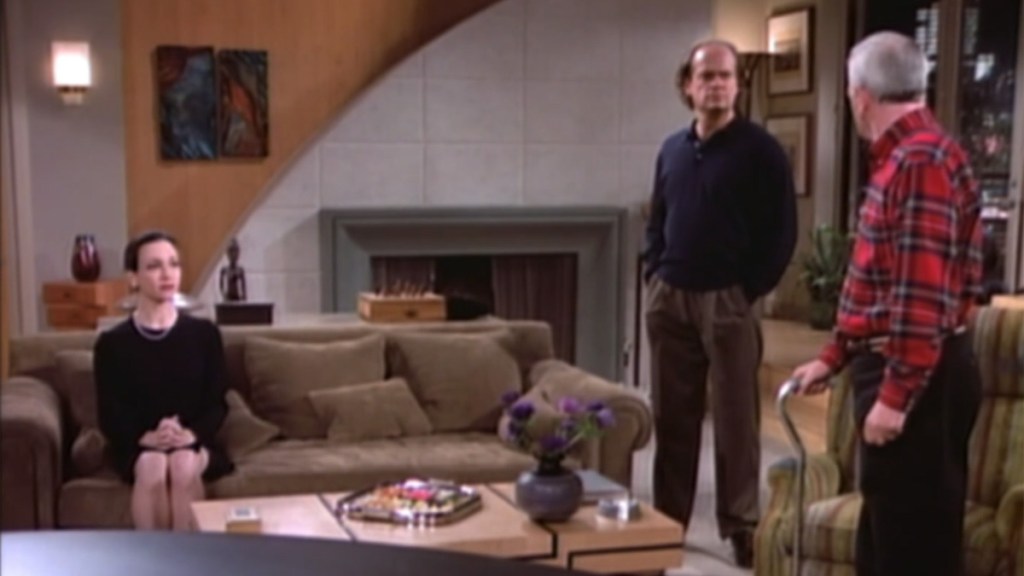 As any Frasier fan knows, a Lilith episode is a great episode, and this was the first. Midway through season one, once this spin-off's engine was humming, Bebe Neuwirth kicked off the Cheers character cameo tradition when a misunderstanding (what else?) leads to Lilith visiting Frasier to try to rekindle their relationship.
The episode works equally well as an introduction to Frasier's brilliant, exact, cold and biting ex-wife for non-Cheers viewers as it does for seasoned fans. Lilith's ice-queen status is played up and new gags are forged, from Eddie's cringing fear and Daphne's "clawing at the cosmic continuum" psychic headache in her presence. Seeing Lilith and Niles spar is a delight, as is the collision of Marty and his son's ex, but the real joy here is from the couple themselves. Kelsey Grammer and Bebe Neuwirth aren't just comedy pros, they're dab hands at drama, which makes it very easy to invest in this outlandish pairing. A lot of fun is had at everybody's expense, but underneath is real feeling.
Author, Author (Season 1, Episode 22)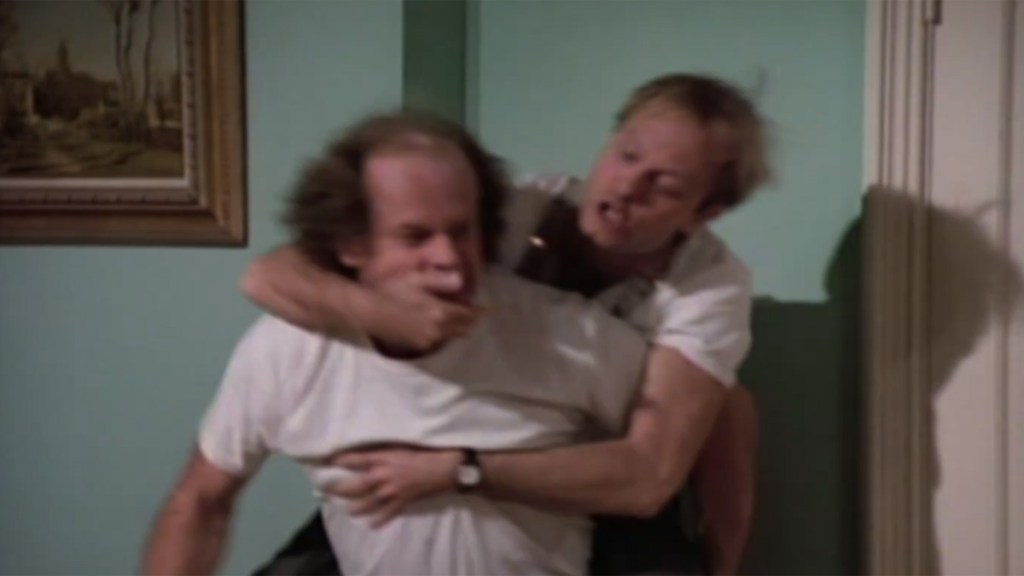 Writing Niles not as a counterpoint to his snobbish, intellectual brother but an uber-version of those exact same character traits was a bold move by Frasier's creators that paid off handsomely across the seasons. Two Frasiers for the price of one!
This episode, in which the Crane brothers attempt to collaborate on a book about the psychology of sibling relationships and fail miserably set the template for so many other great Niles and Frasier stories to follow. They start off giddy, high on the promise of their certain genius, and end up… drunk, throttling each other and swearing never to speak again. It's a classic trajectory for the Crane boys, whose pride always cometh before a very funny fall.
This episode is an excellent showcase for just how good these two actors are together in these roles, and just how strong the writing is on this show. The bickering, sniping and one-upmanship isn't just fun to watch, but also paints a fuller picture of the characters and their lives as children. As usual, there's an earnestness underneath the gags too, which comes out in Niles' jealousy of Frasier's celebrity while judging him for having sold out. There's a good stinger from Marty, and a great bit with Eddie and a muffin too. It's basically perfect.
Frasier Crane's Day Off (Season 1, Episode 23)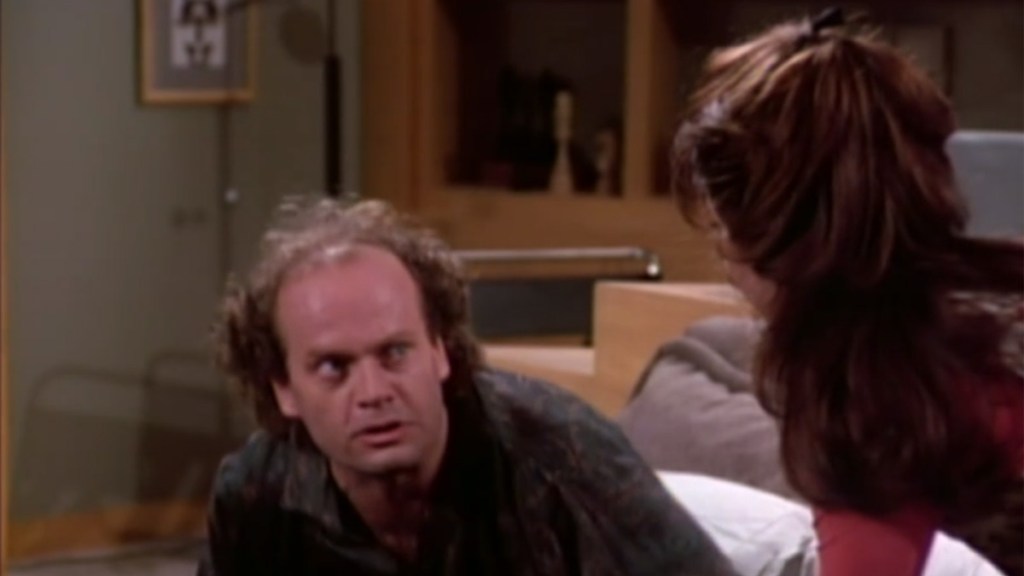 Hot on the heels of "Author, Author" comes an equally great episode in which Frasier gets the flu and is paranoid about losing his time slot due to missing work. While the previous instalment delighted in the Niles-Frasier double-act, this one's all about Kelsey Grammer as Frasier. A brilliant comic actor who's never afraid to go big with his performance, Grammer is a consummate clown, and that's seen nowhere better than in "Frasier Crane's Day Off".
Frasier's flu starts as you'd expect. He's a terrible, pernickety patient who soon drives Daphne up the wall with requests for shaved ice, bendy straws and fresh rose petals for his dehumidifier. Don't worry though, because she'll get the last laugh. Marty's bedside manner leaves a lot to be desired, while Niles will barely go near the germ pit of Frasier's bedroom.
As Frasier's fever ramps up, so does the episode. Niles proves an unexpected hit covering on KACL, which prompts Frasier to write himself a prescription and go down there to take back his show while doped up to the eyeballs. Havoc ensues as he locks himself in the booth and hijacks the airwaves, insulting callers and destroying his reputation as a sophisticate in the process. Wild-eyed, grinning like a loon, galloping around and using that extraordinary voice to great effect, Grammer is king.
Breaking The Ice (Season 2, Episode 20)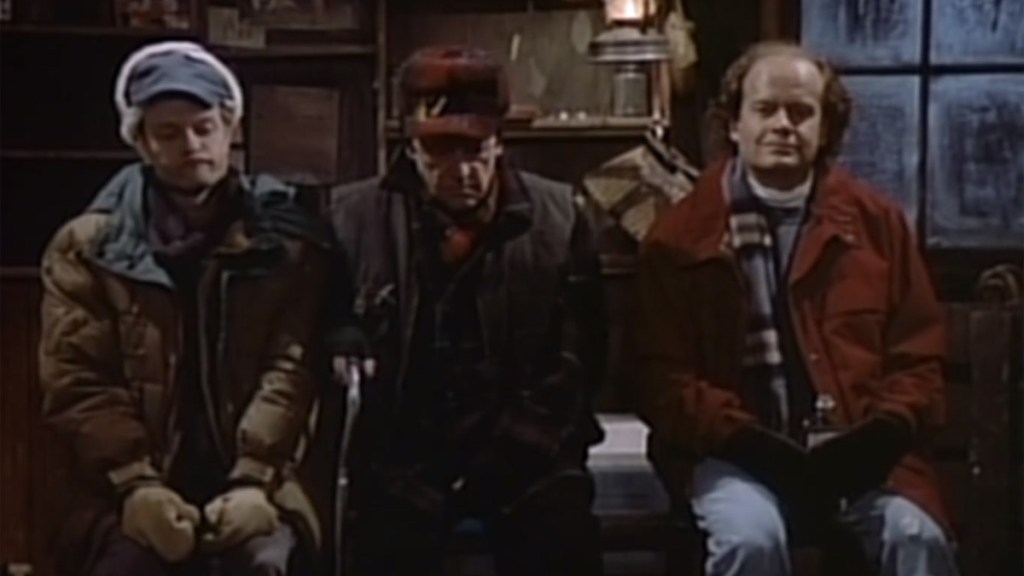 As great as Daphne, Roz and the rest of the characters are in Frasier, you can't beat the simple combination of the three Crane boys. This show's engine is the push-pull relationship between blue collar, sports and fishin' everyman Marty, and his fancy white collar aesthete sons. "Breaking the Ice" takes the trio out of the apartment and into a rustic fishing cabin, where they make an emotional breakthrough in a neat, play-like episode that shows off how effortlessly David Hyde Pierce, John Mahoney and Kelsey Grammer can switch from comedy to poignancy and back again.
When Marty's old friend Duke cancels on their annual lake fishing trip, Niles volunteers to take his dad. In part, Niles wants to impress Daphne with his "man of the great al fresco" ruggedness but as we find out, there's also a deeper motive.
Prompted by a talk about Roz's latest dating adventure, Frasier fixates on the fact that his dad has never told him that he loves him, despite saying it to Eddie and Duke. Jealous of Niles and Marty's bonding trip, he tags along and proceeds to whinge and whine about everything from the cold to the accommodation, while Niles feigns delight with the whole deal ("For the first time in my life, I just urinated outdoors!"). Luckily, it's Jim Beam to the rescue. Drunk and in high spirits, the boys confess their need for an emotional connection with their dad, and he comes through for them… Marty Crane-style.
Frasier Grinch (Season 3, Episode 9)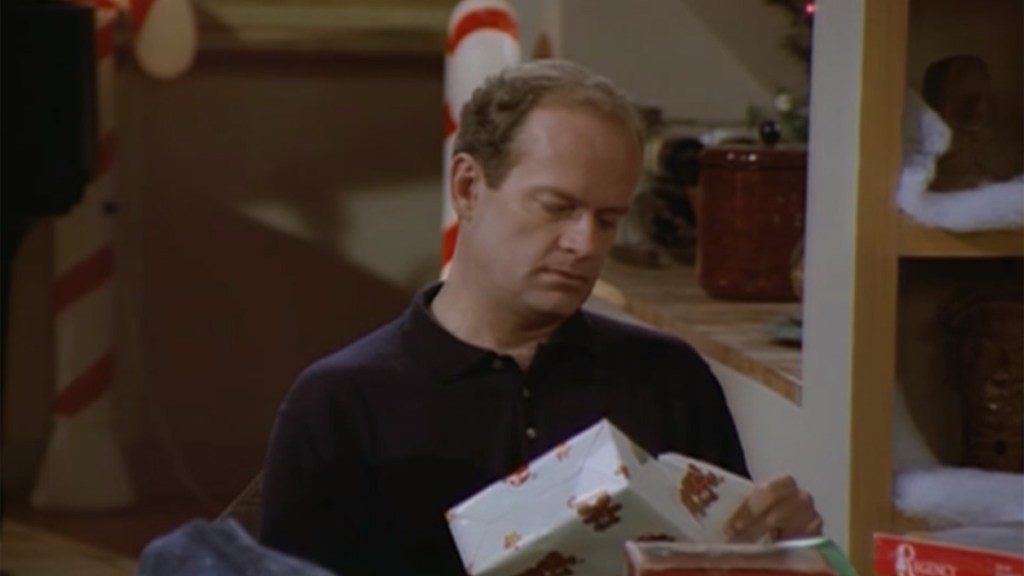 This episode not only contains a scene in contention for the most heart-warming TV moment of all time, but features some classic Frasier/Niles snobbery, some great Niles/Maris stuff, and a healthy dose of down-to-earth Marty wisdom – all in all, making it a pretty perfect recipe. Granted, the ambient sexual politics haven't aged all that well (Bulldog brings a stripper to the KACL Christmas party and Frasier snogs her while everyone cheers, for one) but 1996 is a foreign country; they do things differently there.
Frederick is spending Christmas at his dad's for the first time, so to Frasier's dismay, Marty decks out the chic apartment like Santa's grotto. When the educational gifts Frasier has ordered for Freddie don't arrive on Christmas Eve, Frasier and Niles are forced to go to the mall. Snobbery ensues.
Back at home, Frederick reveals his one Christmas wish for an Outlaw Laser Robo Geek toy – which of course, his dad has dismissed out of hand as having no value for his precocious son. Faced with disappointing his boy on Christmas Day, Frasier bemoans his snobbery, and is humbled when Marty's simple wisdom saves the day. It's a great character episode with moving father-son moments, a terrifically delusional Niles mid-separation from Maris, and even a mention of Grammy Moon's famous plum duff. In short: it has it all.
Moon Dance (Season 3, Episode 13)
This season three episode is light on actual Frasier Crane (he is on a trip with Frederick for most of it) but was the first episode directed by Kelsey Grammer. Niles is bereft as Maris is pictured in the Society pages swanning around Seattle with various escorts, so he decides to take Marty's advice and try and start dating again. He asks someone to a dance, then realises he can't dance, so Daphne offers to teach him. His date cancels, but he is enjoying his time with Daphne so much that he doesn't want to tell her. Marty steps in to tell Niles that he sees the way he looks at her and he should be careful (Marty: "You're sticking a fork in the toaster here" Niles: "Well my muffin's stuck!"). Niles tells the truth about his date but Daphne suggests that she accompanies him to the dance as she's been having such a wonderful time with him.
Any Frasier fan knows that we have a fair while to wait from here until we see Niles and Daphne together (around four and a half seasons) but this episode serves to push Niles' infatuation to full blown love. At the Snow Ball they perform a tango, Niles declares his feelings to Daphne but she thinks it is all part of the performance ("I knew you were a good dancer but I had no idea you were such a good actor"). It's devastating, but on the bright side it's actually a really impressive tango, get Daphne a dance studio immediately!
Our Father Whose Art Ain't Heaven (Season 4, Episode 8)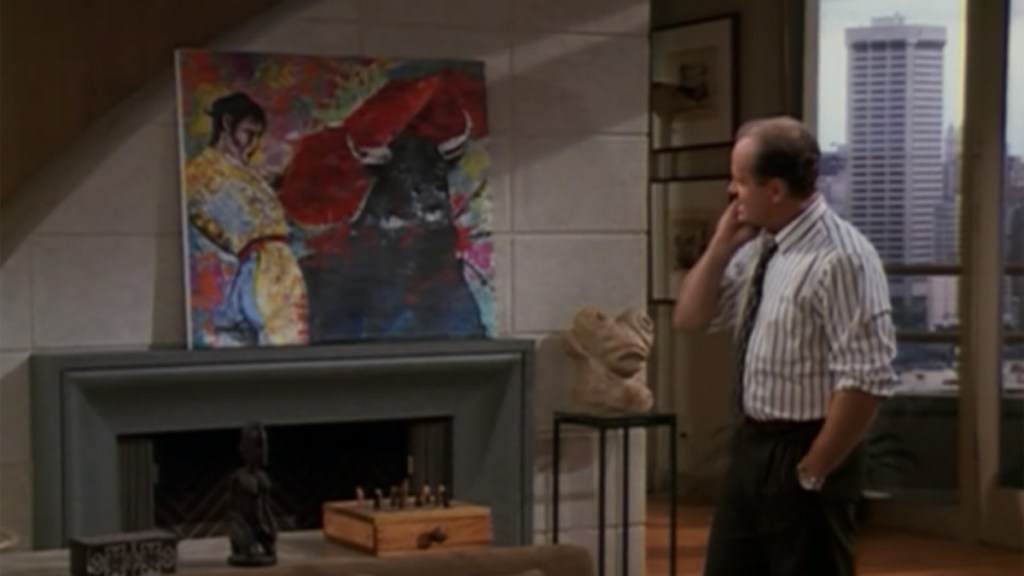 Aka the one in which Marty buys Frasier a hideous bullfighter painting from fancy restaurant Le Cigare Volant, not realising that Frasier was only praising it to get a last-minute table. It's a classic sitcom set-up, employed here for laughs and poignancy. What's particularly great though, is that as high as the emotions go, they get knocked right back down by a punchline that ensures things never get oversentimental.
If "Breaking the Ice" (see above) was about the Crane boys wanting to make a connection with their dad, then this is about Marty feeling estranged from them. It starts with a disagreement about Frasier not letting his dad pay for anything, which leads to Marty buying the ugly painting in an attempt to give Frasier something that he'd really like. Unfortunately he's way off the mark with the painting and Frasier's attempts not to hurt his feelings result in all three Crane men in tears. It's heightened and silly, but then John Mahoney leads it somewhere real and Kelsey Grammer meets him there in a beautiful scene about what a father really passes on to a son.
The B-plot sees Niles and Maris hosting competing dinner parties on the same evening, with all the ridiculous society gags you'd expect. There's also a bonus mention of another disgusting-sounding Grammy Moon recipe – sheep's head stew – that proves Daphne is the real mastermind of this show.
Ham Radio (Season 4, Episode 18)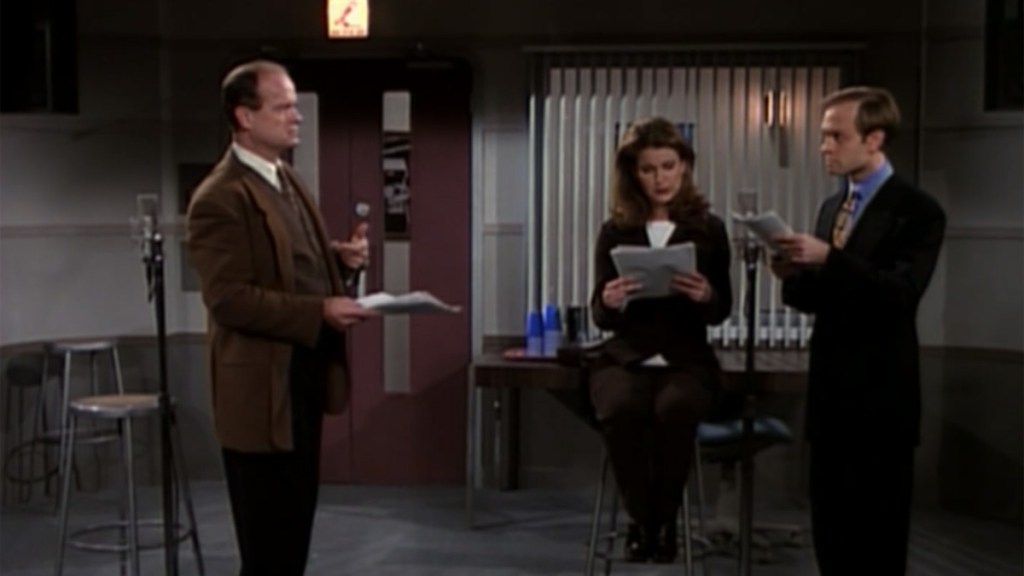 We can all agree that Frasier Crane is not a man who is self aware, but pompous and overconfident Frasier is truly the best Frasier. In this treat of an episode, Frasier tries to direct the radio mystery 'Nightmare Inn' for KACL, but, as Niles predicts knowing his brother's "Orson Welles complex", it all goes hilariously wrong.
The live radio play is a brilliant disaster: Bulldog suffers stage fright, Roz has to perform after dental surgery ("I can't beweive any of my guests cod be a… mopible mupuder"), Gil's insists on reading his character's monologue about his boyhood in Surrey that Frasier cut, Noel's on the sound effects, Bulldog's dyslexic stripper girlfriend gets her one line wrong ("Look out! He's got a nug!") and Niles is roped in at the last minute to cover six different roles with six different accents; it really is one of the great farcical Frasier episodes. It all ends with an exasperated Niles popping balloons for gunshots in an imaginary bloodbath, "Will the McCallister sisters stand back to back? I'm running low on bullets." Fantastic.
To Kill a Talking Bird (Season 4, Episode 14)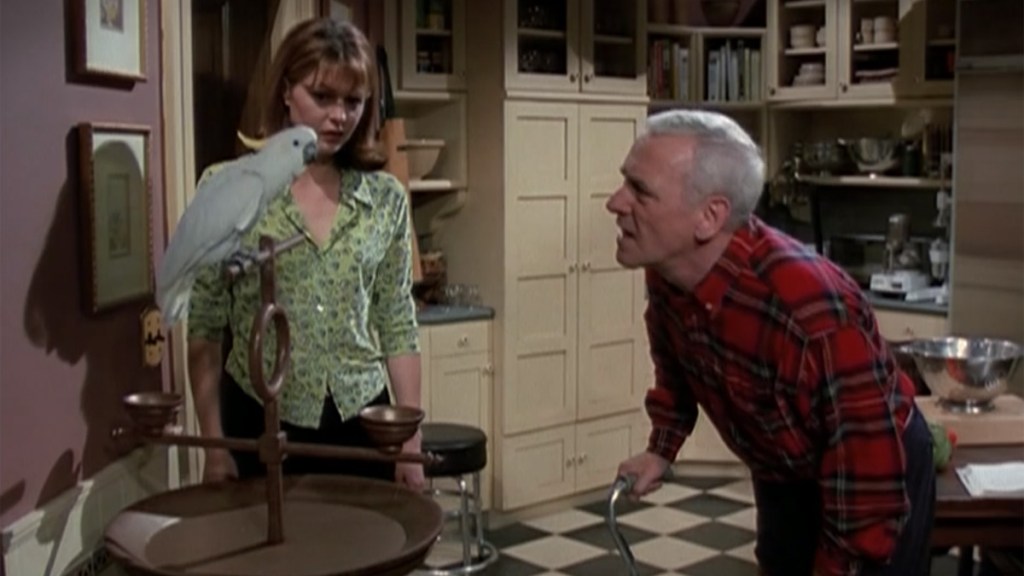 For such an erudite comedy, Frasier does stupid extremely well. And not much is as enjoyably stupid as the sight of Niles Crane attempting to schmooze the great and the good of Seattle with a cockatoo attached to his scalp.
It starts when a recently separated Niles moves into his swish new apartment at prestigious but extremely snooty building The Montana. They don't allow dogs, so it's goodbye to his Maris-replacement whippet Lady, and hello to white talking bird Baby. Niles invites his new neighbours around, intending to impress them, but Baby's traumatised response to the sound of the doorbell clamps her tightly to his head throughout proceedings. Frasier tries to cover – and woo the potential next Mrs Crane – while Niles hides out in the kitchen, until the bird makes some unfortunately apt comments and the evening falls apart.
One of Frasier's many farces, this one's so good it has silhouette status: like Monica from Friends with the turkey on her head, or Basil Fawlty whipping a car with a branch, you see the outline of Niles and Baby and you know exactly where you are: at the Montana, having a much better time than any of Niles' guests.
The Ski Lodge (Season 5, Episode 14)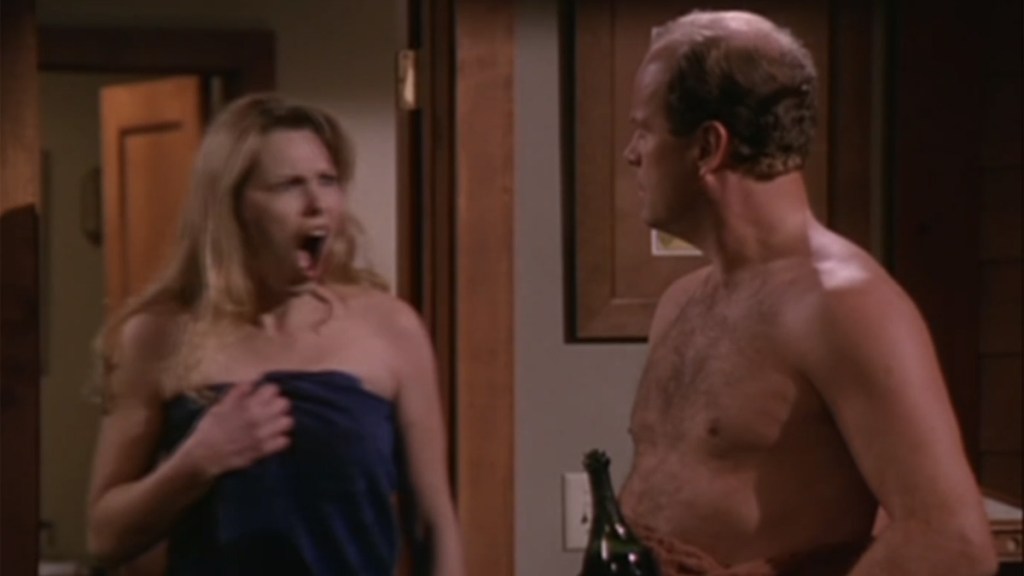 Did somebody say farce? Frasier has some gems, and this one's good enough even to forgive the excruciating accent on Daphne's pal Annie (there's stiff competition for 'worst English accent on Frasier' but with hard work and inexplicable vowel sounds, Annie may take the crown).
This one takes the gang out of the city and into a luxury ski lodge, where the air must be thin because it gets silly – very silly, cleverly choreographed, totally ridiculous French-farce silly. Everybody is trying to seduce someone, but the someones they're trying to seduce aren't the same someones who are trying to seduce them. It all ends in a big bed-hopping mess and the whole bunch picking apart the misunderstandings in their pyjamas. To sum up: Frasier wanted Annie but Annie wanted Niles, Daphne wanted ski instructor Guy but Guy is gay and wanted Niles, and Niles – of course – wanted Daphne. Nobody, it's fair to say, was satisfied.
It all added up to a lot of fun, with a clever script of characters talking at cross purposes, while Marty pottered around the sidelines serving buttered rum. If farce is your thing, this one's hard to beat.
Three Valentines (Season 6, Episode 14)
Fifteen minutes of this episode are absolutely serviceable, but the opening seven are a triumph. As Niles awaits a particularly finicky Valentine's date in Frasier's apartment, he sets in motion a chain of events that end up with him passed out and trouser-less on the carpet, surrounded by smoke and charred furniture. Wanting to iron out a crease in his otherwise perfect suit, he ends up setting Frasier's settee on fire, cutting his finger on scissors and fainting multiple times at the sight of his own blood. It's a silent movie homage punctuated only by classical music and laughter from the audience, whom David Hyde Pierce has in the palm of his hand.
The double-act happening between Niles and Eddie as the disaster unfolds only adds to the greatness, and is capped off by a great Eddie punchline. Watch this and it's no wonder at all that David Hyde Pierce was nominated nine years in a row for Outstanding Supporting Comedy Actor at the Emmys and won it four times – he's a gem of an actor in a gem of a role.
As for the rest of it, it's fine. Frasier's on a maybe-date with a work associate he can't seem to get a read on, while Daphne and Martin go out for a platonic dinner that leaves them both feeling exposed and vulnerable. Really though, it's all about that opening.
They're Playing Our Song (Season 7, Episode 13)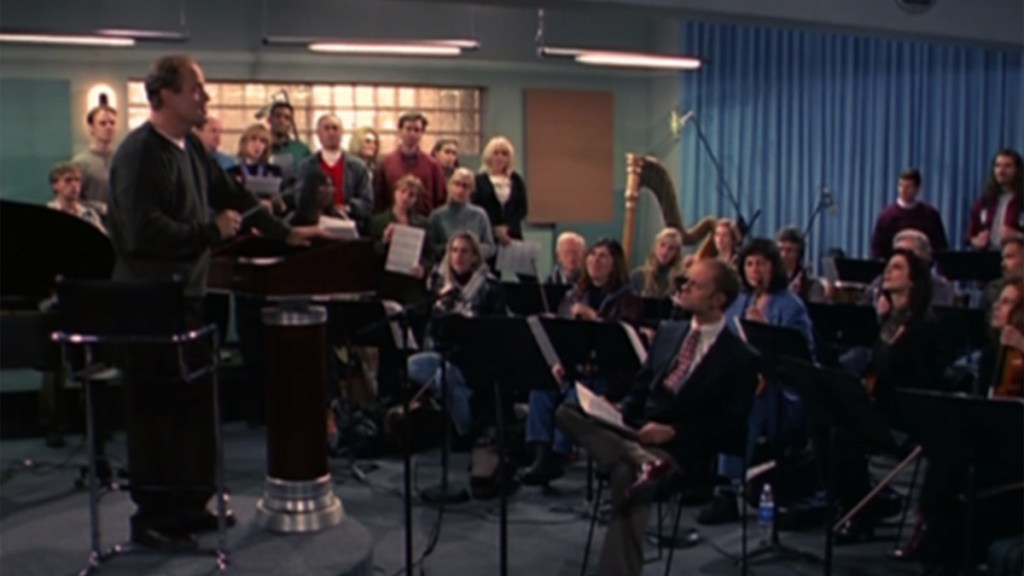 A return to the joys of "Ham Radio" (see above). Frasier's tasked by station manager Kenny with picking a new theme song for his radio show and decides: who better to moonlight as a composer than him? Thus begins a classic Frasier premise in which he falls down an obsessive hole, turning what should have been something simple into something overwrought, over-intellectualised and utterly unfit for purpose.
The cast of Frasier are a musical bunch, so it's always a joy to see Grammer or Hyde Pierce at the piano, or Mahoney holding a tune. We get all that here, including Niles fulfilling an apparently lifelong dream to become an actor by performing the stormy dramatic monologue in the middle of Frasier's orchestral composition ("Who dares enter the dark labyrinth of the human mind?" etc etc.)
Of course, Marty wins the day with simplicity, teaching his son the invaluable life lesson that "it's fine to be smart but you shouldn't have to be proving it all the time." Marty's own jingle is straightforward and catchy and of far more use than Frasier's overthought piece, but like any good dad, he steps out of the spotlight and guides his kid to come up with the goods. All that, plus Niles delivering the line "I've been begging you to switch to a more abrasive loofah," and we're in golden territory.
Out with Dad (Season 7, Episode 15)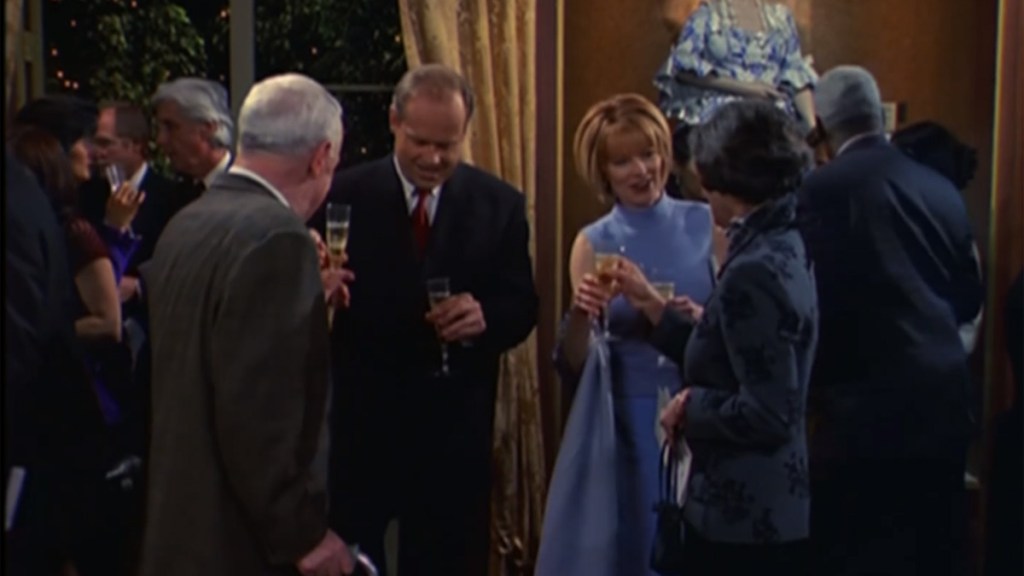 There's the potential that time would not have been kind to this episode, but thanks to some clever plotting at the start, 'Out with Dad' still stands up. It's Valentine's Day and Niles has stood Frasier up for the opera to go on a date with Mel. There's a woman Frasier has seen at the opera who he has taken a liking to, so Marty agrees to go with him even though he thinks all operas are over the top and based on improbable events (nudge nudge, wink wink to the rest of the episode).
At the opera they meet Emily (the woman Frasier likes) and her mother, and in an effort to dodge a date with the mother, Marty lets her believe that he's gay. Emily and her mother then decide to set Marty up with Emily's uncle, Edward, who comes back to the apartment as a surprise guest as a set up with Marty. Marty then tries to dodge this date by pretending Niles is his boyfriend (an insulted Niles cries "They think the best I can do is an old man with a cane!").
The parallel with the opera storyline being ridiculous and unbelievable saves the day; Daphne's off stage guffawing, Niles dumping Marty and shouting "Damn you and your jealous questions, you don't own me!" and John Mahoney hamming it up all adds up to a really fun episode.
And the Dish Ran Away with the Spoon (Season 8, Episodes 1 & 2)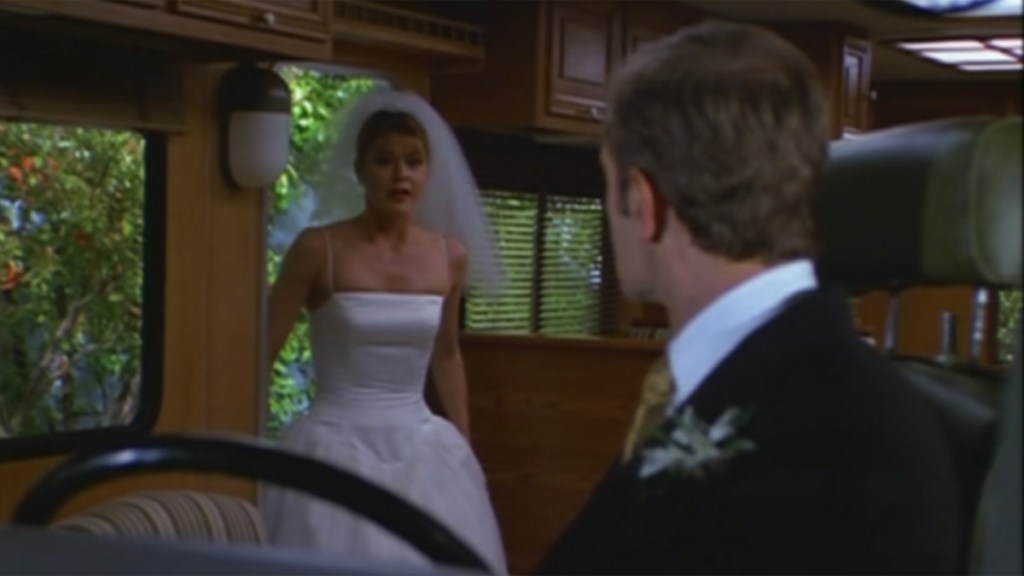 DISCLAIMER: Unfortunately this episode feature's Daphne's terrible brother Simon Moon (Australian Anthony Lapaglia doing the worst Mancunian accent known to man, actually scratch that, the worst accent belongs to Daphne's old boyfriend Clive from season four. Or maybe it's Richard E. Grant's in the finale. Or Annie's in the ski lodge episode – so much choice!). We have tried to avoid the Moons as much as possible in this list so let's pretend his appearance in the episode doesn't exist and just focus on the rest of it.
We all know the sitcom arc – Will they? Won't they? Should they? Can they not? But after years of Niles' longing, seeing him and Daphne together is very sweet. This double length episode starts with Daphne and Niles contemplating whether to flee her wedding to Donny in a Winnebago and head to Canada, or face the music. They decide on the latter, but discover that they may be overjoyed but (unsurprisingly) their jilted partners are not; Donny is dealing with his heartbreak by suing everyone and Mel forces Niles to attend a sham wedding reception and then demands Niles and Daphne are not seen in public together until she allows it.
All of the drama leads to one of the great Crane brother arguments as everyone realises the magnitude of their decisions: Frasier declaring "I am wounded!", Daphne, fed up with Niles and Frasier storming out asking Marty "You got anything to say, old man?!" and Frasier shouting "Well I never!" with Niles responding "No you always!".
What is really lovely about this episode though is within all the chaos there is Frasier's moving toast for his brother and Daphne at Mel and Niles' fake wedding reception: "Love…is an awesome force. It can make us do things we never imagined possible. For you see, we don't actually choose love, it chooses us. And once it has, we are powerless to do anything about it. Ladies and gentlemen, raise your glasses with me in toasting my brother… and the love of his life." Awwwwww.
Motor Skills (Season 8, Episode 10)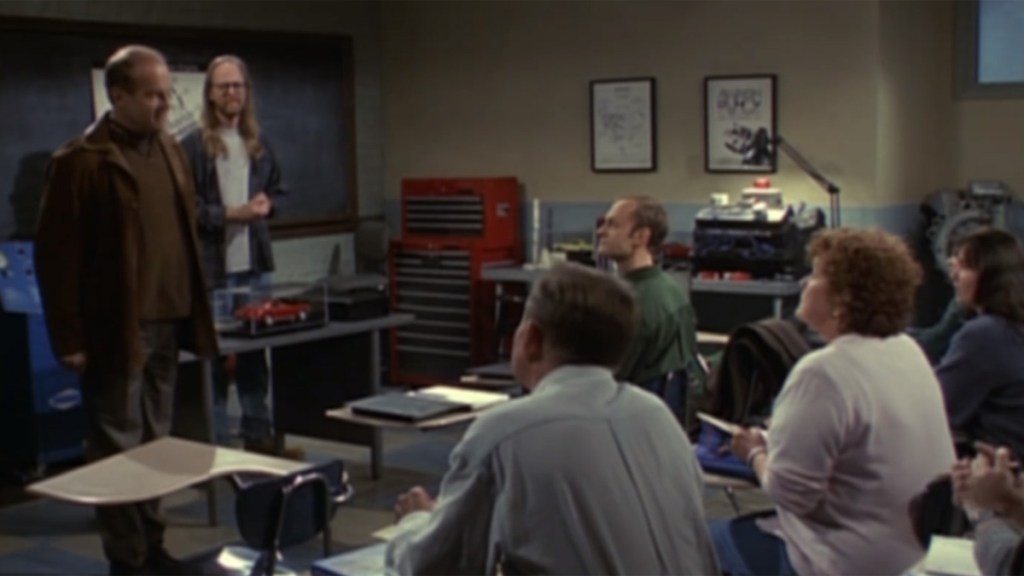 An embarrassing incident leads Frasier to Niles to realise their ineptitude when it comes to cars, so the Crane brothers decide to enrol in an auto repair night class. Despite an enthusiastic start (in the first class, Frasier announces to their fellow students that "With Randy as our driver and desire as our gasoline, we will complete this journey together!") it quickly becomes clear that they are the remedial students. After a nudge from Roz, they decide to coast ("we have never walked the back alleys of achievement before") and become what they have always despised, "back row hooligans".
They justify to themselves that it would probably hurt the economy if they learnt how to fix their own cars, so embrace their new roles as slackers in order to get through it, get their certificate and make Daphne and Marty proud. Freaks and Geeks favourite Dave 'Gruber' Allen is great as Randy, their teacher, and one of the episode's best moments is Randy intercepting a note between the naughty boys at the back "Why don't I share it with the class… Does anyone here read French?"
Hooping Cranes (Season 8, Episode 14)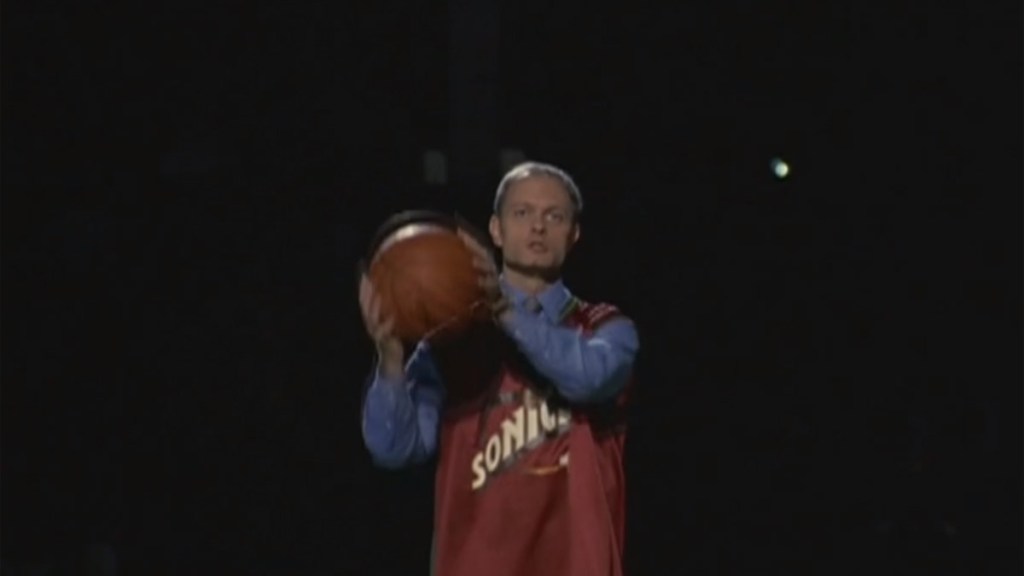 In which Martin finally gets the son he always wanted, Niles experiences the joys of life as a jock, and Frasier ruins it all with his jealousy.
The Crane boys' dubious history with sports is well-documented on Frasier, so when Niles' seat at a Sonics game is picked in a lottery giving the occupant a chance to make a once-in-a-lifetime basket from centre court, disaster is predicted. And then, Niles triumphs! After failing to put his basketball jersey on and hyperventilating with the stress, he makes the shot and becomes a minor celebrity of the Seattle sports world. Marty laps it up, basking in his pals' approval and patting his athletic son on the back ("I know I always told you boys that sports aren't important, but they are!"), to his other son's consternation. Humble at first, Niles eases in to the adulation, starts to lord it up, and plans to use his prize – a rugged pick-up truck – to go antiquing.
It can't last. When Frasier forces a public display of just how good at basketball Niles isn't, the bubble bursts and Martin's street cred goes with it. This one's another great episode exploring the chalk and cheese differences between the Crane men, and delving into a family history marked by never seeing eye to eye. The fact that it arrives eight seasons and almost 200 episodes in, is testament to the juice in this creative team.
Deathtrap (Season 9, Episode 19)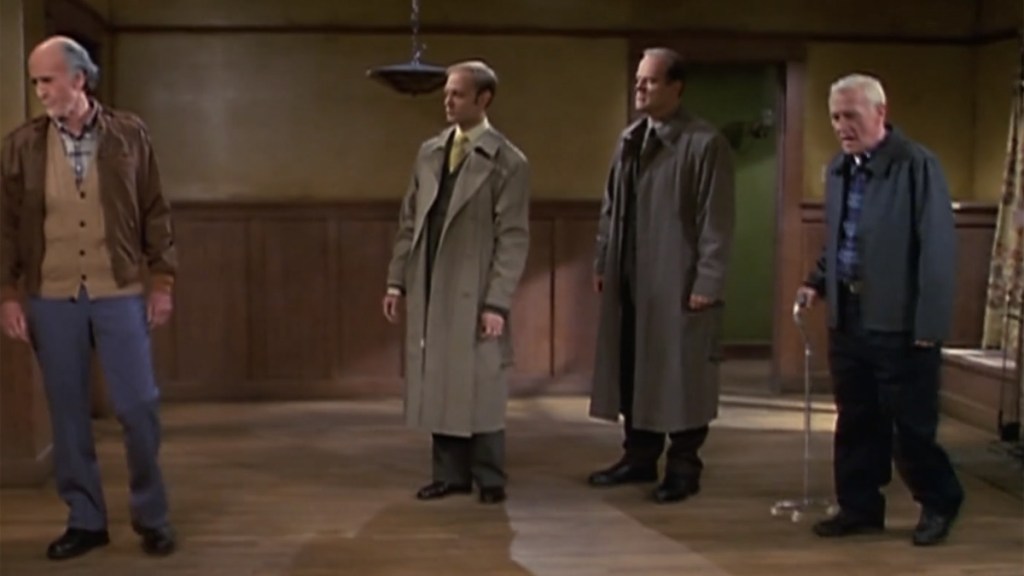 An excellent entry into the 'Crane brothers egging each other on to a ridiculous degree' genre of episode here; on a visit to their childhood home Frasier and Niles discover a human skull and decide (at breakneck speed) that it must be part of the remains of their former landlord's wife.
The audience knows, thanks to the episode's cold open, that the skull is one that they stole from their school for their 1964 backyard production of Hamlet, and the crack in the skull was not from a violent blow but from young Niles dropping it.
After the landlord Lasskopf refuses to let Frasier and Niles lift the floorboards and look for their memory box, they sneak back into the house at night to get it, but instead find the skull and pretty much immediately conclude that it must be a result of "muuuurder most foul". It's so fun to watch the brothers try and relive their times as teen sleuths and act out the imaginary murder, framing Lasskopf based on flimsy evidence and even calling the police. It's only when they find the memory box with the programme for their Hamlet production inside that the penny drops.
This episode offers a joyful insight into Frasier and Niles as children (Niles: "I can still see you pacing in your writer's tweeds and half-glasses, dictating." Frasier: "And you in your shawl-collar sweater, hammering away at the keys of that old Royal typewriter." Niles: "Gosh, when did those two crazy kids become such a pair of old fuddy-duddies?"). A great Crane Boys Mystery solved/created.
Fraternal Schwinns (Season 10, Episode 16)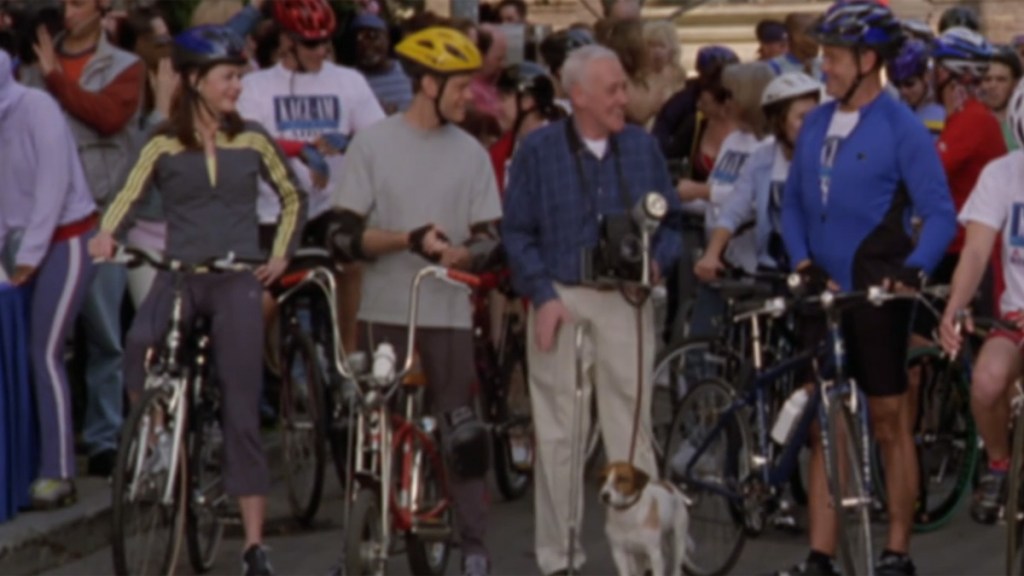 Some of the best episodes of Frasier happen when the Crane boys are brought down a peg or two – they may know about food, art, wine, opera and science, but they are severely lacking in some other areas (as Marty says sweetly in this episode "My boys are good at other things. Indoor things.")
It all starts when Frasier agrees to take part in the KACL bike-athon, Daphne thinks it would be fun for her and Niles to join in, but the boys have a secret; they never learned to ride bikes. After a hilarious trip to the bike store where they try to act like they know what they're talking about ("Metal spokes, I like that!", "Call me crazy but I like a bouncy tyre") they decide to try and teach themselves in a deserted parking lot (which leads to bloody handlebars and a lot of shame).
When they realise that their usual methods aren't going to work ("Surely the library has shelves devoted to this topic") Daphne offers to teach them, with mixed results. Frasier keeps fixating on an object and veering into it and his bike-athon bravado is deflated quickly by a mailbox with a magnetic hold on him.
A very silly episode with some really top notch lines; there's a great scene where the Crane brothers confess their secret shame in Cafe Nervosa, Frasier declares sadly, "People are always saying in conversation it's just like riding a bike. I can smile and nod but I only understand it in theory." Outstanding.
Goodnight, Seattle (Season 11, Episodes 23 & 24)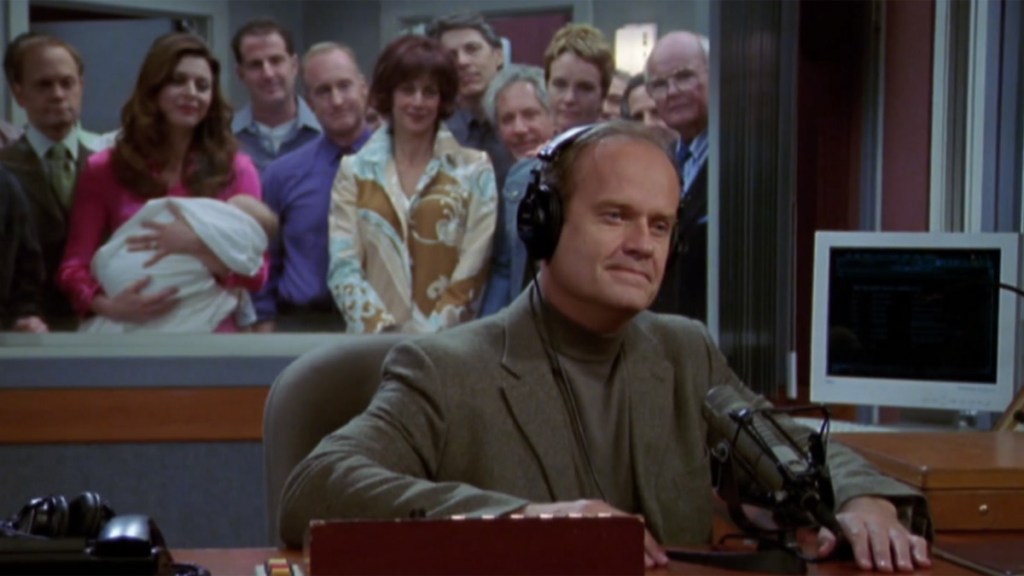 Not objectively among the best episodes ever, but here because if you love Frasier, you'll also love this two-part finale. It's filled with fan service, and serves as a kind of rollcall of everything the show was. There's farce, an event planned by Niles and Frasier that goes monumentally wrong, a huge misunderstanding, an emotional balcony scene, a gag with a monkey, and a final surprise that leaves the character of Dr Frasier Crane in exactly the right place (until the reboot came along to kick up the dust on all that).
Told in flashback as Frasier leaves Seattle for pastures new, the episode welcomes a roster of guest stars including Laura Linney as Charlotte, Frasier's matchmaker-turned-fling (perfect), Harriet Sansom Harris as cut-throat agent Bebe (hooray), and Richard E Grant and Robbie Coltrane as Daphne's brothers (oh no, no, no, no, no), as well as guest callers including Helen Mirren and Stanley Tucci.
It starts silly, with the Crane boys organising a last-minute wedding for Marty and Ronee, and Daphne giving birth at a vet's, but it ends beautifully. All along, we're led to believe that Frasier's on a flight to San Francisco to take up his big-money new job, but the Doctor has one more surprise up his sleeve. Throw in a decent bit where they all think Frasier's dying, a knowing gag about Marty's chair, a reading from Tennyson's "Ulysses", and the comfort of Roz being made station manager, and all in all, it's a truly great send-off.
Frasier seasons one to eleven are available to stream on Channel4.com in the UK, and on Hulu and Paramount+ in the US.