Features
Whoever Scheduled C4's Morning Frasier Double Bills Deserves a Medal
The UK's 8.25 a.m. trips to Seattle on Channel 4 are part of the national fabric. May they never end.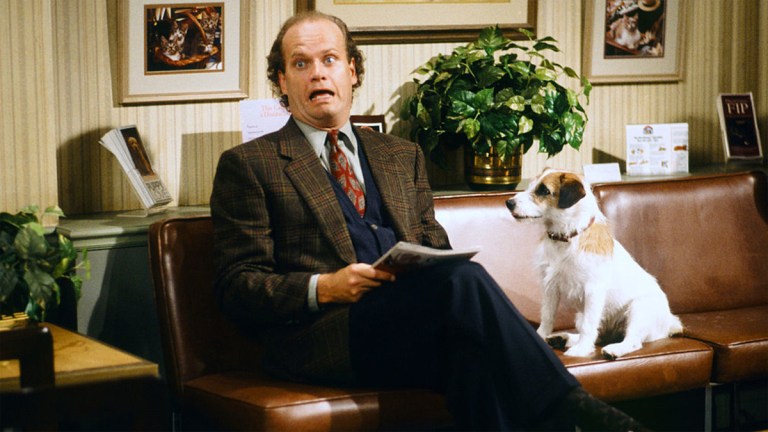 When the United Kingdom crowned its new king in May, the coronation ceremony aired for seven and a half hours straight on three of the UK's four major terrestrial TV channels. On the fourth? The aptly titled Johnny English Strikes Again, after a quadruple-bill of Frasier. Nothing like a bit of counterprogramming.
While His Majesty Johnny English's fussy pomp was striking again all over the TV schedules then, those who chose to could bend the knee and recite an oath of allegiance to our true king: Dr Frasier Crane.
Channel 4's tradition of airing a Frasier double-bill* every morning has been going since records began (so, around 2011). It may not be quite as old as the orb and sceptre routine, but it's much more important to the national mood. On a sick day, on a well day, on high days and holidays, Frasier is there. When other stations are airing breakfast news with all its depressing real life scandal, Channel 4 is airing the fancy antics of psychiatrist snob Frasier Crane, whose fastidious brother Niles is trying to host a dinner party with a cockatoo attached to his head. It's the very definition of public service broadcasting.
*Sometimes it's not just a double-bill, but three episodes on the trot, a special treat known in the UK/my head as an "Island Niles".
Usually preceded by supermarket own-brand sitcoms King of Queens and Everybody Loves Raymond – more rarely by the holy grail that is Cheers – the Frasier repeats are the perfect entry-slide into a week. Why wake up to serious faces and interest rates when you could wake up to Frasier's dad Marty buying him the Outlaw Laser Robo Geek in one of the comedy's excellent Christmas specials? Watch it with your cornflakes, watch it folding your laundry, and if you absolutely can't avoid going to the gym, watch it there. Remember, a day started with Daphne Moon is never a day wasted.
The second best thing about the Frasier repeats on Channel 4 (the first being that they're Frasier repeats) is that they never end. When the season 11 finale airs, it just goes right back to the beginning and starts again – usually around late January/early February. With 264 episodes continuously looping, it's a rain-or-shine constant that only really stops for Christmas or, unacceptably, the Grand Prix.
It's such a reliable presence that you could more or less chuck out your yearly calendar and use Frasier instead. Roz pregnant? Must be time to renew your car tax. Daphne's ludicrous family just arrived? Time to shop for that wedding anniversary gift. I ask you – what finer clock than Eddie the Jack Russell Terrier?
Some complain about the incessant loop, blaming skint TV channels for unending repeats of 20 year old shows. These people are wrong. Frasier in the mornings on Channel 4 isn't just a sitcom in a timeslot, it's the air we breathe. It's the weather. It's home. When you feel the sickening tug of Monday in your gut, know that out there, waiting to coo at you with a mother's love, is the Ski Lodge episode. 
As a nation, we need the reliable breathe-out comfort of a Frasier double-bill in the morning. It's the reassurance that, even when the British prime minster changes more regularly than Daphne's haircut, some things will always be there. Whatever chaos is happening outside, at half past eight on weekday mornings, Dr Crane will be struggling to ride a bike, or shed the pounds for the KACL weight-loss marathon, or explaining the importance of never folding cashmere ("You'll misdirect the nap!"). Enshrine those repeats in law and knight the person who scheduled them. May they never end. 
Frasier is available to stream on Channel 4.com in the UK and on Hulu or Peacock Plus in the US.