Features
Evil Season 3 Stars Talk Forked Tongues and Rabbit Holes
As Evil season 3 begins, team skeptics Katja Herbers and Aasif Mandvi parse fact, fiction, and forked tongues.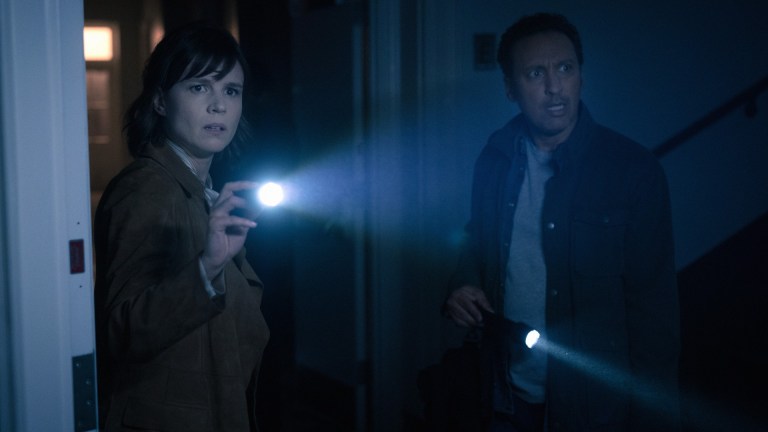 The Catholic Church's investigative trinity of the anti-procedural, Evil, is coming to redeem Paramount+ for a third season beginning June 12. Gathered together by now-newly-ordained priest, Father David Acosta (Mike Colter), they look for ungodly things like demonic possessions, false prophets, and internet soul snatching. Forensic psychologist Dr. Kristen Bouchard (Katja Herbers) and jack-of-all-trades master craftsman Ben Shakir (Aasif Mandvi) are the house skeptics.
Created by Robert and Michelle King, Evil examines mysteries, miracles and malevolent forces, blurring lines between science and religion, as well as the origins of sin on a more human level. Ben has the practical knowledge. He can hack into mainframes, calculate Pythagorean theorems, and check rotten foundations with equal ease, in order to rule out some kind of environmental hazard which is causing a spiritual vision. But, ask any plumber, even a simple job like a clogged toilet can turn into two major headaches. Season 3 sees the most grounded of the team get zapped by an errant current. Ben's most pressing question is whether there are more mysteries in acts of faith or Kristen's secrets.
Kristen came highly recommended from her work as a psychological expert for the District Attorney's office, where she first encountered Evil's most enthusiastically villainous nemesis Leland Townshend (Michael Emerson), and has proven she can get away with murder. At least so far. Kristen went a little further with Father David at the close of season 2, but she may not have been herself at the time. Ben is a magnificent detective, in tune with the moods and privacy of the people on his team, but double-talk carries twice the weight coming from Kristen.
As her therapist Dr. Boggs (Kurt Fuller) will attest, Kristen's suppressed guilt over killing serial killers and bending sacred vows occasionally manifest in physical ways, the actors maintain their core. Aasif Mandvi and Katja Herbers spoke with Den of Geek about the upcoming third season of Evil. And kept civil tongues even during the most egregious gaffs.
"First of all, Katja does not have a forked tongue ever," Katja Herbers corrected us when asked about some serpentine enhancements to her character's dual nature. Revealed in season 2, and teased in the trailers, the devilishly nubile two-pronged taste tester is merely a special effect. "I just want to clarify: I did not get that done for the show."
Further details seen in the video interview provide a peek to upcoming events as Evil continues to pierce dark forces of human and superhuman making. The upcoming season will move into new territory as the paranormal investigators probe unexplained phenomena from Slenderman-style doomscrolling to "the entity" protecting Catholic Church from selective harm.
Evil season 3 returns to Paramount+ on Sunday, June 12.