Reviews
Evil Goes Full Hereditary in a Truly Wild Finale
The team tries to resist temptations on Evil, but it's too tasty a dish, served cold, in "C Is for Cannibal."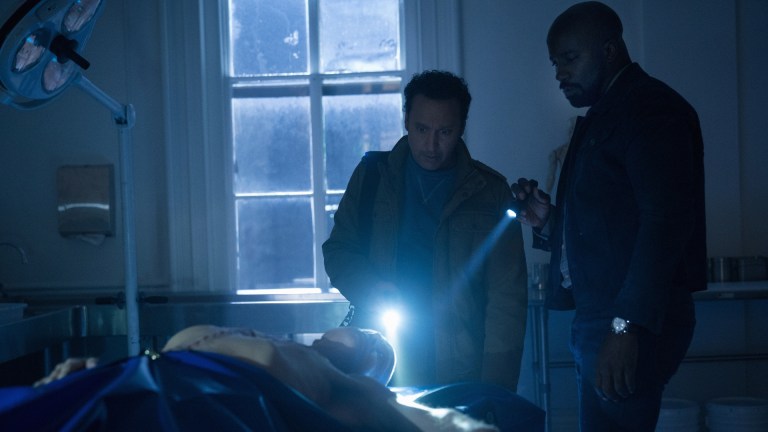 This Evil review contains spoilers.
Evil Season 2 Episode 13
Take this, all of you, and eat it, for this is the flesh of one of the 60 demonic families, going back generations upon generations, and doesn't refrigerate well. You think freezer burn is bad? It's got nothing on the hellfire of tainted meat. The team bites off a little more than it can chew in Evil season 2 episode 13 "C Is for Cannibal." The exorcism squad is sent to investigate an infernal infestation at a college campus and get hazed by the dean of dastardly admissions, Leland Townshend (Michael Emerson).
Mitch Otterbean seems like a perfect student. He's bright, thoughtful, and appears to be getting into the medical field for all the right reasons. He's played rationally and reasonably by Taylor Trensch, and even thinks his parents are being a little over-dramatic with all this "possession" business. Mitch tells the investigators he began craving raw meat, which is actually high in enzymes and should be on any collegiate diet, after years as a vegetarian. But after a stint in the dissection lab, he now feels a growing compulsion to eat human flesh. He actually zipties himself down to his bed every night so he doesn't bite his roommate. Really, with all that going for him, Mitch should be RA.
Ben (Aasif Mandvi) is having too much fun with David's (Mike Colter) impending priesthood. He never misses a chance to call him "father," throws him a pre-ordination bachelor party, and offers to smuggle him into Mexico to get out of it before he even begins to let it go. Even as the countdown to ordination dwindles down to the last few days, it seems conditional. David was obviously schooled well by Sister Andrea (Andrea Martin), and is able to pass through even the most personal vetting, as well as political, solidly. It's when David leaves the room, we see he's no rock.
It feels more than a little contrived that David was a sex addict. It works as far as setting up the many erotic cross fades, leading up to a silhouette menage a trois. But this has also been Kristen's (Katja Herbers) domain, and the last-minute reminder of David's past is unnecessary for the growing sexual tension. Besides, Sister Andrea's warnings about the breakdown of his real and spiritual realities are already too painful a distraction. The scene where Sister Andrea (Andrea Martin) kicks a dark angel out of her bed shows how much is at stake. For a moment, it appears we might lose the gifted nun, as she drags the demon back from further hell.
Sister Andrea's conversation with Dr. Boggs (Kurt Fuller) smacks of ambiguity until she hits him where it hurts, on the knuckles with her ruler, metaphorically. Andrea Martin's approach to the conversation begins almost tentatively, turns defensive, and ultimately feels indulgent. Sister Andrea leads us, and him, to believe one way, and then weaponizes that belief. It is a fun exchange, both comic and dramatic, and made more convincing because Sister Andrea is on her off hours. But at the end of the exchange, when she talks about a demon dragging him off to hell, there is still a hint that Sister Andrea is messing with Dr. Boggs' head.
That is until we see the demon, like an elephant in the room, only more destructive. It looks a lot like the winged creature which gave blood in Midnight Mass, and sired all the vampires on What We Do in the Shadows, except with better definition. That must be because of some biochemical difference between blood-drinking and flesh-eating winged creatures.
Kristen's mother, Sheryl (Christine Lahti) is a confusing character, probably by design, and definitely by choice. During David's "bachelor" party she speaks openly with Monseigneur Matthew Korecki (Boris McGiver) about Leland, saying he's changed and asking about his new position within the exorcism team. But she is only a few feet from her daughter, who Sheryl has promised and assured that she's done with the relationship. Edward (Tim Matheson) named Sheryl his successor in last week's episode, giving her a family heirloom with teeth. Given how Mitch claims his birthright, will we be seeing her wolf down his sacrificial crown next season?
This is the second episode this season whose title begins with a C. We also had "C Is for Cop," which closed the case on Kristen's most grievous offense, but never gave her personal and therapeutic closure, as we glean from her last trip to Dr. Boggs' office. C is also for catharsis, and this episode is loaded with it, for both the audience and the characters. We get a closer look at the Pop-Up Book of Terrifying Things MMXXI, filled in on the meanings of the sigils, and an inside look at a satanic council officiation. But we are also blessed with David's breaking point, seeing him almost lose composure and patience with Sister Andrea and picking up a bottle to drown all the ladies of perpetual sorrows who haunt his visions.
C is also for confession, and Kristen's mea culpa is an operatic aria, almost like a sloppy but harmonically perfect guitar solo, which peaks on the line "got away with it." Kristen has to learn there are some problems which can't be solved with an ice axe. They are a lot like Molotov Cocktails, which can be used to get you into The Good Place, but generally cause different problems. Kristen's confession skips quite a few sins, considering it's been about 20 years since her last one. She doesn't bother to mention she slept with the head of the New Ministry of Satan, nor the legion of pickups she secured in her tour of singles bars. But with an opening like murder, they would only be anticlimactic. Kristen and David double down on contrition, but it looks like they'll save the climax for season 3.
Finally, C is also for Cliffhanger, and Evil's season finale ends on a major one. David was only ordained a mere hours ago, he can't wait one night without breaking his vows? The X-Files' Mulder and Scully teased their attraction for several seasons before their first kiss. Written by Rockne S O'Bannon, and directed by Alethea Jones, "C Is for Cannibal" is a tasty offering, and is ultimately a great appetizer for season 3.
Evil airs Sundays on Paramount+.