Features
Evil Season 3: Will David and Leland's Holy War Escalate?
Evil's most consistent adversaries, Mike Colter and Michael Emerson, convene in a confessional session of the horrors to come.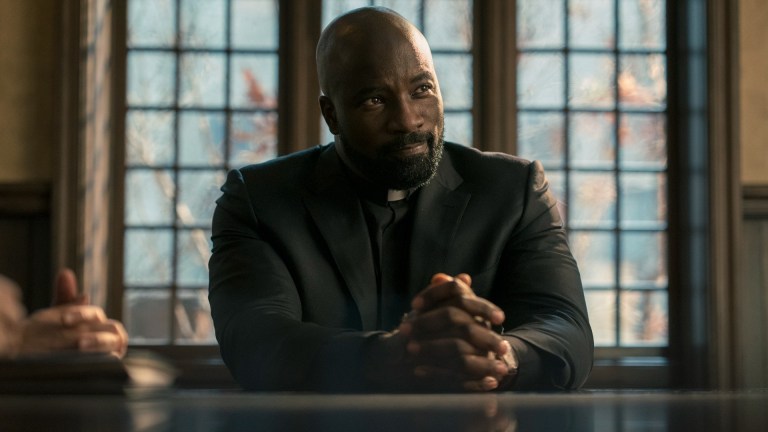 It seems no room is big enough to accommodate both Father David Acosta and Leland Townsend. One is a newly ordained priest who has looked temptation in the eye and blinked, several times. The other is a satanic exposure consultant who never met a sin he wouldn't commit. As Paramount+'s Evil season 3 looms ever closer, actors Mike Colter and Michael Emerson maintain a healthy distance.
The psychological suspense drama created by Robert and Michelle King explores many diabolical influences on society, but Colter's Father David is the committed protector of truth in faith. He is the one who assembled a team to perform triage on indeterminate wounds: Forensic psychologist Dr. Kristen Bouchard (Katja Herbers), and Ben "the magnificent" Shakir (Aasif Mandvi), who present alternative explanations for extraordinary occurrences.
In season 3, David is being courted by a group called "the entity," which is an espionage unit within the Catholic church, and weighing their intent as intently as any of the cases he solves with his team. David is a man of the cloth, but also when unclothed as Evil season 3 opens weeks after the sultry events which concluded the final episode. The newly ordained David may have broken his first vow on his first day, kissing Kristen after a grueling confession before fading into mystery.
Emerson's Leland can work with that. He is a mole in the church's office, and a consistent thorn in David's side, both professionally, and very personally. Leland Townshend is more than an opposing force, he is a reversal of fortune, and the magnetic repulsion causes an adverse reaction. In the first season, Father David threw his first punch at Leland. In season 2 we learned it was a long overdue counterpunch. With so much history behind them, this also fuels much of Evil's forward motion.
Mike Colter and Michael Emerson took neutral corners to speak with Den of Geek about Evil's most consistently antagonistic protagonists for opposing sides.
Den of Geek: How do you keep yourselves on each other's nerves?
Michael Emerson: Having completely opposite personalities and behaviors, and being each an enemy on a bunch of levels to the other.
Mike Colter: Yeah, I think we are opposite ends of the spectrum. Our history goes back on a very personal level. I think there's no point where that doesn't come into play with our relationship. There is no way to forget, when a person is intrinsically involved in the demise of one of your loved ones. I think going from season one, when we figure out how much history that Leland and David have.
I have been talking to Robert [King] about, saying "I can't stand being in the same room with that guy. It's hard to even stomach his presence." So, from that point, I think we see less interaction, necessarily, in the same room. We function from a distance because it's excruciatingly painful, and he's insufferable. It's not an easy thing to be in a room with someone who is just constantly causing trouble and gaslighting.
It just is what it is. Any time I have to sit right across the table from him, or be in the same room with him, I find excruciatingly annoying. That is built into our relationship as characters. If you tap into that on a Methody level. I literally texted Robert, I was like, "Robert, it seems like it's insane. I couldn't be in the same room with him," so you play through that. You use that, and that keeps it nice and alive. He's having fun at our expense.
Will we be seeing more of David and Leland's story predating the series?
Mike Colter: I don't think so. I think the biggest clue to that was season two, when Leland was having a confession with David about his part in the demise of David's girlfriend, in terms of being someone to console in a very dark way. I think that's as close as we're going to get to understanding what that issue is. Because less is more, to know exactly what a person did or did not do, there's many ways to sort of drop those hints to explore that. But we can assume a lot of things based off the information that we've already been privy to.
I think that's about as close as we're going to get to seeing where that came from, Leland's confession to David in the community room. When David becomes his point guy in the Catholic Church, in terms of guiding him. That now he wants to be committed and wants to turn his life around.
Leland rendered his therapist unavailable. I don't know if he's a strict Freudian analysis, but is he still paying for sessions?
Michael Emerson: No, I think he graduated in that bloody act. He made a statement, which was that he's moving on, and he's moving up. He'll decide who helps him and who doesn't. Because there didn't seem to be any repercussions from that. It was just fine. He was actually in a much better place.
You both work with Sister Andrea. What is she to each of you?
Michael Emerson: I think Sister Andrea (Andrea Martin) is a tremendous threat to Leland. I love our scenes together because they crackle with an undercurrent of danger and high stakes. She's the enemy, and she appears to be every bit Leland's equal. In fact, in control of some magic powers. So that must make Leland sleepless.
Mike Colter: For David, she serves as a consigliere, an advisor, a confidant, mentor, along those lines. She's the person that he can bounce ideas off. Also, she sees demons. She sees things that he doesn't see in the third season, which is going to be interesting because it is indicative of his state of mind. But, she's sort of like his Yoda. It's all those things, right? It's like she's all-knowing and wise, and capable beyond her years and physicality. I think we'll see more of that in the third season, and to a degree of hilarity, I would say, in ways she dispatches with some things, because you don't expect it.
It's short of watching a nun become a ninja, things that make you go "wait a minute, what's going on here?" I like that about it, because there's always a little bit of tongue-in-cheek and some fun to be had there. That lends itself to the question: Is she real? Is she just some sort of figment of imagination of someone, or everyone rather? At some point in an episode coming up, someone walks in and is like, "Sister Andrea, who's that? What are you talking about?" Sometimes, only you see Sister Andrea. Who knows what's really happening?
Michael Emerson: One of the wonderful things about Sister Andrea is how deadpan and unexcited she is about insane events going on in the same room with her. Like "All in a day's work for one of God's warriors."
Evil season 3 returns to Paramount+ on Sunday, June 12.