Features
Endeavour's Morse callbacks and Colin Dexter Easter Eggs
Morse prequel Endeavour is peppered with loving nods to the detective's creator and the original series. Here are just a few...
Endeavour's established itself as a show with its own distinctive identity since its first appearance on our screens in 2012. Over the course of its six series, Shaun Evans' take on the young Morse – a character first brought to unforgettable life in 1987 by the late, great John Thaw – has won new viewers in droves. 
Guided by a superb supporting cast including Roger Allam, James Bradshaw, Anton Lesser, and Sean Rigby, we've delved deeper into a previously opaque phase of our favourite detective's long career. It's been an entertaining ride, and Endeavour's seventh run, set to air in 2020, will no doubt provide plenty more heartstopping –and heartbreaking – moments for fans to cherish.
Despite the fresh faces and new revelations, Endeavour's appeal is multilayered. Writer Russell Lewis worked on Inspector Morse and its earlier spin-off, Lewis; his deep knowledge of the lore painstakingly crafted by Morse creator, Colin Dexter, has informed Endeavour throughout its run to date. We've seen earlier versions of characters already infamous from classic Morse episodes, clever nods to places and people whose importance hasn't yet dawned on our boy in blue, and some lovely meta-references to the man without whom none of this would be possible: Dexter himself.
As excitement builds for the dawn of the 1970s in Endeavour Morse's Oxford, here's your spotters' guide to some of the most significant nods to Morse trivia you might want to look out for the second time around. (Series five, 1991. Yes, we can play this game, too.)
We won't be doing all the work for you, mind. Where's the fun in that? Let's see how many clues you can pick up below the line. The Chief Superintendent will be awaiting a full report.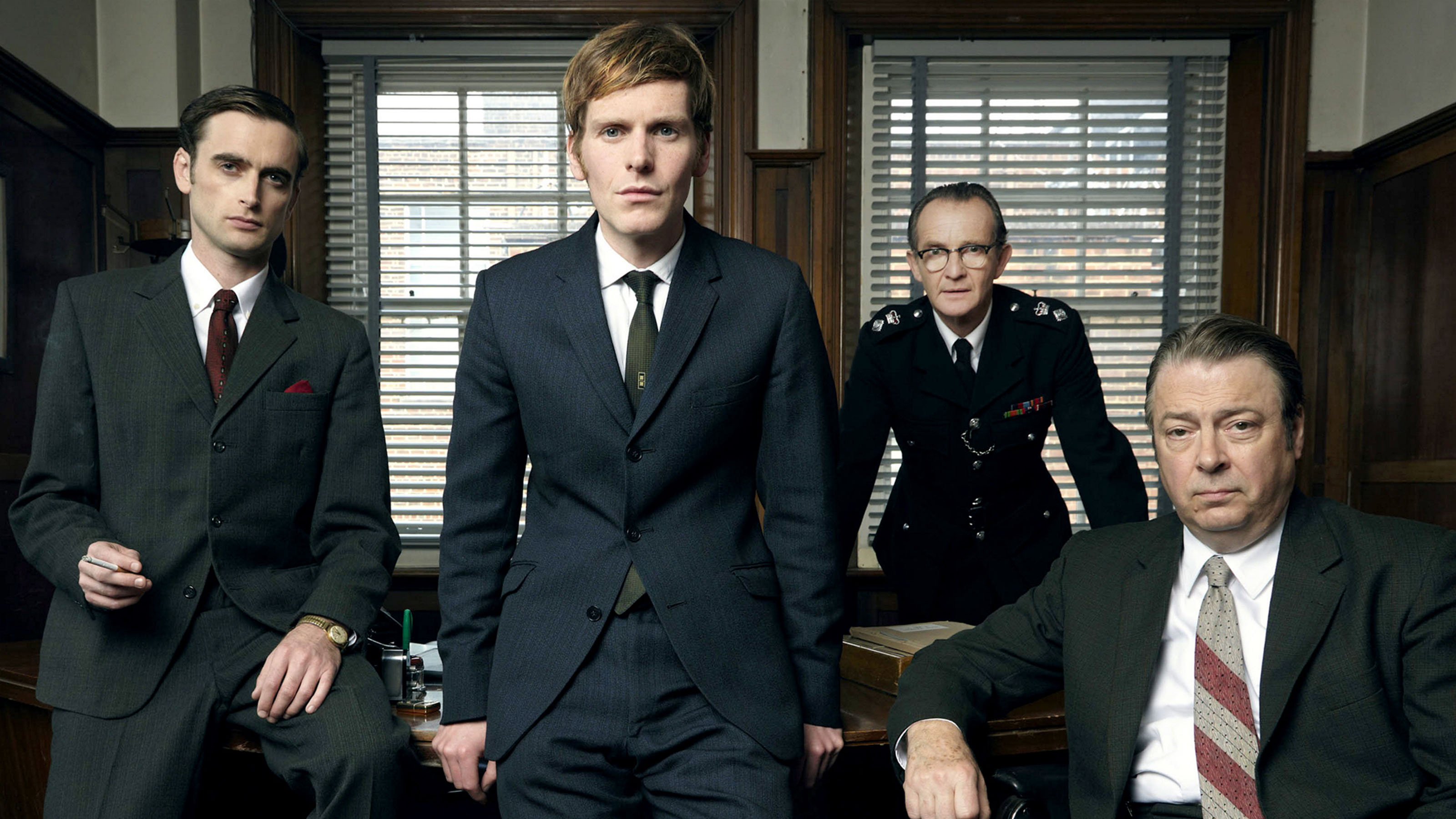 First things first, matey. Who do we recognise on our first visit to Cowley nick? You get no prizes for picking Morse himself, obviously. However, two of the biggest calls forward to established Morse characters make their presence felt very quickly on our journey back to the '60s. Jim Strange's career trajectory is an ongoing mystery for longtime viewers. Played by James Grout in Inspector Morse, Sean Rigby's affable copper is clearly going to leapfrog the titular crossword fiend to the top job of Chief Superintendent. We're starting to understand how his inexorable rise began now, but a few links in the chain are still missing. (Strange's first name, never revealed in Morse, is a touching tribute to Grout).
One of the abiding delights of Endeavour has been the opportunity to see how Max DeBryn's crotchety friendship with Morse came to be. Played by Peter Woodthorpe for the first two series of Morse before ill health sadly caused the actor to withdraw, the two men's bond – more fully developed in Dexter's novels – continues to be a joy. James Bradshaw's performance as the whimsical, tender-hearted Home Office coroner is every bit as finely calibrated and incisive as the tools of DeBryn's trade.
Endeavour's love interests have mostly been new to us, but it would have been remiss of Lewis not to have included Susan, the woman Morse won and lost, first to life's vicissitudes and, finally, to death in the devastating Dead On Time (1992). We never actually encounter her here, except in a brief flashback, but some interesting depth to that story is provided by Endeavour's unpleasant encounter with her arch, condescending mother, Caroline (Phoebe Nicholls) in the series four episode, Lazaretto.
We know that Morse's future mentor, Inspector McNutt, will fall victim to murder in the 1990 Inspector Morse episode, Masonic Mysteries. For now, Fred Thursday's filling the role of a father figure in the young Endeavour's life: a relationship that we've had time to savour, in good times and in bad. Very bad, actually, as avid viewers of series six will recall with a wince. Way back in series two, Thursday recommended McNutt as a possible future boss for Morse, should Thursday's ill health lead to his retirement. As for those pesky Masons, Endeavour's frequent clashes with them as a young officer are a nice piece of foreshadowing for those who recall that wonderfully sinister episode of the original Morse.
John Thaw's unforgettable presence lingers, just out of sight, at the edge of every shot in Endeavour. Evans's ability to make the transition seamless is remarkable, given the colossal legacy he's inherited. One reminder of an actor we lost all too soon is more tangible, though. The marvellous Dorothea Frazil, roving reporter and sometime confidante to the man she once christened Snappy – well, he is! – when a pseudonym was required, is played by Abigail Thaw, who's been doing her dad proud since the very beginning.
'Frazil', incidentally, is a type of soft ice, the kind formed in water too turbulent to freeze it fast, but too cold to…well, you get the picture. Thaw senior's wife, Sheila Hancock, also made a memorable guest appearance as the distinctly terrifying local soothsayer, Dowsable Chattox, in Endeavour's series four finale, Harvest. As Frazil might put it, these are touching glimpses of another, much-missed life.
People, crucial though they are, aren't the only touchstones in Morse's world. We saw the fabled Jaguar in a car showroom in the Endeavour pilot, though it's still not yet found its way to its rightful owner. As for the house in which Morse played his beloved opera LPs throughout the classic series, Endeavour's just taken possession of it. A cheerless squat formerly occupied by drug users, it's in need of some love, but the outline of the life we know is beginning to take shape.
One last thing before we finish our preliminary inquiries. Colin Dexter might have passed away in 2017, but his Hitchcockian delight in popping up when least expected in the television adaptations of his own creation has most definitely not been forgotten by Lewis and his team. Glimpsed as a real-life presence in the background of a number of scenes, as he so often was in both Morse and Lewis, Dexter's since been sighted as a most impressive bust in Harvest, as a regimental portrait at the army base in series five's Colours, and, most sweetly of all, as employee of the month at the rural train station in Passenger during that same run, to name only a few. It's classic Endeavour – a new angle on a beloved character, innovating while never forgetting all those who set the wheels in motion over thirty years ago.
That's our part done, then. We'll be expecting your findings on our desk first thing. Now, if you don't mind, we'll be in the office with some Wagner and the Times crossword. The more things change, as they say…