News
Doom Patrol Season 2 Release Date, Cast, Story, and More News
Doom Patrol Season 2 will hit HBO Max and DC Universe in June! Here's everything we know so far...
Finally! The little superhero show that could now has…coulded? Doom Patrol Season 2 is finally almost here, and we couldn't be happier about it. So now that Doom Patrol Season 2 is a reality, where will it host its episodes: DC Universe or HBO Max?
The answer is both! Doom Patrol Season 2 will be available to stream on both DC Universe and HBO Max. Not only that but HBO Max will have all 15 episodes of Doom Patrol season 1 available at launch on May 27 before season 2 arrives in June. Fans and critics alike have championed Doom Patrol from the start and now it seems as though Warner thinks as highly of it as everyone else does.
Doom Patrol Season 2 should have been a given. Not just because the show is good but also because DC Universe doesn't have much else to fall back on as a fledgling streaming platform. Doom Patrol was only the second of DC Universe's live action shows, although Swamp Thing premiered last summer but was promptly canceled for reasons that remain murky. On the other hand, the streamer's first show, Titans, already has a third season lined up. That HBO Max deal complicated things a bit but thankfully cooler heads appear to have prevailed at Warner.
Doom Patrol Season 2 Release Date
Doom Patrol season 2 will arrive on HBO Max and DC Universe on June 25! Here's a nice season 2 poster to tide you over.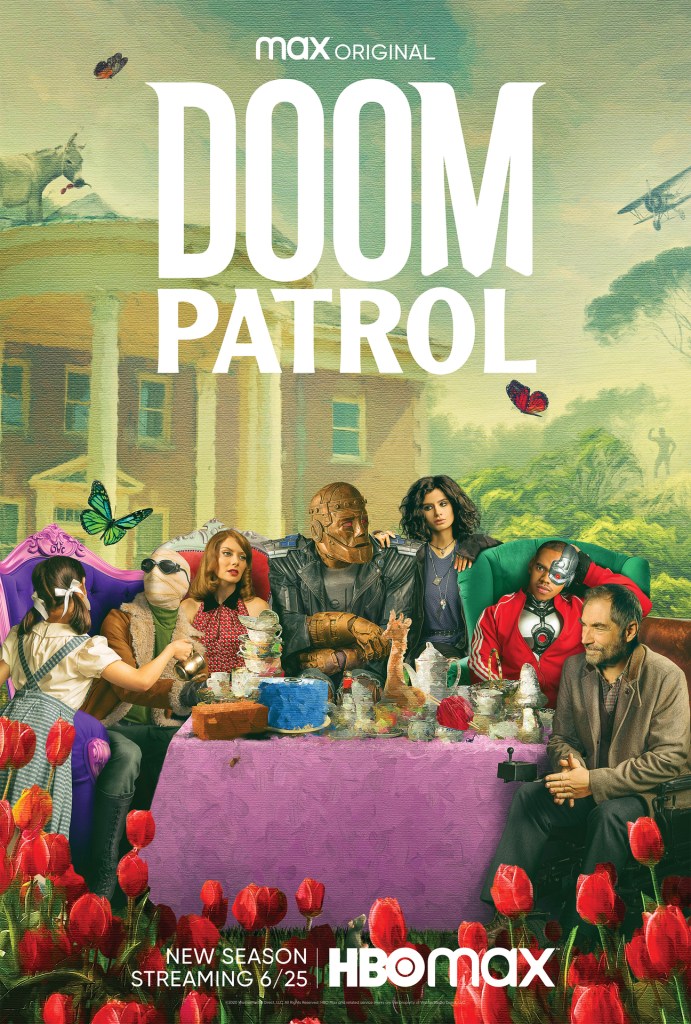 Doom Patrol Season 2 Cast
Doom Patrol follows Cliff Steele a.k.a Robotman (Brendan Fraser), Rita Farr a.k.a. Elasti-Girl (April Bowlby), Larry Trainor a.k.a. Negative Man (Matt Bomer), Crazy Jane (Diane Guerrero), and Vic Stone a.k.a. Cyborg (Joivan Wade) as they begin to form the World's Strangest Heroes. Season 1 followed the team as they tried to rescue their mentor Niles Caulder (Timothy Dalton) from the omniscient Mr. Nobody (Alan Tudyk) but inevitably got sidetracked by their own personal damage and a doomsday cult here or there.
The new season will introduce Niles Caulder's daughter, Dorothy Spinner, played by Abigail Shapiro.
Doom Patrol Season 2 Story
Doom Patrol finished its deliriously fun and deliriously delirious first season on DC Universe back in May 2019. After our titular heroes defeated Mr. Nobody and rescued Niles Caulder there's only one question on everyone's mind: can a born-again Christian cockroach and a rat have babies together? And also: what's next for our heroes? Well, we now have the first story details…
"DC's strangest group of heroes — Cliff Steele aka Robotman (Brendan Fraser), Larry Trainor aka Negative Man (Matt Bomer), Rita Farr aka Elasti-Woman (April Bowlby), Jane aka Crazy Jane (Diane Guerrero), and Victor Stone aka Cyborg (Joivan Wade) — are back again to save the world. That is, if they can find a way to grow up…both figuratively and literally. Following the defeat of Mr. Nobody, the members of the Doom Patrol now find themselves mini-sized and stranded on Cliff's toy race car track. Here they begin to deal with their feelings of betrayal by Niles Caulder aka The Chief (Timothy Dalton), while confronting their own personal baggage. And as each member faces the challenge of growing beyond their own past traumatic experiences, they must come together to embrace and protect the newest member of the family: Dorothy Spinner (Abigail Shapiro), Niles' daughter, whose powers remain a mysterious but real threat to bringing on the end of the world."