Reviews
Doom Patrol Season 2 Episode 1 Review: Fun-Size Patrol
Doom Patrol season 2 kicks off with a touching tale of growth...literally and figuratively.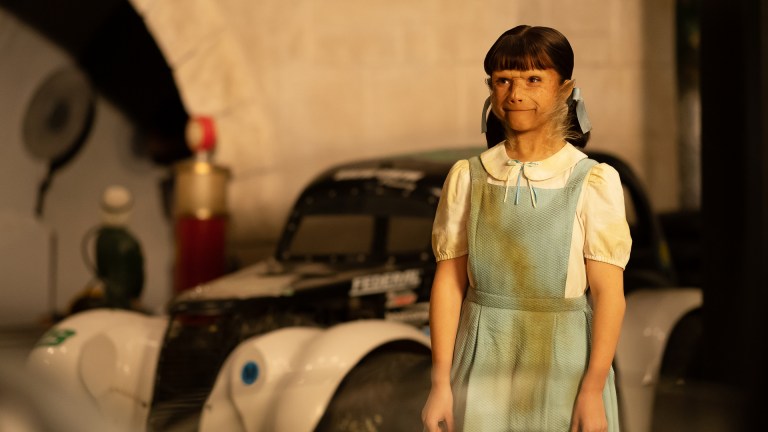 This Doom Patrol review contains spoilers.
Doom Patrol Season 2 Episode 1
The first season of Doom Patrol was the kind of outing that shouldn't have worked. The band of misfit heroes (who could swear) felt like a premise that would wear thin – as did the novelty of Alan Tudyk as a narrating super villain, and a talking cockroach with apocalypse on his mind. Yet, the show successfully managed a balance of oddball concepts, violence, humor and strong development of characters struggling with serious trauma. Now, with the second season premiere, "Fun-Size Patrol," the show returns with solid footing that manages to be heartbreaking, and hilarious. And yes, there is still a lot of swearing.
Picking up a short time after the events of the first season finale – where Tudyk's villain Mr. Nobody was thwarted, a giant cockroach and rat made out, and The Chief (Timothy Dalton) was revealed to be the one behind our heroes' tragedies – the Doom Patrol sans Larry (Matt Bomer/Matthew Zuk) is shrunk down to the size of a LEGO mini-figure.
In addition to being LEGO-sized, the team is figuratively at its smallest as well. Cliff (Brendan Fraser, Riley Shanahan) busies himself raging at The Chief for his betrayal, and working on a miniature car; Vic (Joivan Wade) is struggling with nightmares and his PTSD; Jane (Dianne Guerrero) seems to be feuding with her alters in the Underground, and is taking the serum to suppress them; Larry (who takes care of the tiny team by making itty bitty pancakes, and furniture) is forced to confront his past as a father who abandoned his family. Rita (April Bowlby), at least, is striving to get big by learning to control her powers in order to become a true hero.
And then there's Dorothy (Abigail Shapiro), The Chief's daughter with a simian face and the power to bring her imaginary, quite monstrous, friends to life. Locked in time at a young age, Dorothy is sweet, and precocious, and thankfully just shy of being an annoying kid character. The Chief locked her away for years on Danny The Street (the excellent genderqueer sentient street who is now a brick) as he searched for a way to prolong his life, and protect his daughter – which is what he was doing when he robbed each of the characters of their normal lives. 
As much as Tudyk's Mr. Nobody is missed, Dorothy brings a different kind of energy to Doom Patrol. Her emotional vulnerability, and the fear of a child who had known so much abuse, and rejection, is compelling. The kid wants a family, so when the other characters make fun of her, even behind her back, it stings. It also makes sense why she is tempted to listen to the particularly menacing voice calling to her; even if it's a scary voice, it's still part of her imaginary family.
That's part of the emotional punch of the first season that's still on display here. If you thought these characters had worked out most of their traumas, you're in for a surprise. And once again, Larry gets a dose of tragedy in a wrenching scene where he discovers his son, now elderly, has taken his own life while wondering if his pop ever approved of him. Even Cliff's rage at The Chief strikes a chord. Riley's Shanahan's tin-man physicality, and Brendan Fraser's frequent (and always entertaining) f-bombs, are incredibly sad. Since Cliff has lost human sensation, all he has left are his emotions and his voice.
With everyone justifiably angry at The Chief, it will be interesting to see if the team can ever come together again, and if they can move past this betrayal – as they continue to process past traumas. Dalton conveys genuine regret as The Chief tries to make amends, but he remains a desperate man. And now, after giving his immortality (and his painting) to Willoughby, he's on a ticking clock.
Speaking of Willoughby, it's great to see Mark Sheppard back. But doesn't the drunk wizard say he doesn't have the juice to pull off the magic Niles needs? However, "Eismann" might. That's quite the tease, especially for Doom Patrol comic fans.
The emotional beats here are accompanied by sight gags of the team's model railroad tiny town. Dorothy's monster hurls a car into the air, before we're reminded it's just a tiny matchbox car as it plinks to the ground. The team moves with urgency to save Dorothy from the rat, only to be slowed down by the model elevator descending at a snail's pace.
With Fun Size Patrol, Doom Patrol returns in delightfully, reliably, odd fashion. This is primarily a show about weird characters slowly trying to come to terms with what makes them monsters, and the premiere delivers that in spades. Also, thankfully, it comes with a lot of Brendan Fraser swearing.
Keep up with Doom Patrol season 2 news and reviews here.