Reviews
Harley Quinn Season 2 Episode 6 Review: All The Best Inmates Have Daddy Issues
"All the Best Inmates Have Daddy Issues" gives us the origin of the Harley Quinn and Joker relationship, as well as the beginnings of the Harley and Ivy friendship!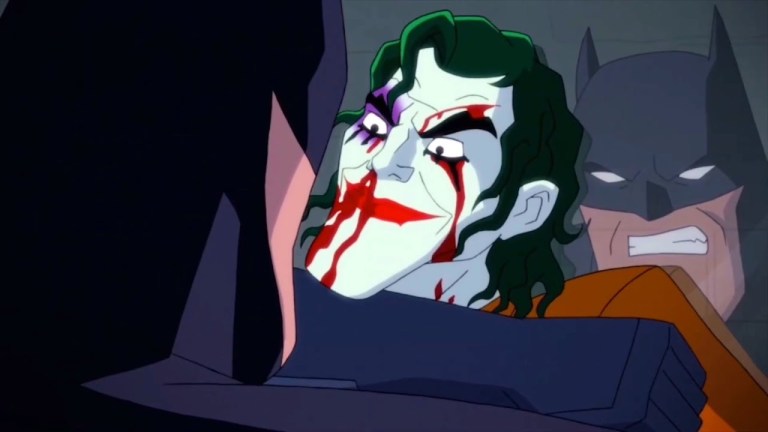 This review contains Harley Quinn spoilers.
Harley Quinn Season 2 Episode 6
Over one and a half seasons, Harley Quinn has established itself as silly, satirical, and brilliantly crude. But with "All The Best Inmates Have Daddy Issues," Harley Quinn reveals a softer side.
Reimagining the classic Mad Love arc through the lens of Silence of the Lambs and some instantly recognizable Harley Quinn humor, we get to see Harley and Joker's first meeting. Though there is, of course, a twist as it's revealed that our anti-heroine met someone else on that fateful first day at Arkham: her closest friend and ally, Poison Ivy.
Something that's immediately intriguing in what could've been an overly familiar arc is how they shine a blinding light on why Harley might have fallen for the Joker. Sure, it's all done in the silliest way possible, but Dr. Quinzel sees horrific human rights injustices from the moment that she steps through the doors of Arkham; Harvey Dent is gleefully burning Ivy with a flamethrower, the administration regularly invites Batman in simply to beat the living hell out of the inmates. That darkness is reflected in the tone of this episode. Though it's definitely funny, there are far fewer broad jokes as the writers lean into the emotional arcs of the characters.
Though this is predominantly a Harley (Kaley Cucuo), Joker (Alan Tudyk), and Ivy (Lake Bell) story, we get plenty of Batman (Diedrich Bader) and Jim Gordon (Christopher Meloni). Those two useless cranksters are always a total delight and they offer up most of the episode's best laughs. But the core of the narrative comes from Harley and Ivy seeing a seemingly "normalized" Joker working in a local Gotham bar. The Clown Prince of Crime is now a super gentle, silly, and apparently non-homicidal guy. This discovery incites a deeper conversation about the nature of redemption and whether anyone can ever truly change.
Looking back on when they first met, we see that Harley truly cared for the Joker and wanted nothing more than to help him. But she also helped another inmate, Ivy, changing the course of both their lives forever. Even as an Ivy and Harley fan, I never thought we'd see the day where Mad Love was essentially inverted and used as a background for their friendship and love. Despite the fact that we still get to see the sparks of what became the most notorious relationship in the DC Universe, we also witness the seeds being sown for something far more special.
Harley Quinn has kept playing with our expectations this season. Poison Ivy is apparently getting married. Some of the biggest villains in Gotham are dead. Batman is gone. Batgirl has risen. This week there's no King Shark, no Clayface. We get to see Dr. Psycho for mere moments. This is all about Harley, Ivy, and her evil ex who maybe isn't so evil anymore. The nature of that potential evil is what the show really wants us to think about, though. Is anyone truly evil? Can someone shed their past? And if they could, do they deserve forgiveness?
After reaching into the past, the pair decide to check in on the inner workings of the Joker's brain. Surprisingly–as anyone who has read an X-Men comic will know–digging around in someone's brain isn't a great idea. From what we see, this new version of the villain–who was last seen crushed under a phallic creation with his own face on it–has no idea of what he used to be. Instead, we see a life filled with love for his step-children, generally corny behavior, and a saccharine obliviousness to what came before. Seeing this makes Harley and Ivy decide to leave the man who was once Joker alone. Sadly, their actions look to have had dire consequences as Dr. Psycho's probing mind has seemingly awakened the monster within.
It's a suitably dark ending for "All the Best Inmates Have Daddy Issues." Whatever happy life the Joker has made for himself will soon be over. Even after their deep and meaningful conversations and work to get over their own issues, Harley and Ivy have once again put the world and themselves in danger. Last episode we saw the return of Batman and the arrival of his legacy replacement, so it only makes sense that his greatest foe will be back too. Whether or not Joker's transformation will be an instantaneous one or a heartbreaking slow burn will likely shape the rest of this season, and after the dark emotional bent of this episode we wouldn't be surprised if it was the latter stretched out for ultimate impact.