Features
Does Mayfair Witches Follow Magical Traditions?
Rowan meets the family in Anne Rice's Mayfair Witches episode 4, and gets "Curiouser and Curiouser" about their magical history.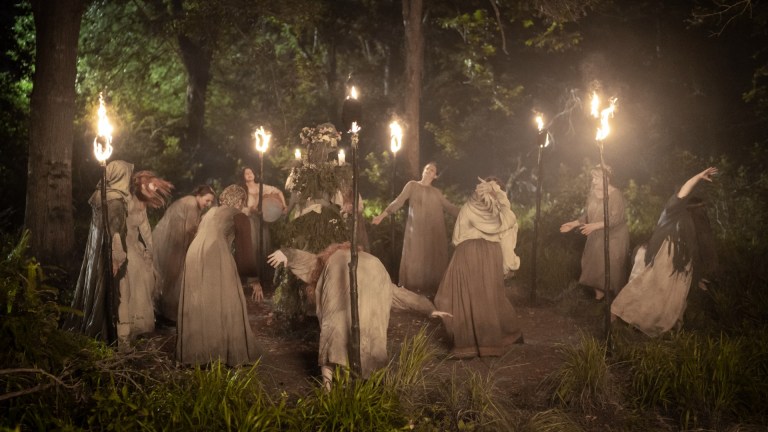 This article contains spoilers for MAYFAIR WITCHES episode 4.
Mayfair Witches episode 4 "Curiouser and Curiouser" opens in Donnelaith, Scotland in 1681. The midwife Suzanne Mayfair (Hannah Alline) is being led through the woods to a secret meeting place to bid final farewell to the gifted healer who she guided into death. The witches who gather for a "true funeral" celebrate the life of their fallen sister, dancing in the moonlight as the magic moves into a new generation.
Anne Rice redefined immortal bloodsuckers with The Vampire Chronicles. She alchemized a new brew for her Mayfair Witches novel trilogy The Witching Hour (1990), Lasher (1993), and Taltos (1994), putting a personal spin on demonic sorcery. She also created her own demon, Lasher, played by Jack Huston on the series. But is he an evil entity? People have been asking "are you a good witch or a bad witch" long before a house fell out of the sky in Oz. All of magic is intent, and AMC has nefarious plans for its Anne Rice Immortal Universe, which began with the series adaptation of Interview with the Vampire.
Mayfair Witches is about a family who have been practicing magic for generations. Alexandra Daddario plays Dr. Rowan Fielding, "13th Witch" of the novel series, who finally gets it right. Rowan is an especially gifted neuroscientist who can dip into the dark corners of the mind. She killed people in the first episodes by sheer mindful will power, leaving much to think about. Early reports on Mayfair Witches production insinuated there were magical advisors on call.
"Well, that's my fault," Alexandra Daddario tells Den of Geek. "There were no advisors on set. There just happened to be two crew members who are Wiccans who I started talking to, but there were no advisors."
That didn't stop the dedicated actor from digging deep into the sorcery of the part. "The text itself helped the most," Daddario says. "I did a ton of research on Anne Rice. The Wiccan, I learned a little bit about, but more helpful was what Anne Rice wanted to say: What her metaphors really were; where she came from; who these people really were; and what she really wanted to convey, or was working through when she wrote this book."
Rice's characters in the book series are magical beings with both inherent powers, and a longstanding knowledge of herbs and the earth, according to the novel's "The Talamasca History of Mayfair Witches."
"This is a show that starts with talking to surgical consultants about how surgery works, and pretty quickly pivots to magical consultants," says Esta Spelling, Mayfair Witches' showrunner and writer. She and the creative team did their own magical research.
"We had a wonderful historical expert in witchcraft, who is also a practicing witch, Mystic Dylan, who helped with all of the witchcraft," Spelling says. The owner of The Olde World Emporium occult shop in Los Angeles explained to the writers "What would have been the witchcraft training the Talamasca got," Spelling explains, listing, "what spells would they have learned, what would Ciprien [Grieve (Tongayi Chirisa)] know in this moment. What does it look like to put a protective spell around a building."
The writers apparently worked the right charms. "The spray bottle, the holy water, that process is accurate," explains Ashley Ryan, also known as Pythian Priestess, a practicing occultist and host of the podcast The Occult Unveiled. "It's called purifying and consecrating. The energy they are working in at that point is not clean. Cleansing the space is accurate. In traditional ceremonial magic, you have to do that. This is called creating a sacred space. Some call it casting a circle, which is pretty common in a lot of Hollywood features, but also accurate." 
In the books, Suzanne calls up Lasher through a circle of stones. Tongayi Chirisa, who plays Ciprien Grieve, also found it helpful to educate himself on metaphysical knowledge. His character is gifted with psychometry, which is a talent for reading objects through touch, but he took a dive into the devilry of his onscreen nemesis.
"From that standpoint, and me being a fan of mythology and religion, you look at Lasher, what his impact was, and how he was conjured up," Chirisa says. "You start to ask the questions 'what dimension is he from' and 'what's his mission,' because they have similar throughlines. These things don't just come for the fun of it. If you conjure something up, there's an end goal for the entity. Just trying to discover what that is, and what it takes to take it out or send it back to its other world, was some of the research that I did."
On the page, Rice's witch family had a virtual underworld archive in the main floor library. Rowan inherits her mother Deirdre Mayfair's (Annabeth Gish) house in episode 4. In The Witching Hour, Rowan's ancestor Mary Beth Mayfair had crates of books, "including obscure texts in German and French having to do with black magic," brought to the house in New Orleans. She could also "make doors open and close without touching them." Her Irish "servants spoke often of Mary Beth going down to the French Quarter to consult with the voodooiennes and of having an altar at which she worshiped the devil."
The novels are mainly set in New Orleans, but the Mayfair family's pact with Lasher goes back to the 17th century Scottish witch burnt at the stake. "Rice created and manifested a totally new tradition for Mayfair Witches," says Rebecca Halladay, an occult writer, scholar, and witch. "She derived aspects of many magickal traditions available throughout the generations, allowing them to all evolve.
The series' creative team had to parse a diverse range of translations. "There's a lot of Latin in the book, and we went to a Latin professor for a little lesson on things like, "What is the case for this?" And how do you call a demon out, and so on," says Esta Spelling.
To serious practitioners, linguistic detail is a potent part of the potion. "There is power in the usage of 'Dead Languages," says Halladay. "It is the intense energy to study and implement them into spell casting. Rice's use of Latin throughout the novels may be for consistency when working evocations to call upon Lasher. When an entity is conjured throughout the centuries, continuation of language would make evocations easier to maintain power and fluidity."
Most chants we hear on big and small screen horror movies are done in Latin. "Let's be honest," says Ryan "It's sexy. It's magical. A lot of people don't understand it. Latin was the language of the ancient world. There are disagreements saying your natural language is more powerful. Not all spells need to be in Latin, but they can actually be quite powerful."
When Rowan first makes contact with the family after her mother's funeral, Carlotta Mayfair (Beth Grant) warns her: "The devil comes in many forms." Lasher's presence is felt in every pew of a Catholic church when introduced in the episode. Rowan experiences his essence far more intimately in darker magical union.
Rice's novels are renowned for uninhibited displays of affectionate indulgences. Spelling enthuses over "the exploration of just fun, divine powerful sexuality. We were like 'Great, bring on that part of the novel.' The scene on the airplane [in episode 3] when Rowan's with Lasher but her mother's in another room with Lasher across the continent? Let's explore that."
The aerodynamic possibilities of magical union are truly out of this world, but consent is very important. "Spirit sex can happen," Ryan says. "When you read The Witching Hour, Rowan gets really pissed at Lasher, post-plane ride. Seeing it in reverse really shows the feminist aspects that Anne Rice was trying to put in her book. It's about Rowan gaining that power even though she falls in love with Lasher later."
While we are not sure how closely the series will follow the book, the weight of possibility brings a question of balance. "Rowan's becoming a brilliant neurosurgeon is the 'positive' aspect of her powers," Halladay says. "But the people who died at Rowan's hand, kinda deserved it, which is what witchcraft is all about isn't it?"
Mayfair Witches airs Sundays at 9 p.m. ET on AMC and AMC+.