Features
What Anne Rice's Mayfair Witches Learned from Breaking Bad
AMC's Mayfair Witches creative team promises to keep Anne Rice's magical intentions in "The Dark Place."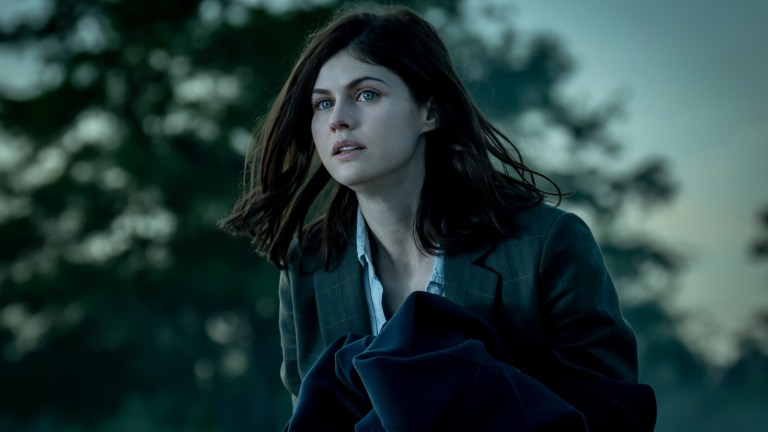 This article contains spoilers for Mayfair Witches episode 2.
Mayfair Witches episode 2 is called "The Dark Place," which is where magic practitioners go when they're thinking of breaking bad. The episode opens in the home of a midwife, practicing the closest thing to medicine to be had in Donnelaith, Scotland in 1681. She's treating a wound with willow bark and burdock. Healing arts have come a long way, yet some things never change.
The series stars Alexandra Daddario as Dr. Rowan Fielding, a neuroscientist so gifted she can think people to death. The story comes from the mind of Anne Rice, best known for her Vampire Chronicles, which is being chronicled on AMC's series Interview with the Vampire. The Lives of the Mayfair Witches is Rice's most ambitious nonvampire work, a trilogy of books which gets its sustenance from a bloodline of witches going back for centuries.
The Mayfair family are bound to an entity, demonic or angelically fallen, named Lasher (Jack Huston), by a key worn by Rowan's birth mother Deirdre Mayfair (Annabeth Gish). But the being's family ties are much deeper, as Lasher proves an aerodynamic lover in a particularly heated scene in "The Dark Place." The indulgent and indulging family matriarch Cortland Mayfair (Harry Hamlin) is a temporal anomaly in the series, and Ciprien Greaves (Tongayi Chirisa), the Talamasca agent assigned to the supernatural events in New Orleans' Garden District, is an amalgamation of two characters from the novels.
Writers Esta Spalding, who is also showrunner, and Michelle Ashford, who also directs the occasional episode, keep the action centered on the books. They executive produce along with Mark Johnson, who is overseeing AMC's Anne Rice Immortal Universe after ending his long run for Better Call Saul and its predecessor Breaking Bad. It's his job to make sure the witches follow suit. The unholy trinity sat for a spell with Den of Geek to share the secret ingredients to their witch's brew.
Den of Geek: Had you been fans of Anne Rice's Witches of Mayfair series prior to the production?
Mark Johnson: That was starting with me, because AMC put me in charge of the Anne Rice estate account. We have 18 books that I feel this huge responsibility to somehow get right. I, to be totally candid, was not really familiar with Anne Rice. So, when I started to think this is something I really liked to do, I immersed myself and dove into it.
I'd be lying if I said I've read all 18, but I've read a fair amount. Honestly, what I probably would have thought 10 years ago, I was wrong. I was amazed how much I enjoyed her, how much I loved her characters. I had not been to New Orleans. She took me to New Orleans.
You know what? Forget about plot. As far as I'm concerned, it all comes down to characters. And her characters are so very real and complex. Even being a vampire or a witch, whoever that is, that person is still a person, a human being, and they have the same longings and fears and insecurities as the rest of us. That's why we're so drawn to her very unique work.
Esta Spelling: I had not read the witch books. Michelle knew Mark, talked to him about books, and then looped me in and said, "Read this." It was so thrilling to be handed the 13 generations, such a fully articulated story of all of these generations. Not the book, but the story of the witches begins with this midwife, Suzanne, being accused of witchcraft. She had me with that premise. Then you've got a contemporary doctor who's discovering these powers, who's also a healer. That notion of women being persecuted for their power, and how does that manifest now, seemed electrifying to be able to write about that.
I know you researched magical traditions. Can you tell me about that and the origins of the chants?
Esta Spelling: There's a lot of Latin in the book, and we went to a Latin professor as a little lesson on like, "What is the case for this?" And how do you call a demon out, and so on. We also had a wonderful historical expert in witchcraft, who is also a practicing witch. Mystic Dylan, who just helped us with all of the witchcraft. Like, what would have been the witchcraft training the Talamasca got? What spells would they have learned? What would Ciprien know in this moment? He was really, really helpful. What does it look like to put a protective spell around a building, and so on. It was very fun. This is a show that starts with talking to surgical consultants about how surgery works, and pretty quickly pivots to magical consultants. So, it was fun.
Neuroscience is just as scary. In Rice's novels, the perverse is commonplace. That's why we read them. How would you get away with that on AMC?
Mark Johnson: She deals with a lot of, as you say, the perverse and, quite frankly, subject matter or certain sexual tendencies that we're not comfortable with, both all of us in terms of the time we live in, and in terms of just us personally. I think both Michelle and Esta did a really magical job making a lot of the perverse, and even the sexual perversity, part of the show, yet making it palatable for an audience and for us ourselves.
Esta Spelling: It was really important for us that, in a show about women's power, there was consent. Consent felt really, really important. We talked about it a lot in the writers' room. There's one [instance of assault] in the season, you don't know that's what's happening when you see it. We really want to use that as a way to guide against what we're saying should be happening to these women, and these witches, through the season.
But the exploration of just fun, divine powerful sexuality. We were like "Great, bring on that part of the novel." The scene on the airplane when Rowan's with Lasher but her mother's in another room with Lasher across the continent? Great. Let's explore that.
Michelle Ashford: Yeah, the politics of course, for when these books were written, are so different. The world is so different. Anne didn't have the benefit of living through the last [era]. The books were already written. We're very mindful of where the sexual politics are now. We don't go too far into a bad area. It won't feel as relevant to now.
You translate supernatural gifts into something empowering. I noticed Rowan's telekinetic brain frying is triggered by specific kinds of mental injustice, like mansplaining.
Michelle Ashford: Yes, exactly. Well, that's the long and short of it. I love that you got that. That's one of the things that Esta and I were so excited about. A woman being trapped in these patriarchal sorts of rituals that are so frustrating that yes, that's what triggers her powers. So, we loved that. Yeah, but then it gets more complicated.
Esta Spelling: It's a fun scene with [Daniel] Lemle (Tobias Jelinek) in the pilot, because yes, he's mansplaining, but he's saying to her, "I think you're a killer. I think you have a certain instinct." What he says to her – are you a destroyer or not, are you a killer or not – is really the question of the season. It's what Lasher is going to be saying: You're trying to be good, and just heal and be a nice girl and all that, but I think there's more to you. I think there's a killer instinct. She shuts Lemle down by killing him, so he is right. All of that was very fun as we started to puzzle through it and see the ways in which Lemle is terrible, but also slightly accurate.
Mark, you worked on Better Call Saul and Breaking Bad. Is witchcraft the new crystal meth?
Michelle Ashford: Great question.
Mark Johnson: Don't you see that? It's obvious to everyone. The beauty of what I am able to do, at this point, is to do things I've never done before. I've never done witchcraft. I've never done anything like this before. It's a delight. It's not just playing in another sandbox, but being aware of a whole world, and this case, and it's such a privilege to work with Michelle and Esta. I'm in awe of what they were able to pull off.
When I sent Michelle the book, initially, it's not a small book, and there are passages in it that have nothing to do with anything. They're great in terms of the book, but they were able to take a hold of it and distill it into something that I find so entertaining and asks a lot of questions in the process. But no, I don't think we'll have our Winnebago in this series.
Michelle Ashford: Oh, that's a good idea, Mark, actually. Just have the Winnebago drive in the background.
Esta Spelling: I do think Rowan is breaking bad though, Mark, a small amount.
Michelle Ashford: She is breaking bad.
Mayfair Witches airs Sundays at 9 p.m. ET on AMC and AMC+. in the U.S.