News
Disney+ New Releases: January 2023
We have a list of the new Disney+ movies and shows arriving in January 2023 including Star Wars: The Bad Batch season 2!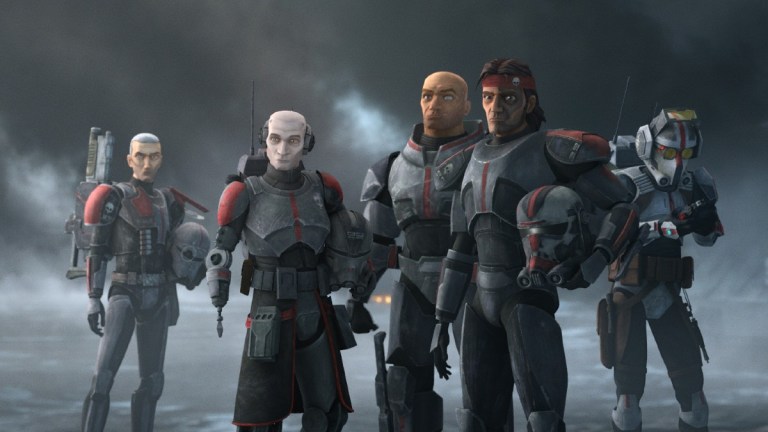 Disney+ is opening up the New Year just the way it likes to: with plenty of Star Wars. Disney+'s list of new releases for January 2023 is highlighted by a fresh season of Star Wars: The Bad Batch.
Star Wars: The Bad Batch season 2 premieres its first two episodes on Wednesday, Jan. 4. New episodes of this show about an elite squad of clone troopers will follow each Wednesday. If nothing else, this Dave Filoni-project should ease the wait before The Mandalorian season 3.
Other Disney+ originals of note this month include Chasing Waves on Jan. 11 and Mila in the Multiverse on Jan. 25. The only new Disney+ movie in January will be King Shakir Recycle on Jan. 18. There aren't many notable library titles to speak of but I would be lying if I said the title of the Nat Geo documentary Strangest Bird Alive on Jan. 6 didn't intrigue me.
Here is everything else you can find on Disney+ this month.
Wednesday, January 4
New Library Titles
The Boonies (S1)
Locked Up Abroad (S12)
Lost Treasures of Egypt (S4)
Magic of Disney's Animal Kingdom (S2)
Primal Survivor: Over the Andes (S1)
Underworld, Inc. (S1, S2)
Disney+ Originals
Star Wars: The Bad Batch Season 2 (2-Episode Premiere)
National Treasure: Edge of History – Episode 5 "Bad Romance"
Willow – Episode 7
Friday, January 6
New Library Titles
Wednesday, January 11
New Library Titles
Airport Security (S4, S5, S6, S7, S8)
Best in Bridal (S1)
Bride & Prejudice (S1)
Celebrity Ghost Stories (S5, S6)
Evil Genius (S1)
My Ghost Story (S1)
SuperKitties (S1, 11 episodes)
Disney+ Originals
Chasing Waves (All Episodes Streaming)
Gina Yei (All Episodes Streaming)
National Treasure: Edge of History – Episode 6 "Frenemies"
Star Wars: The Bad Batch – Episode 203 "The Solitary Clone"
Willow – Episode 8
Wednesday, January 18
New Library Titles
Chibi Tiny Tales (Shorts) (S3, 14 episodes)
Disney Junior Mickey Mouse Funhouse (S2, 5 episodes)
Me & Mickey (Shorts) (S1, 20 episodes)
Night Stalkers (S1)
Secret Life of Predators (S1)
Disney+ Originals
King Shakir Recycle (Premiere)
National Treasure: Edge of History – Episode 7 "Point of No Return"
Star Wars: The Bad Batch – Episode 204 "Faster"
Friday, January 20
New Library Titles
Ocean's Breath
Sharkatraz
Wednesday, January 25
New Library Titles
Bloody Tales of Europe (S1)
Dino Ranch (S2, 6 episodes)
Hacking the System (S1)
Riding Britain's Railways (S1)
Disney+ Originals
Mila in the Multiverse (Premiere)
National Treasure: Edge of History – Episode 8 "Family Tree"
Star Wars: The Bad Batch – Episode 205 "Entombed"
Friday, January 27
New Library Titles
American Blackout
Challenger Disaster: Lost Tapes
T. Rex Autopsy