Features
Dirty John Season 2: Betty Broderick – What Happened Next?
Dirty John Season 2 explored how Betty and Dan Broderick's marriage came to a violent and tragic end, but what happened to the real Betty Broderick and where is she now?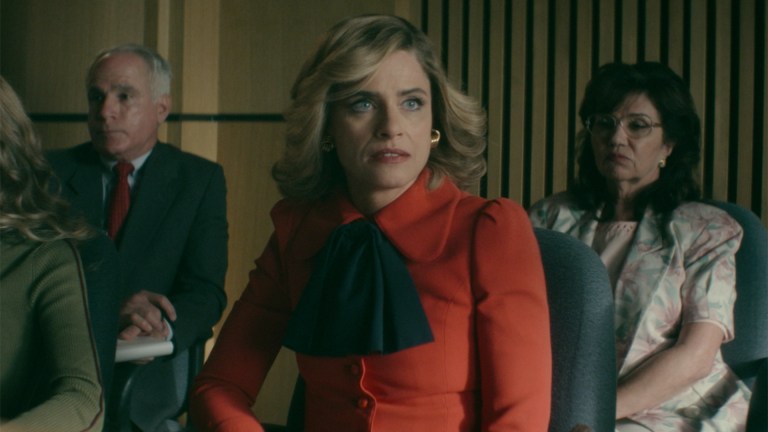 The second season of Netflix true crime show Dirty John focuses on the fraught and rapidly escalating feud between former married couple Betty and Dan Broderick. The two were married for many years and shared four children together (in real life Betty was actually pregnant nine times, one of which resulted in a child who died after just four days), but Dan had an affair with his assistant Linda Kolkena, lied about it for years and eventually moved to divorce Betty. 
Dan was a lawyer and his standing in the legal community made it very hard for Betty to get representation. Dan got custody of the children after Betty left them on his doorstep one night, and the divorce settlement eventually given to Betty was far less than she wanted – she had supported him while he was training to be a doctor and then a lawyer and taken care of their four kids, but in separation their assets were not divided equally at all.
Betty fought Dan at every turn, leaving many many abusive messages on his answering machine, vandalising the home that Dan and Linda had moved into, driving her car into their front door and growing increasingly paranoid and manic.
The divorce dispute raged on for years and was finalized in 1989. Dan and Linda married in April that year, and just seven months after the wedding Betty broke into their house at 5.30am and shot and killed them both. Betty handed herself in. She was found guilty of two counts of second degree murder and sentenced to 32 years in prison. So what happened next?
Is Betty Broderick still in prison?
She is. Though the the series took pains to explore both sides – the unfairness of the legal system, the 'no fault' divorce law which meant despite the fact that Dan had left Betty for another woman she ended up very much at the raw end of the settlement, and the petty control Dan tried to put on Betty fining her from her alimony payment for using bad language on phone messages – ultimately, none of these cruelties can be an excuse for murder.
At trial her lawyer Jack Early presented Betty as someone driven over the edge by Dan, and just as the show portrays, the jury did deliberate hard before arriving at their guilty of second degree murder verdict, some saying on record that they'd expected her to get a cut down sentence.
However at sentencing in February 2002 Judge Whelan gave Betty the maximum penalty allowed under the law – 15 years to life, twice, plus two years for using a gun. She's been in prison since the day of the murders.
Why so harsh?
At the first trial there was a hung jury – two jurors wanted the verdict to be manslaughter and couldn't reach a conclusion. At the second trial however, the jury managed to settle on a verdict of guilty of second degree murder.
Victim impact statements from Linda's family and Dan's brother were made at the sentencing and all ears were on what sentence Judge Whelan would give and whether he would order Betty to serve them consecutively, or concurrently.
Episode four of the LA Times podcast It Was Simple gives great context as to what Judge Whelan's reasoning might have been, speculating that Betty's lawyer Jack Early's decision to imply that Whelan might be influenced by his perception within the legal community (if he was lenient the legal community would frown upon him) apparently did not go down well.
Dan's brother Larry Broderick was incensed that Betty only got second degree murder – she'd threatened to kill Dan before, purchased a gun, broke into Dan and Linda's house at 5.30am and fired the gun at them five times, even pulling the phone out of the wall so Dan couldn't call for help. Betty told a newspaper reporter that Dan spoke to her before he died, saying something like 'you got me'.
Any chance of parole?
Betty's first parole hearing was in 2010 – 18 years after she was sentenced. All four of her children attended the hearing and they were divided over their recommendations. The eldest girl and eldest boy felt their mother was unrepentant and had offered no apology or acknowledgment of what she had done, while the youngest girl and youngest boy both asked for Betty to be released. The parole board were completely unconvinced by Betty saying that she'd never been truly repentant, that her story remained inconsistent and that she was obviously still holding on to a lot of rage. Her request was denied. Two more parole applications were also denied, one in 2011 and another in 2017.
Ater the last hearing the board ruled that she would not be eligible to even apply for parole for 15 years. That's not until 2032 when she will be 85.
Is that the last we'll hear from Betty then?
Certainly putting her in jail didn't silence her. After being raised as the perfect housewife and mother Betty became something of a crusader for women's rights and still has many supporters. From prison in 1992 she gave two interviews to Oprah Winfrey, in which she's sympathetic but not really remorseful.
Two books were published about the case – one Until the 12th Of Never by Bella Stumbo, which was the inspiration for the Netflix series. Two TV movies were also released where Meredith Baxter plays Betty – part one A Woman Scorned: The Betty Broderick Story and part two Her Final Fury: Betty Broderick, the Last Chapter.
There are episodes about the case on several true crime podcast series and shows too.
Betty's supporters remain active. A guy called Eric Cope has started a petition to get Betty released for compassionate reasons. 
Her trial lawyer Jack Early has also been trying to get her out of prison on the grounds that she's 72 and at risk because there's been an outbreak of Covid19 at her facility. Apparently (again according to the It Was Simple podcast) she's a very good prisoner, has helped with the mental health facility there but has also needed surgery and is on the disabled list.
Dirty John Season 2: Betty Broderick is available to stream on Netflix now.