Den of Geek Presents 2021's Best: Vote for Your Favorites
Cast your vote for the best movies, TV shows, games, books, and comics of 2021 to be represented in Den of Geek's Year-End List Bonanza!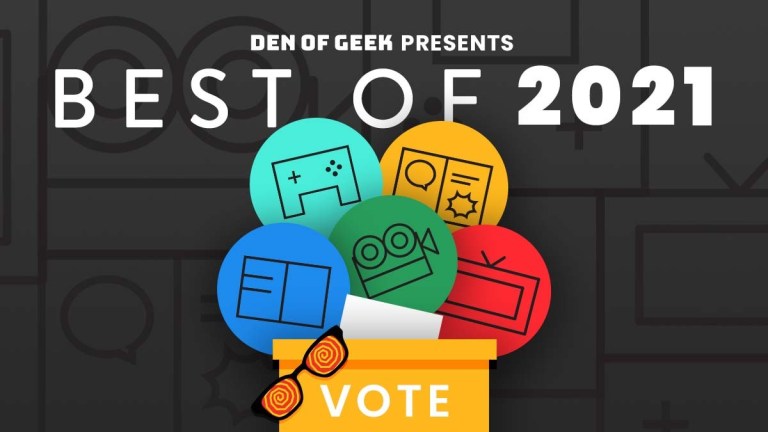 Rarely has the pop culture calendar faced more pressure than in the year 2021. The pandemic delays of 2020 led to the virtual content bonanza in 2021. Release dates came fast and furiously…and we're not just talking about the release of F9. Now that we stand on the precipice of 2022, it can be hard to remember just how truly wild 2021. So let's pay homage to the year that was one last time before it shuffles off to meet He Who Remains in the Citadel at the End of Time.
In the coming weeks, Den of Geek will be honoring the best TV, movies, games, books, and comics of 2021. To determine which properties belong on our year-end best-of lists, we have thought long and hard, polled the Den of Geek staff, and crunched the numbers. Most importantly however, we also want to hear from you. Gathered on this page are five ballots corresponding to each of our five beats: TV, Movies, Games, Books, and Comics. From now until Dec. 20 (Dec. 27 for Movies), you can vote on your favorite bits of media from this very strange year.
On each of our best-of lists, the Readers Choice winner will be represented, loud and proud. So if you'll humor us just this one last time: we are once again asking you to vote. 
Details below:
Games
Voting Open from Dec. 6 through Dec. 20
Blasts from the past were all the rage for gaming in 2021. The year began with Agent 47 stepping back onto the scene with Hitman 3 and is now set to end with Master Chief entering into Halo Infinite. In-between the return of those two massive franchises, however, were countless other titles offering exciting video game storytelling. Without a Last of Us or Zelda title to soak up all the attention, the race for Den of Geek's Best Game of 2021 is wide open. Vote for your favorites at the link above!
The Best Games of 2021 will be released on Dec. 27
Books
Voting Open from Dec. 6 through Dec. 20
Last year the publishing industry had quite a few sure things lined up in the fiction world. New titles from heavy hitters like Stephen King, Max Brooks, and Susanne Collins dominated the best-sellers charts and even made their way onto our Best Books of 2020 list. This year, however, the landscape looks a bit more democratic. Without many blockbuster titles to speak of, your vote for Best Book may count more than ever in 2021.
The Best Books of 2021 will be released on Dec. 28.
Comics
Voting Open from Dec. 6 through Dec. 20
Characters who trace their origins back to comic books make up some of the most valuable intellectual property in the world right now. And yet, the comic book medium doesn't always get the respect it deserves. Perhaps that tide can turn a bit in 2021. Whether it was through superhero titles like S.W.O.R.D. and Daredevil or new non-IP classics like Ice Cream Man and The Department of Truth, this was a truly excellent year for comics. Vote for your favorites at the link above, write-in style.
The Best Comics of 2021 will be released on Dec. 29
TV
Voting Open from Dec. 6 through Dec. 20
2021 was the year that TV reminded everyone of its watercolor conversation origins. Yes, the patterns in which people watch their TV shows are ever-changing. Despite that though, TV had an unusually high number of "you've gotta watch this, trust me" shows this year. God help you if you wanted to participate in a conversation with another human being in 2021 without having watched Squid Game, WandaVision, or Mare of Easttown first. Vote for your favorite TV shows above! All shows that aired the majority of their episodes of 2021 are eligible.
The Best TV Shows of 2021 will be released on Dec. 30
Movies
Voting Open from Dec. 6 through Dec. 27
Of all the mediums we cover here at Den of Geek, none had more to lose from the pandemic than movies. With many studios going to a hybrid streaming-theater release model in 2021, film ran the risk of falling by the wayside. Thanks to some big, exciting titles like Dune, No Time to Die, West Side Story, and more, movies made themselves seen and heard this year. With the added emphasis on streaming, it might be hard to determine what is and isn't a movie this year for your voting purposes. A good rule of thumb is that anything featuring multiple installments released within the year is not a movie. Bo Burnham: Inside is therefore counted as a film for our list, while The Beatles: Get Back is a TV show.
The Best Movies of 2021 will be released on Dec. 31