Features
Deer Lady, Cookie, and the Many Spirits of Reservation Dogs
Cookie joins the ethereal network of helpers that makes Reservation Dogs one of TV's most magically real experiences.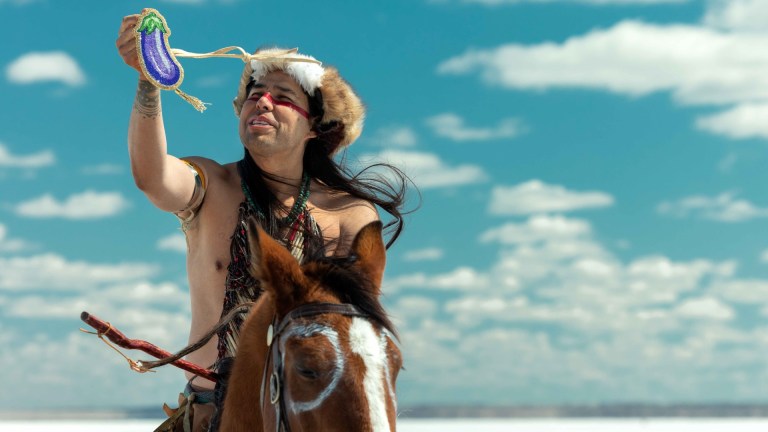 This article contains spoilers for Reservation Dogs season 3 episode 7.
Many of the reductive cliches surrounding Indian culture often revolve around spirits. Concepts like spirit guides, spirit quests, and spirit animals are often memetic touchstones for crunchy white Americans looking for a way to make a psychedelic mushroom trip on a Tuesday sound more profound than it really is.
One of the best aspects of Reservation Dogs, FX's brilliant dramedy about an indigenous community in Oklahoma, is how it both reclaims and refines the pop cultural depiction of Native American spirits. There are several ghosts, apparitions, and wayward souls wandering around Rez Dogs version of the American West. Sometimes the show satirizes the notion of spirit guides – mostly through the use of Bear's ethereal companion William Knifeman, who is supposed to be teaching the boy worthwhile lessons but who really just seems to want a young friend.
What may have started as a simple joke about the pop culture prevalence of Indian spirit guides has quickly blossomed into something far richer. More often than not, the spirits of Reservation Dogs are ghostly imprints of a previous generation who just want what's best for their relatives even as they find it as difficult to communicate what that means. The show's approach to magical realism in having the souls of the past exist alongside the Sonic Drive-In-strewn landscape of the present make it one of television's most touching and universal experiences.
"Wahoo!," the seventh episode of Reservation Dogs' third and final season, adds yet another spirit to the show's spectral roster. Elora's (Devery Jacobs) mom Cookie (Janae Collins) returns to the Rez for some unfinished business. Let's explore why Cookie's return is important and delve into the rest of Reservation Dogs' many spirits.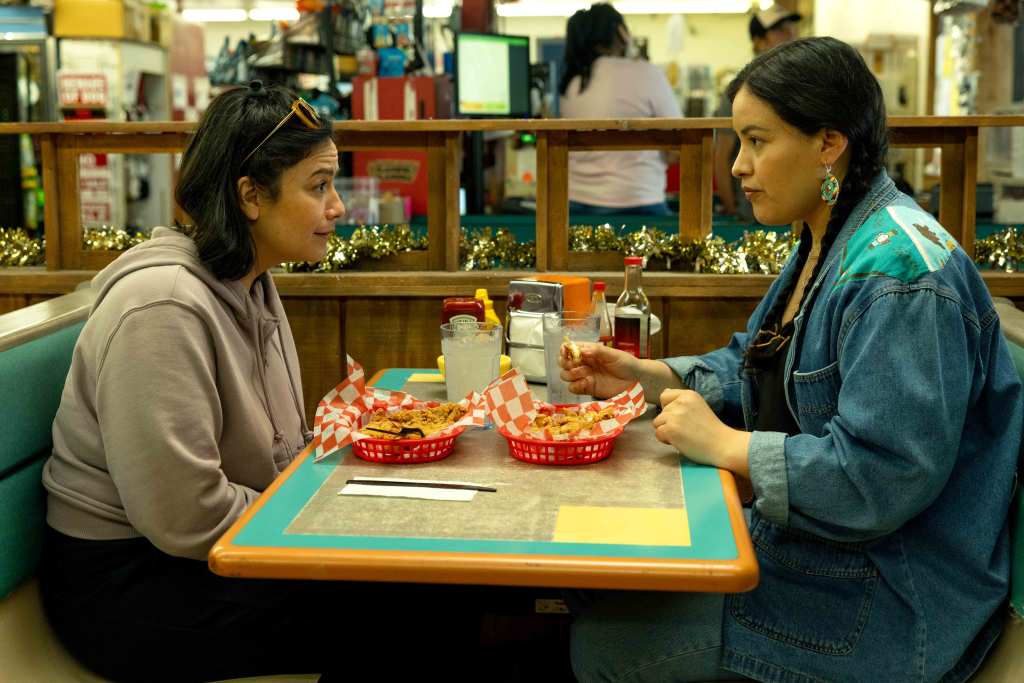 Cookie
Through three seasons now, apparitions of deceased ancestors have become quite common for the Reservation Dogs audience. That's why it's particularly fun for "Wahoo!" to present a ghost to a character who is not familiar with this whole thing. Bear Smallhill's mother Rita (Sarah Podemski) is about as grounded as they come. As a dedicated employee of the local Indian Health Service (IHS), she's just trying to get through the day like any single mom. That all changes when one evening she starts to see her dead friend Cookie clear as day.
For those paying close attention to last week's episode "Frankfurter Sandwich," Cookie's sudden reappearance may not be completely shocking. She was indirectly mentioned in that installment by Big (Zahn McClarnon) as one of the people he was unable to save. We found out previously that Elora's mother was a victim of drunk driving, perishing in a violent crash alongside her boyfriend. Big has always blamed himself for not arresting him.
Cookie's appearance here is a prime example of why Reservation Dogs' approach to spirits works so well. It begins as whimsical and fun (Cookie just wanted to stop by to gossip and play "Wahoo!" with her friend) before progressing to something uncomfortably real. After convincing Rita to take her to her mother Mabel's house to see Elora, Cookie dresses Rita down for not spending more time with Elora since she, herself can't. Like the most important episodes of Reservation Dogs, it all comes down to community and family.
William Knifeman
"Aho young warrior!" Look, William Knifeman just rules. He's been a part of the show since the pilot and he always seems to know how to brighten the mood. William claims to have died in the Battle of Little Bighorn when his horse tripped and crushed him. Despite his less-than-stellar record in military conflict he's a font of (mis)information about the Indian ways for his young charge Bear. Interestingly, William has also appeared to Uncle Brownie (Gary Farmer) previously. We haven't seen him again in season 3 since Bear dismissed him back in episode 2. But hopefully he has a major role in one of the few episodes to come.
Deer Lady
The specter of the Deer Lady (Kaniehtiio Horn) has loomed large over Reservation Dogs ever since Big first recounted the story of seeing her in season 1. So-named because of her lady-like appearance and cloven hooves, Deer Lady at first to be a vengeful wight who seeks to purge the world of wicked men. The season 3 episode named after her reveals that she's definitely that but that she was also once a member of the community herself. As a youth, she was kidnapped and imprisoned in a (sadly true-to-life) Native boarding school. Her path to vengeance began after meeting the spirit of a doe and killing the nuns who victimized her.
Gram
Tucked in near the end of an unassuming season 2 episode is one of Reservation Dogs' best spirit moments. Feeling disillusioned with her friends and community (like so many of her peers), Willie Jack (Paulina Alexis) visits Hokti Jackson (Lily Gladstone), her aunt and the mother of her dead friend Daniel, in prison. There Hokti invites her to welcome her ancestors in. Led by a ghostly Gram, the ancestors lay their hands on Willie Jack's back, who literally gasps in response.
Mabel
When Elora lost her mother, she was too young to really process what had happened. When she loses her grandmother Mabel in season 2, however, it's a truly unmooring experience. Moments after Mabel peacefully drifts away, Elora rushes outside where encounters the spirit version of her grandma. And what advice does she bring from the world beyond? "Hey shit-ass. I'm a spirit! Crazy, innit?" But really – Mabel came to say thank you. Elora did good for her that day. She then walks off quietly, never to be seen again … unlike some of Reservation Dogs' other spirits.
Spanish Conquistador
Lest you think all of the spirits in Reservation Dogs are isolated to solely Indian communities, bear witness to one of season 3's most revealing hallucinations(?). While lost out on the prairie in episode 2, Bear comes across a Spanish-speaking man wearing armor on a horse. This isn't a cosplayer but another honest-to-goodness spirit – a Spanish conquistador spirit at that. This naturally raises the question of whether the United States of America is crawling with actual ghosts with only select residents of Okern, Oklahoma able to see them.
New episodes of Reservation Dogs season 3 premiere Wednesdays, culminating with the series finale on Sept. 27.