Features
Reservation Dogs Makes an Already Classic Episode Even Better
Reservation Dogs season 3 episode 6 "Frankfurter Sandwich" greatly enriches what preceded it.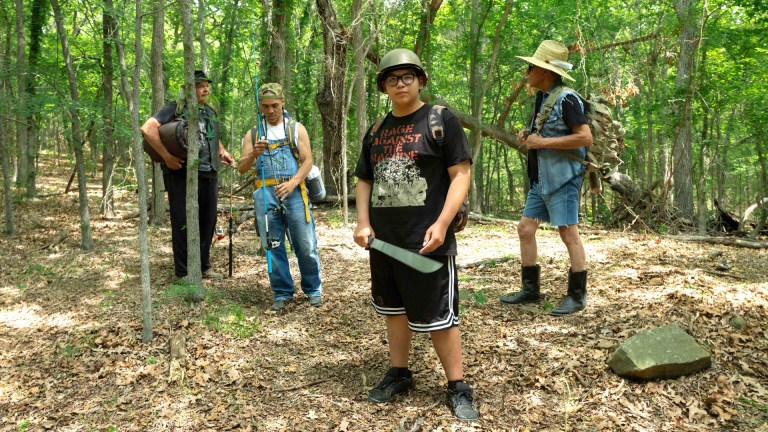 This article contains spoilers for Reservation Dogs season 3 episode 6.
"We're just men, you know. We don't know everything. We make mistakes. We don't know shit."
Slowly but surely, television is moving back to its original state and what the streaming era should have always embraced: weekly releases. As streaming series like Ahsoka, Only Murders in the Building, and others have proven, the weekly release model is usually the way to go when it comes to maximizing the potential of episodic storytelling.
And yet, some TV experiences can benefit from a binge – or at least a back-to-back screening. The most recent and brilliant example is Reservation Dogs' profoundly perfect double feature of "House Made of Bongs" and "Frankfurter Sandwich."
Those watching Reservation Dogs season 3 episode 5 "House Made of Bongs" on Aug. 23, 2023 had no reason to believe that it would merely the first part of a whole. This flashback episode rewound the show's setting to the 1970s to tell the origin story of how wayward Rez Dog Maximus (Isaac Arellanes) dropped some acid, met a Star Person, and drifted away from his community to become a mentally ill alien-seeking conspiracist on the outskirts of town.
As we wrote about over here, that episode was one of the best installments of this excellent show's run thus far. It didn't serve as merely an explainer for how one kid from Okern, Oklahoma lost his way but a deeply empathetic parable about how fear, doubt, and pain can complicate the human need for community. By the time credits rolled on the otherwise-sunny Dazed and Confused homage, "House Made of Bongs" felt like a tragic ending for poor Maximus's story.
But here's the thing about endings, tragic or otherwise – until the sun collapses and swallows Earth whole, there's really no such thing as an ending. Or, to paraphrase one of my favorite lines in TV history: "It only ends once. Anything that happens before that is just progress."
That progress comes in Reservation Dogs season 3 episode 6 "Frankfurter Sandwich," the almost equally great second half of full story that began with "House Made of Bongs." In fact, according to both episodes' director Blackhorse Lowe, episode 6 was filmed first.
"We were out there just west of Tulsa in a place called Sand Springs. It was 100 degrees with humidity. Dealing with mud, bugs, and heat – we did the best we could," Lowe says. "It's a beautiful thing though that one (episode) parallels with the other. It's a perfect combination of comedy and tragedy and sadness."
Just as one of the final lines in episode 5 finds an excited Maximus rejecting his actual relatives by telling them the aliens are their real "relatives", episode 6 opens with Cheese Williams' (Lane Factor) adopted grandmother Irene (Casey Camp-Horinek) telling him that "Your relatives are at the door. They want to take you out for hamburgers."
It's not aliens who want to take Cheese out for hamburgers, of course, but his actual friends Elora (Devery Jacobs), Bear (D'Pharaoh Woon-A-Tai), and Willie Jack (Paulina Alexis). Unfortunately, Cheese is drifting away from his friends like someone else Irene once knew. And refers to him as the term of endearment "Chebon" just like that boy back in the '70s. Though Grandma Irene can't get Cheese to hang out with one set of relatives she's able to force him out of the house to go fishing with another. This older crowd is made up of Big (Zahn McClarnon), Bucky (Wes Studi), and Uncle Brownie (Gary Farmer), the latter two of whom were also Maximus's friends back in the day just like Irene.
If "House Made of Bongs" was about the tragedy of one child not being able to feel his village's warmth, "Frankfurter Sandwich" is about the child and his elders learning to build a fire together. Though it goes unspoken for some time, Big, Bucky, and Brownie's mission is clear: bring this kid back from the brink. None of the older men, however, are able to do it on their own.
Bucky merely confuses Cheese by trying to convince him hat he can't scientifically extricate himself from his friends, saying "We're all connected on a molecular level. Even if you're not seeing them, the quantum thread cannot be disentangled."
Big tries to teach Cheese a lesson about community but really just drones on about the time he saw four Big Foots in the woods. (It's interesting that Big, who is only one generation removed from Maximus and his crew, experienced hallucinations but was able to stay connected to his community while Maximus was whisked away for primitive medical treatment like electroshock therapy.)
And then there's Bucky, who is really too high to even attempt to deliver a life lesson to Cheese.
It's not until Cheese meets them halfway by introducing the therapeutic heuristic of a "talking stick" that the boy and his elders are able to make any headway. After Big breaks down over the people he has lost and his perceived failure as a man to save them, Brownie and Bucky chime in to articulate their own pain.
"We had a friend that we lost," Brownie says. "We just lost him. I don't think he knew that he could rely on us. He had nobody."
"You remind us of that friend. His name was Maximus," Bucky adds. "Your grandma, she saw you were pulling away like him. Something happened. We didn't believe him. He needed us. We turned our back on him. I should have known. We're just men, you know. We don't know everything. We make mistakes. We don't know shit."
Earlier, Brownie jokingly told Cheese that the old men of the reservation fight zombies that are far more real than the bits of code in his VR game, to which Cheese responds "What kind of zombies do you fight? The guilt in your heart?"
Funnily enough, Cheese was basically right. Bucky, Brownie, and Irene (not to mention Old Man Fixico and Mabel before she passed) have been carrying around guilt for not doing more to help Maximus for years. One productive conversation with a kid who reminds them of Maximus isn't enough to wipe away a lifetime of pain and regret but it's surely a start. It's a start for Cheese as well, who is so moved by the elders' display of emotion that he spends the final moments of the episode reunited with his friends – his relatives.
Back in 1976, a very high Irene was more right then she knew when she loopily prophesied "Our societies are a lot stronger when there are elders and there are children."
New episodes of Reservation Dogs season 3 premiere Wednesdays, culminating with the series finale on Sept. 27.