Features
From Reservation Dogs to Dark Winds: The Best Zahn McClarnon Roles
As Dark Winds concludes its second season, it's worth looking back at just a few of the notable roles from its leading man.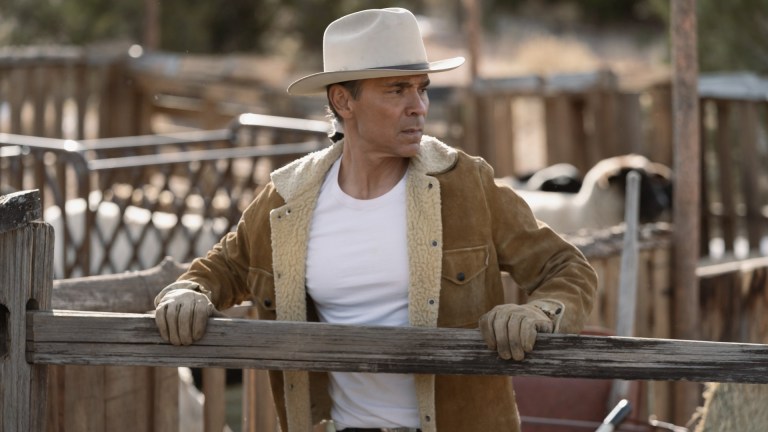 Zahn McClarnon has justifiably garnered attention in recent years for his lead performance as Joe Leaphorn in AMC's limited series Dark Winds. Leaphorn, a lieutenant in the Tribal Police in the Navajo Nation of Arizona, is suddenly besieged by a series of seemingly unrelated crimes within his community. As he gets closer to the truth of these cases, his own beliefs are challenged, bonds between colleagues are tested, and Joe has to dig up some painful memories from his own past.  
Yet before McClarnon donned Joe's badge and cowboy hat, he wore many other hats over his nearly 45 year career. The actor has a fairly prolific filmography as a voice over artist, he has played men on both sides of the law, and as you can imagine, as an actor of Lakota descent, has played his share of First Nations characters. Yet, when his more recent roles are carefully considered, a pattern of dignified, stoic, and strong characters emerge. Allow Den of Geek to recap some of the more noteworthy roles McClarnon has played.
Reservation Dogs (2021-2023)
One thing this list will address is McClarnon is no stranger to playing a man of the law. However, what separates his character, Big Hill, from the other instances he wore a silver star is that McClarnon gets to show off his amazing comedic timing. Co-created by Sterlin Harjo and Taika Waititi, Reservation Dogs is a real treat. Comedian Marc Maron (Glow, Joker) recently called it "the most important television show of the last 30 years", mainly because of the series beautiful sense of culture and its conveyance of the endurance of First Nations people across the continent due to their strength and humor. 
Big is a bit of a departure for McClarnon because of that sense of humor. He isn't as well put together as most of McClarnon's other roles, especially those other lawmen. As a Lighthorseman, even within the community, he's mocked, and other police throughout the state don't take him as seriously as they should. Big has a great sense of whimsy as well, as he will often share his theories on Bigfoot, or warn you of the dark spirit known as the Deer Lady (Kaniehtiio Horn), and while Big is a bit more of a free spirit than McClarnon is used to playing, as often is the case with the roles he has chosen, McClarnon imbues him with brilliant undertones of pride and a strong sense of culture. Big is a role model within the community, and has a great sense of justice, even if that means occasionally guiding the petty criminals within the show in the right direction rather than throwing the book at them.
Doctor Sleep (2019)
Director Mike Flanagan seemingly did the impossible in 2019, as he not only created a worthy sequel to one of the greatest horror films of all time, but somehow managed to balance both the cinematic world Stanley Kubrick created with the literary mythology Stephen King wrote. King even praised the film, which is often high praise indeed, as he is not afraid to speak out against adaptations he feels weren't worthy of his novels.
Part of the success of the underrated Doctor Sleep was its ensemble cast. From seasoned veterans such as Ewan McGregor, Carl Lumbly, and Bruce Greenwood to young phenoms such as Kyliegh Curran and Jacob Tremblay, there is not a weak link in the chain. That includes McClarnon's Henry "Crow Daddy" Rothman, who often owns the screen when he appears. 
That was no easy task, as The Crow was the right-hand-man of Rose the Hat (Rebecca Ferguson) who often stole the show herself. Within the story, The Crow is The Hat's number two, and it was easy to see why she would have chosen him for such a position mainly because of McClarnon's performance. The actor was able to imbue Crow Daddy with the terrifying resolve and intelligence the character possessed in the novel. Within King's mythology, Rothman graduated Harvard Law School in 1938, and if you consider the resolution it must have taken a man of First Nations lineage to fight the prejudice of that time and thrive, the fact he is now an immortal succubus becomes secondary in comparison.
Fargo Season 2 (2015)
The premiere season of Fargo was near perfect television. Dynamic showrunner Noah Hawley, much like Flanagan did with Doctor Sleep, somehow reinvented a fairly infamous cinematic wheel, and yet created something just as brilliant. The first season was nominated for 15 Emmys and ended up winning three, including Outstanding Miniseries. 
When it came time to follow it up in 2015, Hawley and crew found themselves in a tough spot. They certainly did not want the first season to be a fluke, nor did they want to create a sophomore slump in their second season, and somehow they pulled it off brilliantly. Just like Doctor Sleep, one of Fargo's strengths (regardless of season) has been its amazing casting. The show is often an eclectic mix of dramatic actors and comedians, and much like the Coen Brothers' original films, many of the characters are the very definition of "character" – larger than life and memorable.
And much like Doctor Sleep, somehow McClarnon stole the show in almost every Fargo scene he's in, despite being side by side with some of the greats within the acting business. The writing McClarnon got for his character, Hanzee Dent was nothing short of brilliant, but it was how he stood out that makes the performance, and the character memorable.
In this television world, where characters spout parables or quote Lewis' Through the Looking Glass before heading out to murder a rival gang, Hanzee was stoic. In this world where words are weapons, it was the silent Hanzee that proved he was the strongest. It was a beautiful experience to watch McClarnon in this role because he said so much without saying anything, he did so much without barely moving, and he emoted so much with almost no facial expression. His understanding of the inner monologue of Hanzee was performed so clearly, once again the audience could not help but understand the motivation behind everything he did.   
The Cherokee Word for Water (2013)
Certainly the non-conformist choice within this list, The Cherokee Word for Water gave McClarnon an opportunity to play to his strengths, while challenging himself as an actor. While Fargo was undoubtedly the first time McClarnon appeared on many television viewers' radars, The Cherokee Word for Water was a relatively silent addition to McClarnon's filmography.
The story focuses on the political leadership of Wilma Mankiller (Kimberly Guerrero) as she assists the Cherokee Nation to get clean drinking water, and eventually become the first modern female Chief of the Cherokee Nation. McClarnon as Deputy Jackson (yes, yet another lawman) finds himself in a role that is unlike any other in the actor's career. Even when McClarnon plays morally reprehensible antagonists, murderers, and telepathic vampires who eat the souls of young children, there's still a strange charm about his performances. 
As Jackson, McClarnon creates a greasy, smug villain who not only stands in the way of Mankiller, but as a roadblock to his own people. Almost all of McClarnon's characters have a code which the actor conveys so clearly on screen, that even if audience's don't agree with what he is doing, they understand the motivation behind it. Jackson has almost no moral code what-so-ever, and is perhaps the only time McClarnon plays a character that is beyond any kind of redemption.
Longmire (2012-2017)
Since the list began with a lawman audiences can get behind, it's only fitting to bookend it with the role that perhaps began it all for McClarnon. This is the role where fans of McClarnon can easily recognize some of the characteristics he brings to his role on Dark Winds. As Officer Mathias, McClarnon played the Chief of the Cheyenne Tribal Police as much more damaged. McClarnon, along with the source material from novelist Craig Johnson created a proud character who perhaps is a little harsher than he should be, but one that is extremely protective of his community and his people.
What's crucial about this role, was not only was it one of McClarnon's first steady gigs, but that it was the formation of a pattern that the actor has forged throughout his career. Much like he did in Word for Water, and Reservation Dogs, McClarnon tries to find roles that show the nuances of First Nations culture – something he praised about Johnson's books, and the writing of the show. 
That commitment to the message and motivation of the character, as always, was palpable with McClarnon's performance, and he quickly became a fan-favorite within the show. The creative force behind Longmire took notice, and McClarnon's part grew more and more significant as the show's six-season run went on. Longmire will always be a pivotal role for McClarnon as he took what he was given and not only made the most of it, but flourished, and without him doing so, he may not have become the notable actor he is today. 
Other Major Zach McClarnon Roles: The Forever Purge (Chiago), The Son (Toshaway), Westworld (Akecheta), Hawkeye (William Lopez), History of the World, Part II (Mingoes)