Features
Why Justified Moved to Detroit for City Primeval
The Motor City looms large in Justified's lore and now City Primeval finally moves the setting to Elmore Leonard's beloved home town.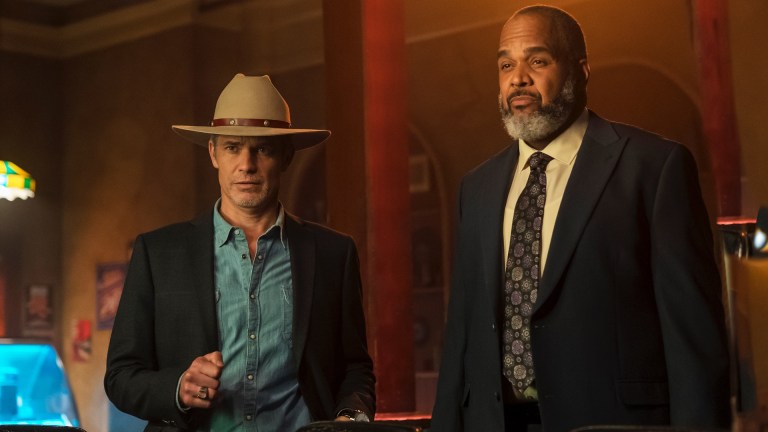 Anyone who knows beloved crime novelist Elmore Leonard only through Justified, the 2010 TV adaptation of his work, might be confused as to why its reboot, Justified: City Primeval, moves the action from the hollers of Harlan County, Kentucky to the rust belt of Detroit, Michigan.
That confusion is understandable as Justified enjoys one of the most richly-realized settings in modern television history. Despite filming nearly the entirety of its six-season run in Southern California (the pilot was shot in Pittsburgh), FX's saga about an anachronistic stetson-wearing lawman was absolutely steeped in Appalachian realness. Indeed, the entire premise of the show revolved around Deputy U.S. Marshal Raylan Givens (Timothy Olyphant) being forced to relocate back to his troubled Kentucky hometown following a questionably "justified" shooting of a crime lord in Miami.
Justified quite simply does not work without its Harlan County setting. The weight of history bears down on Raylanas he confronts colorful criminals trying to eke out a living in the little mountainous region that the world left behind once the coal dried up. Even the show's opening credits celebrate its unique-for-television setting.
Why then, would the series' 2023 miniseries reboot, Justified: City Primeval, leave Harlan behind in favor of the more urban Detroit? The answer to that is that there's quite simply nothing more distinctly Elmore Leonard than the Motor City. While TV fans have come to associate Leonard with Kentucky through Justified and movie fans tie him with Los Angeles and Miami through Get Shorty, Jackie Brown, and Out of Sight, Leonard really is a native son of Michigan. In fact, he's often been referred to as "The Dickens of Detroit."
Leonard was born in New Orleans in 1925 but his family settled in Detroit in 1934 where he remained until his death in 2013. While Leonard began as a writer of Westerns and wrote more than 40 novels (and countless more short stories) throughout his career, his most notable works were all set in his hometown. These include five crime novels from the '70s known as the "Motor City Five" – 52 Pickup, Swag, Unknown Man #89, The Switch, and City Primeval: High Noon in Detroit.
If the last entry into the Motor City Five sounds familiar, it should. Obviously, that is what Justified: City Primeval borrows its name from. It's also what it borrows much of its plot from as well. The 1980 novel follows the "Oklahoma Wildman" Clement Mansell (played by Boyd Holbrook in the show) as he gets into some murderous criminal mischief in Detroit and is pursued by Detective Raymond Cruz (who appears briefly in Justified: City Primeval as the lawman who first tracks Mansell down in flashback).
Notably absent from Leonard's City Primeval, however, is Raylan Givens. Though he became one of Leonard's most iconic creation thanks to Olyphant's superb performance, the U.S. Marshal was but a minor bit player in Leonard's works – appearing in only the novels Pronto and Riding the Rap, the short story "Fire in the Hole," and Leonard's final novel Raylan Givens, which was inspired by Justified.
FX's City Primeval merely grafts the TV version of Raylan Givens into Leonard's hardboiled depiction of Detroit. And it does quite a good job of it! That's partially because Olyphant's Givens is so compelling regardless of setting but it also doesn't hurt that Justified itself has an existing history with Detroit.
Throughout the show's six seasons, the Motor City always loomed large as a quasi-mythical place where all the organized crime that made its way down to holler actually originated from. The show's third season introduced smooth Detroit mobster Robert Quarles (Neal McDonough), whose plotline eventually leads in to a Detroit mafia civil war among the Tonin family in season 4. Inasmuch as Justified had an overarching series "big bad," it was certainly the specter of organized crime in Detroit, led by Theo Tonin (Adam Akin).
Even when attempting to conquer new ground for the Leonard-iverse on television, Justified's writing team led by showrunner Graham Yost knew that a proper Elmore Leonard story need at least a little bit of Detroit. Now City Primeval is giving Raylan a whole lot of Detroit.
New episodes of Justified: City Primeval premiere Tuesdays at 10 p.m. ET on FX, culminating with the finale on Aug. 29.