Reviews
Dead Ringers Review: How Is a TV Adaptation of a Cronenberg Movie This Good?
Rachel Weisz gives two powerhouse performances in the TV adaptation of Dead Ringers.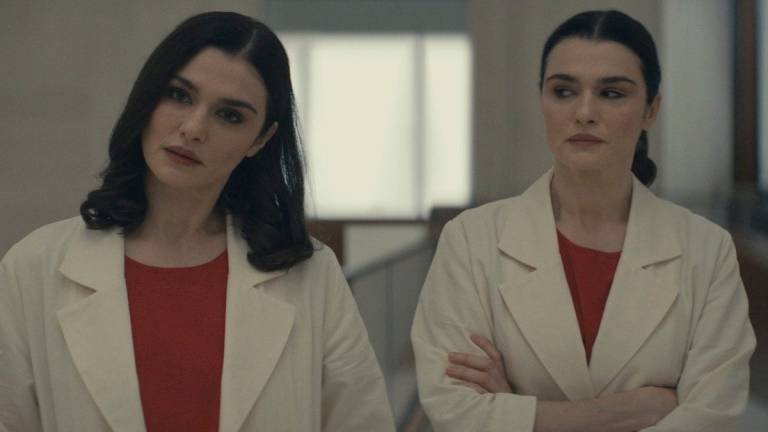 Considered the master of 'body horror', Canadian auteur David Cronenberg is the singular talent behind nightmarish classics including Videodrome, The Fly, Scanners, Shivers and more. Dead Ringers, which was loosely based on the lives of Stewart and Cyril Marcus, saw Jeremy Irons' twin gynecologists descend into a codependent hell. It's nigh-on perfect so a remake for TV, 'but this time with women' wasn't necessarily a welcome concept.
Perhaps against the odds then, this version is excellent, expanding on the themes, going hard on the horror and showcasing the talent of Rachel Weisz who scorches the screen throughout.
As in the film, she plays twin gynecologists Elliot and Beverly Mantle, brilliant doctors wanting to revolutionize fertility and the childbirth processes. With backing from Jennifer Elhe's wealthy investor the twins open a bespoke birthing center meant to destigmatize pregnancy and women's bodies – the clients are referred to as 'guests' rather than patients because, as Beverly is quick to point out, pregnancy isn't an illness.
But the two women are very different – Beverly is shy, gentle and maternal, while Elliot is acerbic, razor-sharp and dangerous. It's a great dual role that Weisz seems to revel in, so having Beverly almost always with her hair up and Elliot with hers down is a bit on the nose and unnecessary, when even the way each sister eats an apple is deliciously distinctive.
As the twins' success grows, so do tensions between the two. Beverly is all about the women and babies, while Elliot is all about the science, using the lab to work on some incredibly groundbreaking innovations which sometimes happen to be illegal, with her friend, disgraced lab assistant Tom Capgas (Michael Chernus), who is forced to keep her secrets because of his own shady past. Capgas is presumably named for Capgas Syndrome – a condition where sufferers have the delusion that a loved one has been replaced by an identical double. It's thematically in tune with the show of course, but this is also likely an Easter egg for Cronenberg's underrated Spider – this is the syndrome that Ralph Fiennes' Spider suffers from. It's far from the only Easter egg in the show, from shot-for-shots from his Dead Ringers to nods at his other works. Showrunner Alice Birch obviously loves Cronenberg enough to ensure her project is really very different to his – they are diverse beasts with varying conclusions and a different focus, and can be enjoyed side by side.
The femaleness of this isn't token either – a gynecologist who is struggling with fertility issues herself changes the dynamic; that these are women and therefore not afraid of or disgusted by women's bodies makes for a very different vibe than Cronenberg's Mantles who develop grotesque gynecological instruments for 'mutant women'.
Difficulty in conceiving, miscarriage, premature birth, the menopause and anti-abortion debate feature highly. And blood. So much blood. Scenes of Beverley losing a pregnancy are shown early in the first episode and recur throughout.
The love triangle element here comes in the form of Britne Oldford's Genevieve (presumably named for Geneviève Bujold who played the love interest in the movie) an actress who Beverly falls for, threatening to come between the twins.
The major beats from the film are hit, but in this six part series, which lands as a boxset on Prime Video, there's way more to explore. The standout is episode five, directed by Jennifer's Body's Karyn Kusama, which sees the twins travel to Alabama to assist in the delivery of quadruplets in a family with a long line of twins. It's oppressive and weird, with a pair of memorable sequences exploring the work of James Marion Sims, the "father of modern gynecology" who experimented on an enslaved 17-year-old girl and essentially tortured her in the name of science. Never has there been a clearer example of why we need a "mother" of gynecology and not a "father" at all. It's extremely chilling against the backdrop of the erosion of women's rights over their bodies in 2023.
Martha Marcy Marlene director Sean Durkin takes the powerful first two episodes and co-directs the last with The Strange Ones director Lauren Wolkstein who also takes episode four, with Gossip Girl 2021 director and producer Karena Evans (among other things) taking on episode three.
Outside of the show's larger discursive elements is a focus on the horror of family. A visit from the girls' parents is utterly excruciating. A flashback to their own experience of taking care of Beverly and Elliot as kids is heart wrenching. The twins' enigmatic assistant Greta's (Poppy Liu) art installation talks of the trauma and risk to women during childbirth. And of course the twins' inability to live with or without one another is at the heart.
The show is packed with ideas – and possibly too many at points. Dialogue is occasionally so smart and rapid-fire that it's overly theatrical (which fits with Birch's background as a playwright). The finale is a little bit frustrating and too heavily signposted. And by the end there are many loose threads that might have benefitted from a little more time to unravel.
But this is brave, unapologetic TV with Weisz shining throughout, especially as psychopathic Elliot with her cheeky, seductive smile which gives away too much, while telling you you don't know even the half of it. It's a show as rich and complex as the twins themselves.
Dead Ringers is available to stream on Prime Video now.