Reviews
Daredevil Season 3 Episode 3 Review: No Good Deed
Fisk is right where he wants to be in the third episode of Daredevil season 3, which is bad news for Matt. Spoilers...
This article comes from Den of Geek UK
This Daredevil review contains spoilers.
Daredevil Season 3 Episode 3
Daredevil Season 3 is well on its way now, with Fisk being delivered to his safehouse hotel. Now that he's out of jail, I think we have absolutely zero belief that this isn't exactly what he wanted – the question is what will he do next?
Giving Matt hallucinations of Fisk as he tries to answer the same question is a good way of putting these characters in the same space without the usual Netflix problem of mortal enemies confronting one another multiple times a season but then failing to deliver the necessary killing blow (metaphorically speaking). Fisk's reappearance awakens the debate in Matt over whether he should play god and just kill his foe to save many more. Clearly, if nothing else, prison won't work.
The best scene in this episode, though? Matt confronting Foggy in the bar. Not only did it give us a surprisingly low-key way for Matt to reveal his survival to Foggy, it also showed us how Matt has changed. There's no warmth, no sentimentality to their interactions, and it turned out he was only doing it to steal Foggy's wallet – so really, if he hadn't wanted to get that he might not even have done it at all.
Foggy, of course, reacted exactly as you'd expect. It's hard not to see Matt as the worst person ever and he certainly doesn't deserve his friends. It contrasts well that you have Matt off making bad decisions and feeling like he can't be helped while Marcy and Foggy and Karen and Mitch are all collaborating to support and protect one another. People often complain about the supporting cast, but here their presence and dynamics show us what Matt's missing out on.
Fisk, meanwhile, is trying to worm his way into Dex's head and I think we all know it's only a matter of time. That said, he seemed relatively genuine up until he turned out to be a crazy stalker, and I think we all saw something like that coming as soon as he hesitated during his psych evaluation.
further reading: Complete Guide to Marvel Comics Easter Eggs and References in Daredevil Season 3
Of course, Fisk also knows that Daredevil is back, and we have to wonder whether his suspicions from Season 2 have been followed up on. You can count on Fisk not to disregard them, that's for sure, so in a way Matt's plan to detach himself from everyone is coming too late. Of course, Fisk himself isn't exactly bullet-proof – he's doing all this because of Vanessa, and while he's trying to keep her safe it's not as if people don't know she's his weak spot. I don't predict good things happening to any of these characters, to be honest.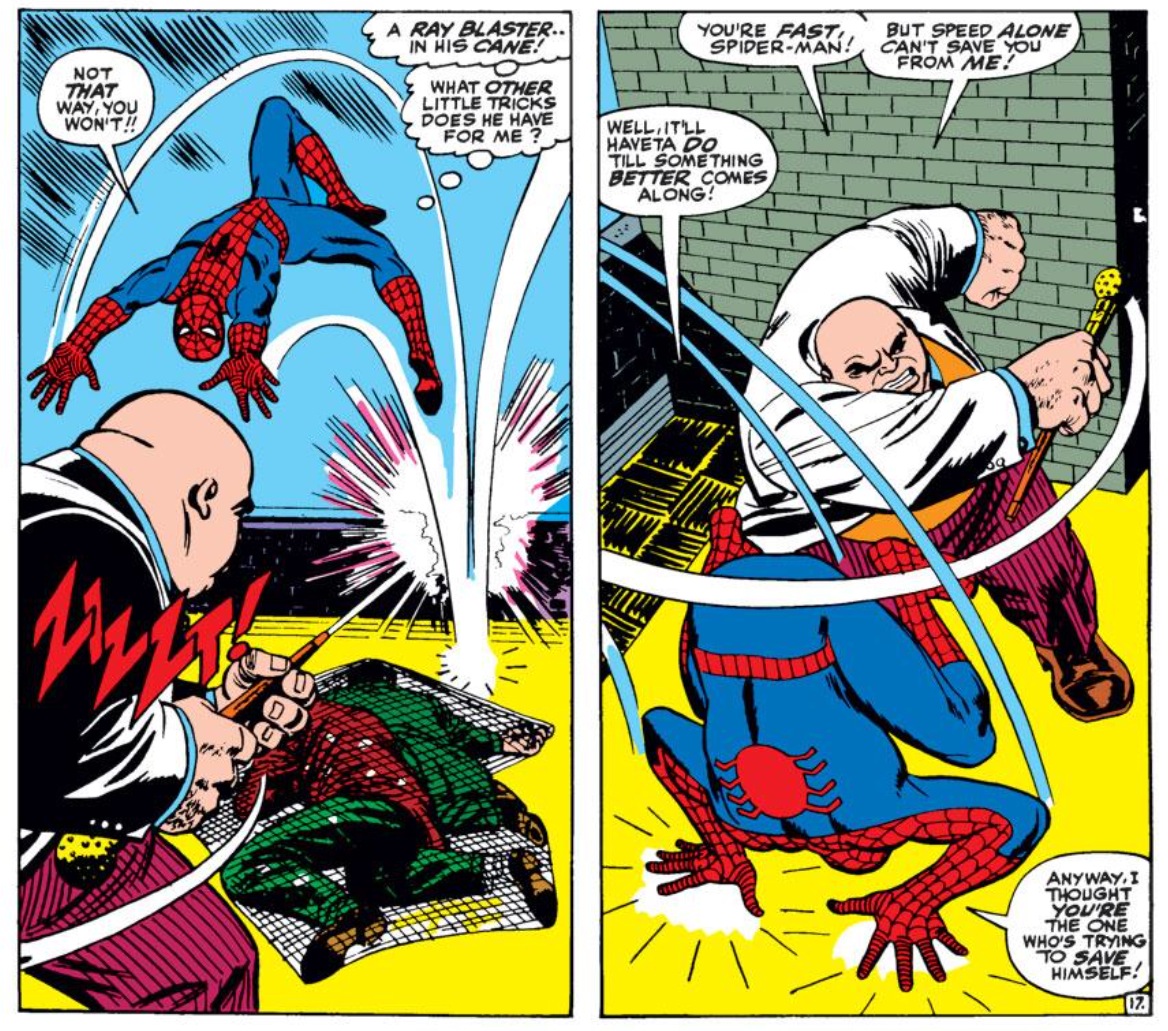 Reference-wise the show seems interested in keeping the comics at arm's length, which is why I haven't spoken about them too much lately, but Kingpin in a white suit is (of course) his classic look. It first appeared in Amazing Spider-Man #50 (July 1967).
Read and download the Den of Geek NYCC 2018 Special Edition Magazine right here!