News
Batwoman Episode 17 Return Date, Promo, and Details
Ruby Rose is Kate Kane on The CW Batwoman TV series, the latest in the ever expanding lineup of DC superhero shows.
The Batwoman TV series has come to The CW, bringing Bruce Wayne's cousin, Kate Kane, to the Arrowverse. Check out all of the Batwoman comic book Easter eggs and references we've found in the show so far here. Caroline Dries (The Vampire Diaries) serves as the writer and executive producer, along with Greg Berlanti, Sarah Schechter, and Geoff Johns.
And here's our recent interview with Camrus Johnson, aka Luke Fox.
Batwoman production has gone on hiatus, starting on March 12th, along with many other TV show and film productions, in an effort to stem the spread of COVID-19. This has led to a temporary suspension of new episodes airing. You can read more about that here.
Batwoman Episode 17 Release Date
The next Batwoman episode is "A Narrow Escape." While it was initially March 29th, 2020, it has been temporarily removed from the schedule and replaced with a re-run.
Here's the official synopsis:
Batwoman encounters a new challenge when an old villain resurfaces; Alice's limits are tested.
Batwoman Episode Guide
The latest news on Batwoman is most certainly good, with The CW's announcement of a backorder for nine more episodes! Justified by a cited 80% jump in Live +7 Nielsen numbers, the network's ordered full-season upgrade – similarly given to fellow freshman drama Nancy Drew – officially expands the first season of Batwoman to a total of 22 episodes.
Click on the blue links below to read full episode reviews.
Batwoman Episode 1: Pilot
"Kate Kane (Ruby Rose) never planned to be Gotham's new vigilante. Gotham is a city in despair, the Gotham City Police Department have been overrun and outgunned by criminal gangs. Enter Jacob Kane (Dougray Scott) and his military-grade Crows Private Security, which now protects the city with omnipresent firepower and militia. Years before, Jacob's first wife and daughter were killed in the crossfire of Gotham crime. He sent his only surviving daughter, Kate Kane, away from Gotham for her safety. After a dishonorable discharge from military school and years of brutal survival training, Kate returns home when the Alice in Wonderland gang targets her father and his security firm by kidnapping his best Crow officer – and Kate's ex-girlfriend – Sophie Moore (Meagan Tandy). Although remarried to wealthy socialite Catherine Hamilton-Kane (Elizabeth Anweis), who bankrolls the Crows, Jacob is still struggling with the family he lost, while keeping Kate –– the daughter he still has –– at a distance. But Kate is a woman who's done asking for permission. In order to help her family and her city, she'll have to become the one thing her father loathes –– a vigilante. With the help of her compassionate stepsister, Mary (Nicole Kang), and the crafty Luke Fox (Camrus Johnson), the son of Wayne Enterprises' tech guru Lucius Fox, Kate Kane continues the legacy of her missing cousin, Bruce Wayne, as Batwoman. Still holding a flame for Sophie, Kate uses everything in her power to combat the dark machinations of the psychotic Alice (Rachel Skarsten), who's always somewhere slipping between sane and insane. Armed with a passion for social justice and a flair for speaking her mind, Kate soars through the shadowed streets of Gotham as Batwoman."
airdate: 10/6/19
Read our review of Batwoman episode 1 right here.
Batwoman Episode 2: The Rabbit Hole
"Back in Gotham, battling Alice (Rachel Skarsten) and the Wonderland Gang from the shadows, Kate Kane (Ruby Rose) continues to be haunted by the events surrounding her sister's death 15 years earlier. While the city holds on to hope that Batman has returned, Jacob Kane (Dougray Scott) and the Crows up the stakes trying to take down the villainous crew. Kate continues to look to Bruce Wayne's legacy for guidance as Luke Fox (Camrus Johnson) inadvertently gets pulled into Batwoman's vigilante heroics. Sophie (Meagan Tandy) and Kate are forced to team up, while Mary (Nicole Kang) finds herself in Alice's crosshairs."
airdate: 10/13/19
Read our full review of Batwoman Episode 2 here.
Batwoman Episode 3: Down, Down, Down
"As the city waits impatiently for another visit from who they think is Batman, Alice (Rachel Skarsten) continues to taunt Kate (Ruby Rose) with a secret but also sets her sights on Jacob (Dougray Scott) and Catherine (Elizabeth Anweis). Kate is visited by Tommy Elliot (guest star Gabriel Mann), a childhood friend of her cousin who has finally realized his lifelong dream of being wealthier than Bruce Wayne and throws a party so all of Gotham can celebrate his success. Mary (Nicole Kang) gets an unexpected new bestie when Sophie (Meagan Tandy) is assigned to protect her. Luke (Camrus Johnson) and Kate work together to uncover who may have taken a valuable weapon from Batman's arsenal. And as Batwoman faces a new enemy, Kate realizes she must either walk away from her new role or fully embrace the mantle as Gotham's new hope."
airdate: 10/20/19
"Alice takes Kate down the sad, winding road of her life in the days after the accident; Mary has an argument with Catherine that sends her looking for Kate at Wayne Tower, but she becomes unwelcome company for Luke."
airdate: 11/3/19
"Kate and Sophie must reconcile with their past, as Kate questions just how much she can trust her former lover; Kate and Luke have an encounter with an old friend; Mary grapples with the fate of the Kane family; Catherine seeks Jacob's help."
airdate: 11/17/19
Read our review of Batwoman Episode 7 here.
Batwoman Episode 8: A Mad Tea-Party
"Kate and Alice continue their sister/nemesis dance; Alice and Mouse construct their most evil plan yet; Mary invites Kate to a special event honoring Catherine; Jacob makes a decision that leaves Kate perplexed."
airdate:12/1/19
Read our review of Batwoman Episode 8 here.
Batwoman Episode 9: Crisis on Infinite Earths, Part 2
"The group uses Ray's (guest star Brandon Routh) invention to track new recruits to help save the universe. The Monitor (guest star LaMonica Garrett) sends Iris (guest star Candice Patton), Clark (guest star Tyler Hoechlin) and Lois (guest star Elizabeth Tulloch) in search of a mysterious Kryptonian, while Kate (Ruby Rose) and Kara (guest star Melissa Benoist) head out to find Bruce Wayne (guest star Kevin Conroy). In addition, Mia (guest star Katherine McNamara) challenges Sara (guest star Caity Lotz), Rory (guest star Dominic Purcell) discovers a hidden talent, and Lex Luthor (guest star Jon Cryer) returns."
Read our review of "Crisis on Infinite Earths Part Two" here.
Batwoman Episode 10: How Queer Everything is Today!
"While Gotham busies itself reacting to Batwoman's (Ruby Rose) awkward encounter, Alice (Rachel Skarsten) celebrates her ultimate act of vengeance with Mouse (guest star Sam Littlefield). A devastated Mary (Nicole Kang) focuses on Jacob Kane's (Dougray Scott) trial, while Sophie (Meagan Tandy) seeks advice about her love life from someone unexpected. As they tackle the newest threat to Gotham, Luke (Camrus Johnson) prioritizes protecting Batwoman's secret, and Kate must decide what she is willing to do to honor Batwoman's identity…and her own."
airdate: 1/19/20
read our review of "How Queer Everything is Today!" right here.
Batwoman Episode 11: An Un-Birthday Present
"On the Kane sisters' birthday, Kate (Ruby Rose) and Alice (Rachel Skarsten) contend with demons from the past, and an unexpected guest makes a surprise appearance in Gotham."
airdate: 1/26/20
read our review of "An Un-Birthday Present" right here.
Batwoman Episode 12: Take Your Choice
"Luke and Mary are tasked with finding the cause behind Beth's debilitating headaches; a visitor delivers some good news to Jacob; Sophie takes her new role to the extreme; Alice makes a devastating discovery."
airdate: 2/16/20
read our review of "Take Your Choice" here.
Batwoman Episode 13: Drink Me
"A new villain sinks her teeth into Gotham; The Hold Up opens in grand fashion; Sophie reluctantly requests that Batwoman keep her distance, knowing their interactions could compromise her career."
airdate: 2/23/20
read our review of "Drink Me" here.
Batwoman Episode 14: Grinning from Ear to Ear
"Batwoman and Luke are on the trail of a villain targeting social media mavens; Sophie gets an unexpected visit from her mother; Mary offers her expertise to assist Kate; Alice focuses on her plans for retribution."
airdate: 3/8/20
read our review of "Grinning from Ear to Ear" here.
Batwoman Episode 15: Off With Her Head
"More of Alice's dark past is uncovered when Cartwright shares a twisted story with Kate while Jacob goes searching for his wayward daughter. Mary and Luke follow a lead on Beth's killer."
airdate: 3/15/20
read our review of "Off With Her Head" here.
Batwoman Episode 16: Through the Looking Glass
"Kate begins to question her instincts and Luke gets upsetting news. Alice seeks her sister's help with a special task."
airdate: 3/22/20
read our review of "Through the Looking Glass here.
Batwoman Episode 17: A Narrow Escape
"Batwoman encounters a new challenge when an old villain resurfaces; Alice's limits are tested."
airdate: TBA
Batwoman Cast
Ruby Rose (Orange is the New Black, John Wick: Chapter 2) was introduced as Kate Kane/Batwoman in the Elseworlds crossover, before launching into her own Batwoman TV show in 2019.
"Batwoman is kind of like Batman," Rose told the New York Times regarding her incarnation of the role. "She's sort of no-nonsense, very stern. She's cheeky but she doesn't speak a ton, and when she does, she kind of does a lower voice, hiding her identity. When I do fight sequences and stunts as Batwoman, I do the Alexander Technique, where we study the bat and study the movement. Even the head movements are kind of batlike, so it feels like two different people."
Rachel Skarsten, who previously played Dinah Lance (Black Canary) in the short-lived 2002 Birds of Prey series, has been cast as main villain Alice. "If Batwoman had a Joker, it would be Alice, the leader of her Lewis Carroll–inspired Wonderland Gang," her character description reads. "Swinging unpredictably between maniacal and charming, Alice has made it her mission to undermine Gotham's sense of security."
Dougray Scott plays Jacob Kane, the father of Kate/Batwoman; a role that's being referred to as the male lead in the series, as trades such as Deadline report. Jacob is depicted as a former military colonel who has contempt for vigilantes as he attempts to tackle the crime of Gotham with his private security firm, The Crows. However, in the ultimate irony, he's unaware that his own daughter has become the very thing he reviles: a vigilante.
The character of Jacob, a fairly recent addition to the canon, was introduced in DC's Detective Comics #854, dated August 2009. If his television trajectory matches the comics, then the adversarial relationship he has with vigilantes, specifically (his daughter,) Batwoman, is destined to become a partnership, since he is known for utilizing his connections and resources to help in her crimefighting endeavors.
Meagan Tandy (Teen Wolf) is playing Sophie Moore, described as "After graduating from military academy, Sophie rose through the ranks to become a high-level private security agent and one of Gotham's staunchest protectors. Despite her bite and regimented outlook, Sophie has a soft side, illuminated by Kate Kane's return."
Camrus Johnson (Luke Cage) is Luke Fox, "A Dark Knight loyalist and son of Wayne's R&D director Lucius Fox, Luke works to keep Wayne Tower secure in his boss's absence. While Luke considers himself the guardian of all things Batman — specifically his symbol — he also recognizes the city's need for a new hero." DC Comics fans will recognize Luke Fox as the character known as Batwing.
Nicole Kang (You) plays Mary Hamilton. "Excitable, talkative, and an influencer-in-the-making, Mary is Kate Kane's step-sister and polar opposite. But what Mary lacks in a filter, she makes up for with her compassion for Gotham's underserved communities, proving she has more in common with Kate than she thinks."
Just two days before the premiere of Batwoman, The Hollywood Reporter unveiled another surprise cast member for the show. MSNBC commentator and host of The Rachel Maddow Show, Rachel Maddow will be a part of Batwoman. Maddow will play Vesper Fairchild, a radio personality and host, who also has a romantic relationship with Batman in the comics. Maddow will lend her voice to the character and never actually appear onscreen. A romantic relationship with Batman is probably out of the question since Batman skipped town and more importantly: she's just a voice.
"We consider Vesper Fairchild to be the sardonic Voice of Gotham," Batwoman showrunner Caroline Dries told The Hollywood Reporter in a statement. "In addition to Rachel's interest in Batwoman, we thought she'd be the perfect casting choice because her own hard-hitting journalism wildly contrasts Vesper's penchant for snark, gossip and criticism of female superheroes."
Batwoman Costume
Check out a look at Ruby Rose in her full, and perfectly accurate, Batwoman costume right here!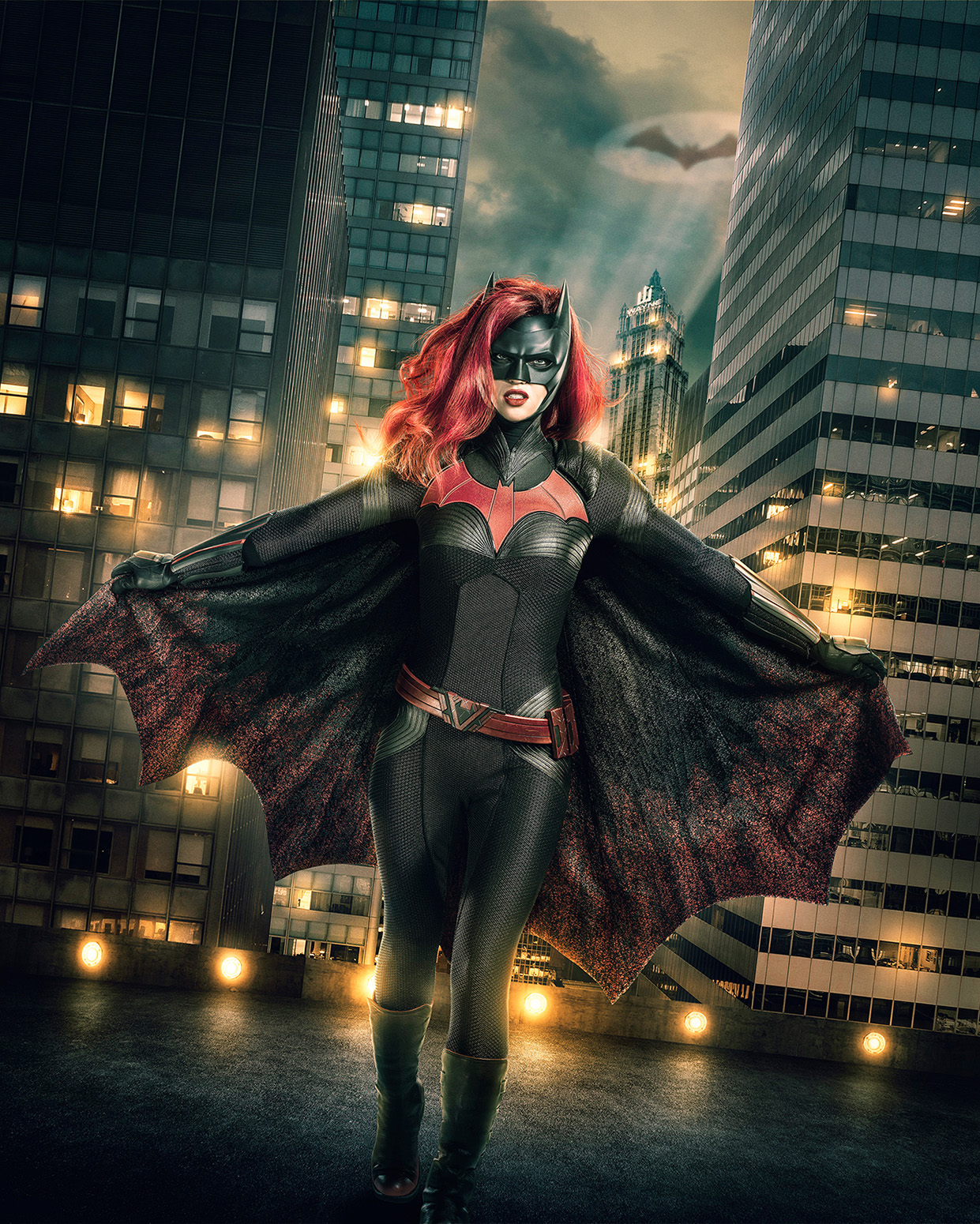 Batwoman Villain
Rachel Skarsten, is playing Batwoman antagonist Alice, the leader of the Wonderland Gang, recently spoke to TV Line about what to expect from her character, saying: "She is the big bad of the show. She plays the main antagonist. She has a very complex relationship with Batwoman, played by Ruby Rose, and she sort of teeters between sane and completely insane. Which is really fun."
Skarsten teased that Alice has "an axe to grind with another character on the show," and also "wants to run Gotham … and bring mayhem wherever she goes."
"[Alice]'s a great manipulator of people," Skarsten continued, "and because she can sort of sit between the world of sane and insane, she can appeal to many different types of people. And actually, who she brings on side with her, on the show, is quite interesting."