News
Community Movie Update Means an Even Longer Wait
The Community movie joins the growing list of movies and TV shows halted by the AMPTP's inability to meet the WGA's reasonable terms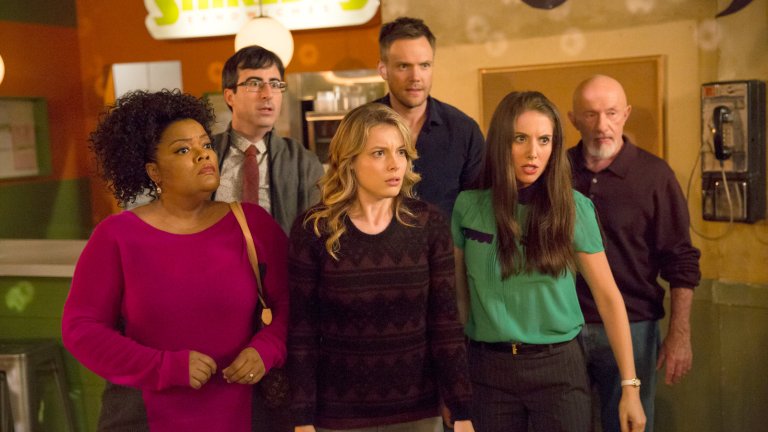 After seven years, a Community movie was finally announced, fulfilling the promise of "six seasons and a movie" that was teased and became somewhat of a running joke among fans. However, thanks to an update from Community star Joel McHale, we now know that it will be even longer before the movie reaches our screens. 
In an interview with TVLine, McHale confirms that production on the movie, which was scheduled to begin in June, has been delayed by the Writers Guild of America (WGA) strike. McHale does say that it was a "bummer" to have to halt production after waiting so long for the movie, but he goes on to share his support for the writers saying "But at the same time, I'm a thousand billion percent behind the writers. The writers need to be paid."
The WGA has been on strike since May 2, 2023 after the Alliance of Motion Picture and Television Producers (AMPTP) failed to meet the guild's reasonable terms on payment, employment duration, staffing guarantees, the use of Artificial Intelligence, and more that you can read below. The previous strike in 2007-08 lasted 100 days, so there's a chance that this strike could last that long, if not longer.
It's not just the WGA strike that could put things on pause though. The Screen Actors Guild – American Federation of Television and Radio Artists (SAG-AFTRA) also has the potential to go on strike this summer. The SAG-AFTRA board has authorized a strike and members are currently voting on whether or not the guild will strike if their terms aren't met by the AMPTP. Negotiations between SAG-AFTRA and the AMPTP are set to begin June 7 before the guild's contract ends on June 30. Even if Community: The Movie had been able to start filming, there's no guarantee they could have finished.
But no matter how long the WGA and potential SAG-AFTRA strikes could last, McHale reassures fans during the interview that the Community movie"still going to happen," saying that "when this strike is over, we'll come back and we'll make it. And I am sure that [series creator] Dan [Harmon] will put in 12 jokes addressing the fact it took [this long to come together]. But we'll get there. It just may take a little while."
As far as what to expect from Community: The Movie (title pending), McHale says "I know what's going on [in the movie] but I can't say anything." He jokingly says that "everybody dies, it's like the end of Hamlet," before continuing in a more serious tone, "From what I know about it, it's great, it really is. It's going to be a barnburner."
Series creator Dan Harmon has also been pretty hush-hush on what the movie will entail, but he did tell TVLine that the study group will have spent some time apart before we see them together again, though he says "it's not because they swore each other off." According to Harmon, "There's a reason [for the characters] to get together [in the movie], and then there's a reason they have to stay together."
Hopefully the AMPTP will get their act together soon and meet the terms of the WGA and SAG-AFTRA so that all creatives can continue to do what they love and be paid a living wage to do so. But until then, there's plenty of time for a Community rewatch while we wait for the movie to resume production.