Features
Donald Glover's Community Movie Update Could Answer a Troy Mystery
It looks like Donald Glover's Troy Barnes might be up for the Community movie after all.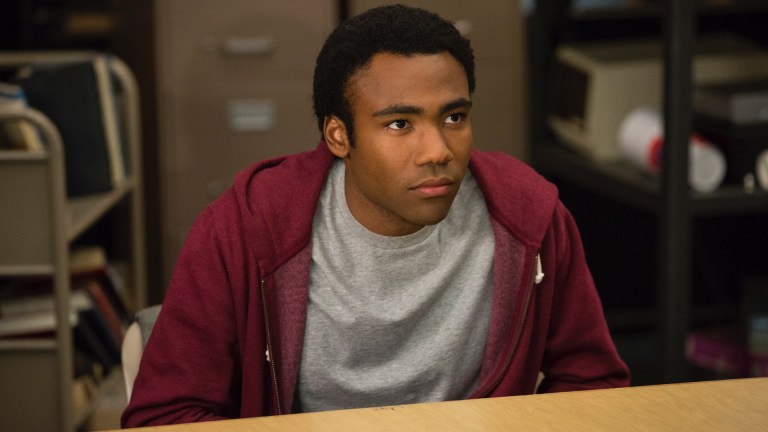 Back in September 2022, the "six seasons and a movie" prophecy was fulfilled when Sony Pictures TV and Peacock jointly announced a Community movie. A proper cinematic conclusion to the beloved NBC sitcom was welcome news to the show's cultish fanbase. But some questions about the project still lingered. Questions like: who is gonna be in this gosh darn thing?
The announcement specifically mentioned Joel McHale (who plays Jeff Winger), Danny Pudi (Abed Nadir), Allison Brie (Annie Edison), Gillian Jacobs (Britta Perry), Jim Rash (Dean Craig Pelton), and Ken Jeong (Señor Ben Chang) but that still left some notable faces absent. It was a good bet that estranged actor Chevy Chase and his definitively deceased character Pierce Hawthorne wouldn't be making the jump to Peacock. What about Donald Glover's Troy Barnes though?
An original member of the cast since the pilot, Troy Barnes exited the show in early season five when Donald Glover decided to go off and become a world-conquering titan. Glover successfully conquered said world by creating his own acclaimed modern TV showcase with Atlanta, embodying the iconic space scoundrel Lando Calrissian in Solo: A Star Wars Story, and even winning a few Grammys under his musical nom de plume Childish Gambino. With Chase out of the picture and no hard feelings lingering among any of the returning cast, Glover and Troy both seemed prime to a return.
Now, thanks to a new video interview with GQ, Glover has made indicated that he's set to come back and answer what Troy has been up to all these years. You can find the full interview here with the relevant clip below.
"We're supposed to be shooting it soon," Glover says. "I haven't seen a script. In true Dan (Harmon) fashion, we'll probably get it on the first day. But yeah, it's supposed to be happening. I know just as much about it as you do."
Those not fully familiar with Community creator Dan Harmon's process might be disquieted by the notion that Glover has not yet seen a script for the film or assume it might jeopardize his involvement. But real Harmon-heads know that that's just par for the course for the exacting and particular TV storyteller. In the same interview, Glover mentions that he became accustomed to Harmon's strange ways during his time on the show.
"Dan is kind of like a story expert," he says. "So sometimes you wouldn't get the scripts until the day of. I don't memorize scripts anymore. I'll learn it in the makeup."
With Glover almost-officially aboard, the still untitled Community movie now has everything in place to fulfill its fans' lofty expectations. It also could answer an important lingering question from the show's initial six-season run: what ever became of Troy? The end of Community season 5 episode 5 "Geothermal Escapism" finds Troy (and LeVar Burton) heading off for an adventure on a boat (named "Childish Tycoon" naturally) that Pierce left for him in his will.
That was the last we ever saw of Troy Barnes on Community … but it wasn't the last we heard of him. Just one episode later, a ticker at the bottom of a news program Professor Hickey is watching reads "LeVar Burton and non-celebrity companion captured by pirates in the Gulf of Mexico." So unless LeVar Burton went on a second boat trip with a non-celebrity friend that we're not aware of, Troy was captured by pirates in the Gulf of Mexico almost immediately following his departure from the show.
If that happened so soon after Troy's exit then imagine what other kinds of truly wild adventures he and LeVar got into! Thankfully, it looks like we won't have to imagine much longer once Donald Glover comes back for the movie.