Features
Christmas Movies and TV Specials: Full 2023 Schedule
Here is a list of essential Christmas movies and TV specials to serve as your viewing guide this holiday season!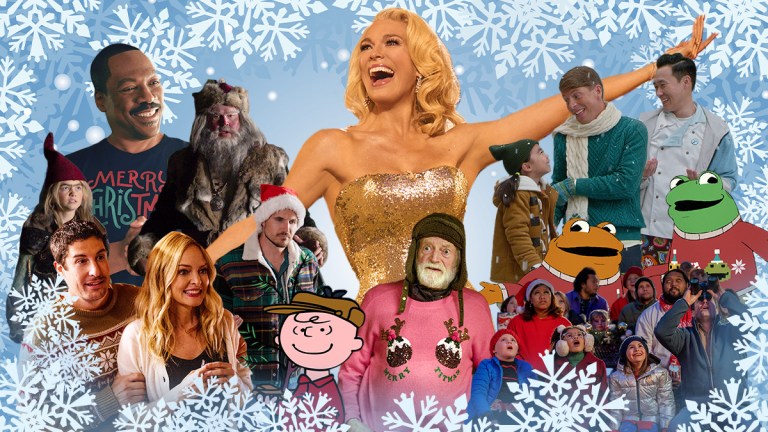 It's the holiday season, everyone! And that applies for whenever you end up reading this because, as we all know, holiday cheer is a state of mind as much as it is date on the calendar.
Speaking of calendar dates though, there are many Christmas movies and TV specials to enjoy throughout November and December in 2023. Whether it's via cable or streaming, television has a jam-packed schedule to keep you in the Christmas spirit. Here we've gathered all of those Christmas movie and TV special options that we can find in a helpful day-by-day format. Read on to find out when your favorite holiday specials will be airing or streaming and learn how to find some new favorites!
A note: IF YOU'RE LOOKING FOR HALLMARK MOVIES, please check out Hallmark Channel's official schedule for every Christmas movie Hallmark has to offer during the 2023 holiday season. Hallmark is the undisputed Christmas movie champion so including its "literally-every-second-of-every-day" Christmas movie schedule would simply be too overwhelming. However, some Hallmark titles will be available on Peacock, and you can find those on our list in addition to all the new Hallmark movies premiering this year.
Now, without further ado, check out our holiday movies and TV schedule below! And be sure to check out our U.K. Christmas schedule over here.
Christmas Movies and TV Specials 2023
All times are EST.
Wednesday, December 6
| | |
| --- | --- |
| Christmas as Usual | Netflix |
| The Ghost and Molly McGee: White Christmess/Perfect Day (S2, 1 episode) | Disney+ |
| Villains of Valley View: A Very Villain Christmas (S2, 1 episode) | Disney+ |
| Snow (7:00 a.m.) | Freeform |
| Family Guy Holiday Episodes (10:30 a.m.) | Freeform |
| Home Alone (11:05 a.m.) | Freeform |
| Home Alone 2: Lost in New York (1:35 p.m.) | Freeform |
| The Santa Clause (4:15 p.m.) | Freeform |
| The Santa Clause 2 (6:25 p.m.) | Freeform |
| The Santa Clause 3: The Escape Clause (8:55 p.m. | Freeform |
| Jingle All the Way 2 (12:00 a.m.) | Freeform |
| Gremlins (12:30 a.m.) | AMC |
| The First Christmas: The Story of the First Christmas Snow (5:00 a.m.) | AMC |
| Little Drummer Boy: Book II (5:30 a.m.) | AMC |
| Gremlins (10:30 a.m.) | AMC |
| Jack Frost (1998) (5:30 p.m.) | AMC |
| Christmas with the Kranks (8:00 p.m.) | AMC |
| Four Christmases (10:00 p.m.) | AMC |
Thursday, December 7
| | |
| --- | --- |
| I Hate Christmas Season 2 | Netflix |
| Elmo & Tango Holiday Helpers | Max |
| Never Alone for Christmas | BET+ |
| To All a Good Night (8:00 p.m.) | Hallmark Channel |
| Snow 2: Brain Freeze (7:00 a.m.) | Freeform |
| Disney's A Christmas Carol (10:30 a.m.) | Freeform |
| Love the Coopers (12:35 p.m.) | Freeform |
| Home Alone (3:10 p.m.) | Freeform |
| Home Alone 2: Lost in New York (5:40 p.m.) | Freeform |
| Dr. Seuss' How the Grinch Stole Christmas (8:20 p.m.) | Freeform |
| The Family Stone (12:00 a.m.) | Freeform |
| Silent Night, Fatal Night (8:00 p.m.) | Lifetime |
| Frosty's Winter Wonderland (5:30 a.m.) | AMC |
| Happy Christmas (2:15 p.m.) | AMC |
| Four Christmases (4:00 p.m.) | AMC |
| Christmas with the Kranks (6:00 p.m.) | AMC |
| National Lampoon's Christmas Vacation (8:00 p.m.) | AMC |
| National Lampoon's Christmas Vacation (10:15 p.m.) | AMC |
Friday, December 8
| | |
| --- | --- |
| The Great British Baking Show: Holidays Season 6 | Netflix |
| Diary of a Wimpy Kid Christmas: Cabin Fever | Disney+ |
| Your Christmas or Mine 2 | Prime Video |
| World's First Christmas | Prime Video |
| Dating Santa | Prime Video |
| Merry Little Batman | Prime Video |
| Christmas at the Opry | Peacock |
| Magic in Mistletoe (8:00 p.m.) | Hallmark Channel |
| Family Guy Holiday Episodes (7:00 a.m.) | Freeform |
| Love the Coopers (8:00 a.m.) | Freeform |
| Home Alone (10:30 a.m.) | Freeform |
| Home Alone 2: Lost in New York (1:00 p.m.) | Freeform |
| Dr. Seuss' The Grinch (3:40 p.m.) | Freeform |
| Dr. Seuss' How the Grinch Stole Christmas (5:40 p.m.) | Freeform |
| Frozen (8:20 p.m.) | Freeform |
| Frozen II (10:50 p.m.) | Freeform |
| Olaf's Frozen Adventure (1:00 a.m.) | Freeform |
| Toy Story That Time Forgot (1:30 a.m.) | Freeform |
| Mistletoe Match (2:00 p.m.) | Lifetime |
| Mistletoe & Menorahs (4:00 p.m.) | Lifetime |
| Planes, Trains & Christmas Trees (6:00 p.m.) | Lifetime |
| A Country Christmas Story (8:00 p.m.) | Lifetime |
| Christmas Plus One (10:03 p.m.) | Lifetime |
| Eight Crazy Nights (12:30 a.m.) | AMC |
| Pinocchio's Christmas (4:15 a.m.) | AMC |
| Nestor, the Long-Eared Christmas Donkey (5:30 a.m.) | AMC |
| Nestor, the Long-Eared Christmas Donkey (9:15 a.m.) | AMC |
| Donkey's Caroling Christmas-tacular (9:45 a.m.) | AMC |
| The Madagascar Penguins in a Christmas Caper (10:00 a.m.) | AMC |
| Eight Crazy Nights (10:15 a.m.) | AMC |
| The Polar Express (6:00 p.m.) | AMC |
| Elf (8:00 p.m.) | AMC |
| Elf (10:00 p.m.) | AMC |
| The Polar Express (11:59 p.m.) | AMC |
Saturday, December 9
| | |
| --- | --- |
| Magic in Mistletoe (Hallmark) | Peacock |
| Christmas on Cherry Lane (8:00 p.m.) | Hallmark Channel |
| Jingle All the Way (7:00 a.m.) | Freeform |
| Jingle All the Way 2 (9:00 a.m.) | Freeform |
| Prancer Returns (11:00 a.m.) | Freeform |
| Dr. Seuss' The Grinch (1:05 p.m.) | Freeform |
| Tim Burton's The Nightmare Before Christmas (3:05 p.m.) | Freeform |
| Toy Story That Time Forgot (4:45 p.m.) | Freeform |
| Toy Story (5:15 p.m.) | Freeform |
| Toy Story 2 (7:15 p.m.) | Freeform |
| Toy Story 3 (9:20 p.m.) | Freeform |
| Toy Story 4 (11:50 p.m.) | Freeform |
| A Country Christmas Story (12:01 a.m.) | Lifetime |
| Christmas Plus One (2:04 a.m.) | Lifetime |
| All About Christmas Eve (11:00 a.m.) | Lifetime |
| Merry Swissmas (12:30 p.m.) | Lifetime |
| Mistletoe in Montana (2:00 p.m.) | Lifetime |
| A Country Christmas Harmony (4:00 p.m.) | Lifetime |
| Reba McEntire's Christmas in Tune (6:00 p.m.) | Lifetime |
| A Cowboy Christmas Romance (8:00 p.m.) | Lifetime |
| Christmas in Mississippi (10:03 p.m.) | Lifetime |
| To Grandmother's House We Go (4:00 a.m.) | AMC |
| Santa Claus: The Movie (6:00 a.m.) | AMC |
| National Lampoon's Christmas Vacation (8:00 p.m.) | AMC |
| National Lampoon's Christmas Vacation (10:15 p.m.) | AMC |
| Byron Allen Presents A Merry Soulful Christmas (8:00 p.m.) | CBS |
Sunday, December 10
| | |
| --- | --- |
| OWN Holiday Movie: A Christmas of Yes (OWN) | Max |
| White House Christmas (2023) | Max |
| Christmas on Cherry Lane (Hallmark) | Peacock |
| Christmas at an Amish Bakery (7:00 p.m.) | UPtv |
| Round and Round (8:00 p.m.) | Hallmark Channel |
| The Simpsons Holiday Episodes (7:00 a.m.) | Freeform |
| Prancer Returns (8:00 a.m.) | Freeform |
| Home Alone 3 (10:00 a.m.) | Freeform |
| Home Alone (12:00 p.m.) | Freeform |
| Home Alone 2: Lost in New York (2:30 p.m.) | Freeform |
| Disney's A Christmas Carol (5:10 p.m.) | Freeform |
| The Santa Clause (7:15 p.m.) | Freeform |
| The Santa Clause 2 (9:25 p.m.) | Freeform |
| The Santa Clause 3: The Escape Clause (11:55 p.m.) | Freeform |
| A Cowboy Christmas Romance (12:01 a.m.) | Lifetime |
| Christmas in Mississippi (2:04 a.m.) | Lifetime |
| My Christmas Inn (10:00 a.m.) | Lifetime |
| Hot Chocolate Holiday (12:00 p.m.) | Lifetime |
| Christams A La Mode (2:00 p.m.) | Lifetime |
| A Taste of Christmas (4:00 p.m.) | Lifetime |
| Baking Spirits Bright (6:00 p.m.) | Lifetime |
| Yes, Chef! Christmas (8:00 p.m.) | Lifetime |
| Christmas on the Menu (10:03 p.m.) | Lifetime |
| The Life & Adventures of Santa Claus (10:30 a.m.) | AMC |
| Frosty's Winter Wonderland (11:00 a.m.) | AMC |
| The Life & Adventures of Santa Claus (11:30 a.m.) | AMC |
| Miracle on 34th Street (1947) (12:45 p.m.) | AMC |
| 'Twas the Night Before Christmas (1974) (3:00 p.m.) | AMC |
| Rudolph's Shiny New Year (3:30 p.m.) | AMC |
| The Year a Without a Santa Claus (4:45 p.m.) | AMC |
| The Polar Express (6:00 p.m.) | AMC |
| Elf (8:00 p.m.) | AMC |
| Elf (10:00 p.m.) | AMC |
| Fred Claus (11:59 p.m.) | AMC |
Monday, December 11
| | |
| --- | --- |
| Snowglobe (7:00 a.m.) | Freeform |
| Family Guy Holiday Episodes (10:30 a.m.) | Freeform |
| Unaccompanied Minors (11:00 a.m.) | Freeform |
| Richie Rich's Christmas Wish (1:05 p.m.) | Freeform |
| Home Alone (3:10 p.m.) | Freeform |
| Home Alone 2: Lost in New York (5:40 p.m.) | Freeform |
| Dr. Seuss' How the Grinch Stole Christmas (8:20 p.m.) | Freeform |
| Black Nativity (12:00 a.m.) | Freeform |
| Yes, Chef! Christmas (12:01 a.m.) | Lifetime |
| Christmas on the Menu (2:04 a.m.) | Lifetime |
| The First Christmas: The Story of the First Christmas Snow (5:30 a.m.) | AMC |
| Mariah Carey's All I Want for Christmas Is You (11:30 a.m.) | AMC |
| Pinocchio's Christmas (1:30 p.m.) | AMC |
| Jack Frost (1979) (2:45 p.m.) | AMC |
| The Polar Express (4:00 p.m.) | AMC |
| National Lampoon's Christmas Vacation (6:00 p.m.) | AMC |
| Elf (8:15 p.m.) | AMC |
| National Lampoon's Christmas Vacation (10:15 p.m.) | AMC |
Tuesday, December 12
| | |
| --- | --- |
| Life-Size 2: A Christmas Eve (7:00 a.m.) | Freeform |
| Family Guy Holiday Episodes (10:30 a.m.) | Freeform |
| Home Alone (11:00 a.m.) | Freeform |
| Home Alone 2: Lost in New York (1:30 p.m.) | Freeform |
| Disney's A Christmas Carol (4:00 p.m.) | Freeform |
| Dr. Seuss' How the Grinch Stole Christmas (6:00 p.m.) | Freeform |
| Godmothered (8:30 p.m.) | Freeform |
| The Mistle-Tones (12:00 a.m.) | Freeform |
| Jack Frost (1998) (2:30 a.m.) | AMC |
| Grandma Got Run Over by a Reindeer (5:00 a.m.) | AMC |
| A Holiday to Remember (1995) (9:00 a.m.) | AMC |
| White Christmas (2:00 p.m.) | AMC |
| The Year Without a Santa Claus (4:45 p.m.) | AMC |
| Elf (6:00 p.m.) | AMC |
| Christmas with the Kranks (8:00 p.m.) | AMC |
| Four Christmases (10:00 p.m.) | AMC |
| Christmas with the Kranks (12:00 a.m.) | AMC |
Wednesday, December 13
| | |
| --- | --- |
| Home Alone 3 (7:00 a.m.) | Freeform |
| Family Guy Holiday Episodes (10:30 a.m.) | Freeform |
| The Family Stone (11:00 a.m.) | Freeform |
| Miracle on 34th Street (1:30 p.m.) | Freeform |
| Home Alone (4:00 p.m.) | Freeform |
| Home Alone 2: Lost in New York (6:30 p.m.) | Freeform |
| Dr. Seuss' The Grinch (9:00 p.m.) | Freeform |
| Daddy's Home 2 (12:00 a.m.) | Freeform |
| Surviving Christmas (2:00 a.m.) | AMC |
| All I Want for Christmas (1991) (4:00 a.m.) | AMC |
| Rudolph and Frosty's Christmas in July (1:30 p.m.) | AMC |
| The Polar Express (4:00 p.m.) | AMC |
| Four Christmases (6:00 p.m.) | AMC |
| Elf (8:00 p.m.) | AMC |
| Elf (10:00 p.m.) | AMC |
| Fred Claus (11:59 p.m.) | AMC |
Thursday, December 14
| | |
| --- | --- |
| Christmas Rescue | BET+ |
| Favorite Son Christmas | BET+ |
| Heaven Down Here | Hallmark Movies & Mysteries |
| Daddy's Home 2 (7:00 a.m.) | Freeform |
| The Santa Clause (10:30 a.m.) | Freeform |
| The Santa Clause 2 (12:35 p.m.) | Freeform |
| The Santa Clause 3: The Escape Clause (3:05 p.m.) | Freeform |
| Dr. Seuss' The Grinch (5:10 p.m.) | Freeform |
| Noelle (7:10 p.m.) | Freeform |
| Tim Burton's The Nightmare Before Christmas (9:20 p.m.) | Freeform |
| 12 Dates of Christmas (12:00 a.m.) | Freeform |
| Grandma Got Run Over by a Reindeer (2:30 a.m.) | AMC |
| Rudolph and Frosty's Christmas in July (3:30 a.m.) | AMC |
| Snow Day (10:30 a.m.) | AMC |
| Fred Claus (12:30 p.m.) | AMC |
| Gremlins (12:00 a.m.) | AMC |
Friday, December 15
| | |
| --- | --- |
| Yoh' Christmas | Netflix |
| CMA Country Christmas Special | Disney+ |
| The Secret Gift of Christmas (8:00 p.m.) | Hallmark Channel |
| Kung Fu Panda Holiday (7:00 a.m.) | Freeform |
| Santa Buddies: The Legend of Santa Paws (7:30 a.m.) | Freeform |
| The Search for Santa Paws (9:30 a.m.) | Freeform |
| Santa Paws 2: The Santa Pups (11:30 a.m.) | Freeform |
| Disney's A Christmas Carol (1:30 p.m.) | Freeform |
| Home Alone (3:30 p.m.) | Freeform |
| Home Alone 2: Lost in New York (6:00 p.m.) | Freeform |
| Dr. Seuss' How the Grinch Stole Christmas (8:40 p.m.) | Freeform |
| Miracle on 34th Street (11:20 p.m.) | Freeform |
| A Christmas Exchange (2:00 p.m.) | Lifetime |
| Christmas Ever After (4:00 p.m.) | Lifetime |
| Laughing All the Way (6:00 p.m.) | Lifetime |
| The Holiday (8:00 p.m.) | Lifetime |
| A Christmas in Tennessee (11:03 p.m.) | Lifetime |
| Snow Day (2:30 a.m.) | AMC |
| The Life & Adventures of Santa Claus (4:30 a.m.) | AMC |
| Donkey's Caroling Christmas-tacular (5:45 a.m.) | AMC |
| National Lampoon's Christmas Vacation (8:00 p.m.) | AMC |
| National Lampoon's Christmas Vacation (10:15 p.m.) | AMC |
| National Christmas Tree Lighting (8:00 p.m.) | CBS |
Saturday, December 16
| | |
| --- | --- |
| The Secret Gift of Christmas (Hallmark) | Peacock |
| A Charlie Brown Christmas | Apple TV+ |
| Sealed with a List (8:00 p.m.) | Hallmark Channel |
| The Little Drummer Boy (7:00 a.m.) | Freeform |
| Cricket on the Hearth (7:30 a.m.) | Freeform |
| Mickey's Once Upon a Christmas (8:30 a.m.) | Freeform |
| Mickey's Twice Upon a Christmas (10:00 a.m.) | Freeform |
| Home Alone (11:30 a.m.) | Freeform |
| Home Alone 2: Lost in New York (2:00 p.m.) | Freeform |
| Dr. Seuss' How the Grinch Stole Christmas (4:35 p.m.) | Freeform |
| The Santa Clause (7:15 p.m.) | Freeform |
| The Santa Clause 2 (9:25 p.m.) | Freeform |
| The Santa Clause 3: The Escape Clause (11:55 p.m.) | Freeform |
| Frosty the Snowman (9:00 p.m.) | CBS |
| Frosty Returns (9:30 p.m.) | CBS |
| The Holiday (12:59 a.m.) | Lifetime |
| The Christmas Aunt (11:00 a.m.) | Lifetime |
| A New Orleans Noel (12:30 p.m.) | Lifetime |
| Merry Liddle Christmas Wedding (4:00 p.m.) | Lifetime |
| Merry Liddle Christmas Baby (6:00 p.m.) | Lifetime |
| The Holiday Proposal Plan (8:00 p.m.) | Lifetime |
| A Christmas Intern (10:00 p.m.) | Lifetime |
| Fred Claus (2:30 p.m.) | AMC |
| The Polar Express (5:00 p.m.) | AMC |
| Elf (7:00 p.m.) | AMC |
| Elf (9:00 p.m.) | AMC |
| The Polar Express (11:00 p.m.) | AMC |
Sunday, December 17
| | |
| --- | --- |
| OWN Holiday Movie: The Christmas Detective (OWN) (2023) | Max |
| Dial S for Santa (7:00 p.m.) | UPtv |
| Friends & Family Christmas (8:00 p.m.) | Hallmark Channel |
| Cricket on the Hearth (7:00 a.m.) | Freeform |
| Richie Rich's Christmas Wish (8:00 a.m.) | Freeform |
| Eloise at Christmastime (10:05 a.m.) | Freeform |
| Home Alone 3 (12:10 p.m.) | Freeform |
| Prancer Returns (2:15 p.m.) | Freeform |
| Dr. Seuss' The Grinch (4:20 p.m.) | Freeform |
| Home Alone (6:20 p.m.) | Freeform |
| Home Alone 2: Lost in New York (8:50 p.m.) | Freeform |
| Godmothered (11:30 p.m.) | Freeform |
| The Holiday Proposal Plan (12:01 a.m.) | Lifetime |
| A Christmas Intern (2:01 a.m.) | Lifetime |
| Ladies of the '80s: A Divas Christmas (8:00 a.m.) | Lifetime |
| Yes, Chef! Christmas (2:00 p.m.) | Lifetime |
| The Holiday Proposal Plan (4:00 p.m.) | Lifetime |
| A Cowboy Christmas Romance (6:00 p.m.) | Lifetime |
| Merry Magic Christmas (8:00 p.m.) | Lifetime |
| Mistletoe Match (10:03 p.m.) | Lifetime |
| Christmas with the Kranks (6:30 p.m.) | AMC |
| National Lampoon's Christmas Vacation (8:00 p.m.) | AMC |
| National Lampoon's Christmas Vacation (10:15 p.m.) | AMC |
| Christmas with the Kranks (12:30 a.m.) | AMC |
Monday, December 18
| | |
| --- | --- |
| Friends & Family Christmas (Hallmark) | Peacock |
| Prancer Returns (7:00 a.m.) | Freeform |
| Family Guy Holiday Episodes (10:30 a.m.) | Freeform |
| Home Alone 2: Lost in New York (11:35 a.m.) | Freeform |
| Dr. Seuss' The Grinch (2:15 p.m.) | Freeform |
| Disney's A Christmas Carol (4:15 p.m.) | Freeform |
| Frozen (6:20 p.m.) | Freeform |
| Frozen II (8:50 p.m.) | Freeform |
| Jingle All the Way (12:00 a.m.) | Freeform |
| Merry Magic Christmas (12:01 a.m.) | Lifetime |
| Mistletoe Match (2:04 a.m.) | Lifetime |
| Four Christmases (6:00 p.m.) | AMC |
| Elf (8:00 p.m.) | AMC |
| Elf (10:00 p.m.) | AMC |
| Four Christmases (12:00 a.m.) | AMC |
Tuesday, December 19
| | |
| --- | --- |
| Richie Rich's Christmas Wish (7:00 a.m.) | Freeform |
| Disney's A Christmas Carol (10:30 a.m.) | Freeform |
| Miracle on 34th Street (12:35 p.m.) | Freeform |
| Home Alone (3:10 p.m.) | Freeform |
| Home Alone 2: Lost in New York (5:40 p.m.) | Freeform |
| Dr. Seuss' How the Grinch Stole Christmas (8:20 p.m.) | Freeform |
| Jingle All the Way (12:00 a.m.) | Freeform |
| Christmas with the Kranks (6:00 p.m.) | AMC |
| National Lampoon's Christmas Vacation (8:00 p.m.) | AMC |
| Elf (10:15 p.m.) | AMC |
Wednesday, December 20
| | |
| --- | --- |
| Hailey's On It!: We Wish You a Merry Chaos-mas | Disney+ |
| Santa Claus is Comin' to Town | Peacock |
| Eloise at Christmastime (7:00 a.m.) | Freeform |
| Family Guy Holiday Episodes (10:30 a.m.) | Freeform |
| The Santa Clause (11:30 a.m.) | Freeform |
| The Santa Clause 2 (1:05 p.m.) | Freeform |
| The Santa Clause 3: The Escape Clause (3:30 p.m.) | Freeform |
| Dr. Seuss' How the Grinch Stole Christmas (5:35 p.m.) | Freeform |
| Rudolph the Red-Nosed Reindeer (8:15 p.m.) | Freeform |
| Frosty the Snowman (9:20 p.m.) | Freeform |
| Santa Claus Is Comin' to Town (9:55 p.m.) | Freeform |
| Home Alone 3 (12:00 a.m.) | Freeform |
| National Lampoon's Christmas Vacation (5:45 p.m.) | AMC |
| Elf (8:00 p.m.) | AMC |
| The Polar Express (10:00 p.m.) | AMC |
Thursday, December 21
| | |
| --- | --- |
| Whatever It Takes | BET+ |
| Miracle in Bethlehem, PA | Hallmark Movies & Mysteries |
| Cricket on the Hearth (7:00 a.m.) | Freeform |
| Mickey's Once Upon a Christmas (8:00 a.m.) | Freeform |
| Santa Buddies: The Legend of Santa Paws (9:30 a.m.) | Freeform |
| The Search for Santa Paws (11:30 a.m.) | Freeform |
| Santa Paws 2: The Santa Pups (1:30 p.m.) | Freeform |
| Santa Claus Is Comin' to Town (3:35 p.m.) | Freeform |
| Frosty the Snowman (4:40 p.m.) | Freeform |
| Rudolph the Red-Nosed Reindeer (5:15 p.m.) | Freeform |
| Home Alone (6:20 p.m.) | Freeform |
| Home Alone 2: Lost in New York (8:50 p.m.) | Freeform |
| The Family Stone (11:30 p.m.) | Freeform |
| Four Christmases (6:00 p.m.) | AMC |
| National Lampoon's Christmas Vacation (8:00 p.m.) | AMC |
| National Lampoon's Christmas Vacation (10:15 p.m.) | AMC |
Friday, December 22
| | |
| --- | --- |
| Sago Mini Friends – New Year's Steve | Apple TV+ |
| The 25th Annual A Home for the Holidays (8:00 p.m.) | CBS |
| Fit for Christmas (9:00 p.m.) | CBS |
| Prep & Landing (7:00 a.m.) | Freeform |
| Prep & Landing: Naughty vs. Nice (7:30 a.m.) | Freeform |
| Mickey's Twice Upon a Christmas (8:00 a.m.) | Freeform |
| Toy Story That Time Forgot (9:30 a.m.) | Freeform |
| Home Alone (10:00 a.m.) | Freeform |
| Home Alone 2: Lost in New York (12:30 p.m.) | Freeform |
| Noelle (3:10 p.m.) | Freeform |
| Dr. Seuss' The Grinch (5:15 p.m.) | Freeform |
| The Santa Clause (7:15 p.m.) | Freeform |
| The Santa Clause 2 (9:25 p.m.) | Freeform |
| The Santa Clause 3: The Escape Clause (11:55 p.m.) | Freeform |
| 'Twas the Night Before Christmas (4:45 p.m.) | AMC |
| Frosty's Winter Wonderland (5:15 p.m.) | AMC |
| The Year Without a Santa Claus (5:45 p.m.) | AMC |
| The Polar Express (7:00 p.m.) | AMC |
| Elf (9:00 p.m.) | AMC |
| The Polar Express (11:00 p.m.) | AMC |
Saturday, December 23
| | |
| --- | --- |
| Frosty Returns | Paramount+ |
| Mom's Christmas Boyfriend (8:00 p.m.) | Lifetime |
| The Simpsons Holiday Episodes (7:00 a.m.) | Freeform |
| Toy Story That Time Forgot (8:00 a.m.) | Freeform |
| Unaccompanied Minors (8:30 a.m.) | Freeform |
| Miracle on 34th Street (10:30 a.m.) | Freeform |
| Disney's A Christmas Carol (1:05 p.m.) | Freeform |
| Dr. Seuss' The Grinch (3:10 p.m.) | Freeform |
| Home Alone (5:10 p.m.) | Freeform |
| Home Alone 2: Lost in New York (7:40 p.m.) | Freeform |
| Dr. Seuss' How the Grinch Stole Christmas (10:20 p.m.) | Freeform |
| Family Guy Holiday Episodes (1:00 a.m.) | Freeform |
| Fred Claus (2:30 p.m.) | AMC |
| Four Christmases (5:00 p.m.) | AMC |
| Elf (7:00 p.m.) | AMC |
| National Lampoon's Christmas (9:00 p.m.) | AMC |
| Christmas with the Kranks (11:15 p.m.) | AMC |
Sunday, December 24
| | |
| --- | --- |
| OWN Holiday Movie: Christmas Revisited (OWN) | Max |
| A Christmas Letter (7:00 p.m.) | UPtv |
| When Christmas Was Young (9:00 p.m.) | CBS |
| Unaccompanied Minors (7:00 a.m.) | Freeform |
| Mickey's Twice Upon a Christmas (9:05 a.m.) | Freeform |
| Home Alone 2: Lost in New York (10:35 a.m.) | Freeform |
| Tim Burton's The Nightmare Before Christmas (1:15 p.m.) | Freeform |
| Dr. Seuss' How the Grinch Stole Christmas (2:55 p.m.) | Freeform |
| Rudolph the Red-Nosed Reindeer (5:35 p.m.) | Freeform |
| Frosty the Snowman (6:40 p.m.) | Freeform |
| The Santa Clause (7:15 p.m.) | Freeform |
| The Santa Clause 2 (9:25 p.m.) | Freeform |
| The Santa Clause 3: The Escape Clause (11:55 p.m.) | Freeform |
| White Christmas (8:45 a.m.) | AMC |
| Rudolph's Shiny New Year (11:30 a.m.) | AMC |
| Frosty's Winter Wonderland (12:45 p.m.) | AMC |
| 'Twas the Night Before Christmas (1:15 p.m.) | AMC |
| The Year Without a Santa Claus (1:45 p.m.) | AMC |
| The Polar Express (3:00 p.m.) | AMC |
| Christmas with the Kranks (5:00 p.m.) | AMC |
| National Lampoon's Christmas (7:00 p.m.) | AMC |
| Elf (9:15 p.m.) | AMC |
| National Lampoon's Christmas Vacation (11:15 p.m.) | AMC |
| Four Christmases (1:30 a.m.) | AMC |
Monday, December 25
| | |
| --- | --- |
| 90 Day Fiance: Holiday Special 2023, #1 (TLC) | Max |
| Doctor Who Holiday Special: The Church on Ruby Road | Disney+ |
| Mariah Carey: Merry Christmas to All! (9:00 p.m.) | CBS |
| Disney's A Christmas Carol (7:00 a.m.) | Freeform |
| Santa Claus Is Comin' to Town (10:30 a.m.) | Freeform |
| The Santa Clause (11:30 a.m.) | Freeform |
| The Santa Clause 2 (1:30 p.m.) | Freeform |
| Rudolph the Red-Nosed Reindeer (3:30 p.m.) | Freeform |
| Frosty the Snowman (4:30 p.m.) | Freeform |
| Santa Claus Is Comin' to Town (5:00 p.m.) | Freeform |
| Home Alone (6:00 p.m.) | Freeform |
| Home Alone 2: Lost in New York (8:30 p.m.) | Freeform |
| The Santa Clause 3: The Escape Clause (12:00 a.m.) | Freeform |
| Fred Claus (7:30 a.m.) | AMC |
| Four Christmases (10:00 a.m.) | AMC |
| The Polar Express (12:00 p.m.) | AMC |
| Christmas with the Kranks (2:00 p.m.) | AMC |
| National Lampoon's Christmas Vacation (4:00 p.m.) | AMC |
| Elf (6:15 p.m.) | AMC |
| National Lampoon's Christmas Vacation (8:15 p.m.) | AMC |
| Elf (10:30 p.m.) | AMC |
| Fred Claus (12:30 a.m.) | AMC |
Tuesday, December 26
| | |
| --- | --- |
| Four Christmases (4:00 p.m.) | AMC |
| National Lampoon's Christmas Vacation (5:45 p.m.) | AMC |
| Elf (8:00 p.m.) | AMC |
| Christmas with the Kranks (10:00 p.m.) | AMC |
Friday, December 29
| | |
| --- | --- |
| Must Love Christmas (9:00 p.m.) | CBS |
Sunday, December 31
| | |
| --- | --- |
| New Year's Eve Live: Nashville's Big Bash (10:30 p.m.) | CBS |
Specials Available to Stream
| | |
| --- | --- |
| The Bad Guys: A Very Bad Holiday | Netflix |
| Best Christmas Ever | Netflix |
| Christmas as Usual | Netflix |
| The Claus Family 3 | Netflix |
| 12 Dates of Christmas | Prime Video |
| Candy Cane Lane | Prime Video |
| A Christmas in Vermont | Prime Video |
| A Christmas Wedding Tail | Prime Video |
| Christmas Cupid | Prime Video |
| Christmas with the Kranks | Prime Video |
| Deck the Halls | Prime Video |
| Elf Me | Prime Video |
| Eight Crazy Nights | Prime Video |
| Ghosting: The Spirit of Christmas | Prime Video |
| Miracle on 34th Street (1947) | Prime Video |
| Richie Rich's Christmas Wish | Prime Video |
| Same Time, Next Christmas | Prime Video |
| Surviving Christmas | Prime Video |
| The Perfect Holiday | Prime Video |
| Veggietales: Christmas Sing-Along Songs! | Prime Video |
| Veggietales: It's A Meaningful Life | Prime Video |
| Veggietales: Merry Larry and the True Light of Christmas | Prime Video |
| Veggietales: Saint Nicholas – A Story of Joyful Giving | Prime Video |
| Veggietales: The Best Christmas Gift | Prime Video |
| Veggietales: The Little Drummer Boy | Prime Video |
| Veggietales: The Star of Christmas | Prime Video |
| Veggietales: The Toy That Saved Christmas | Prime Video |
| Ernest Saves Christmas | Freevee |
| Exmas | Freevee |
| A Winter Romance | Freevee |
| A Christmas Frequency (Hulu Original) | Hulu |
| Reporting for Christmas (Hulu Original) | Hulu |
| Christmas Comes Twice | Hulu |
| Christmas in Evergreen: Tidings of Joy | Hulu |
| Deck the Halls | Hulu |
| Elf | Hulu |
| Fred Claus | Hulu |
| Four Christmases | Hulu |
| Five Star Christmas | Hulu |
| The Holiday | Hulu |
| It's Beginning to Look a Lot Like Christmas | Hulu |
| Jingle Bell Bride | Hulu |
| The Mistle-Tones | Hulu |
| National Lampoon's Christmas Vacation | Hulu |
| The Nutcracker | Hulu |
| The Polar Express | Hulu |
| A Timeless Christmas | Hulu |
| Arthur Christmas | Max |
| A Christmas Carol (1939) | Max |
| Christmas Cookie Challenge, Seasons 1-5 (Food Network) | Max |
| Christmas in Connecticut | Max |
| Christmas Eve on Sesame Street | Max |
| A Christmas Story | Max |
| A Dennis the Menace Christmas | Max |
| The Dog House: UK, Christmas Special | Max |
| The Elf of the Shelf: Sweet Showdown, Season 1 (Food Network) | Max |
| Elf | Max |
| Elmo Saves Christmas | Max |
| Four Christmases | Max |
| Fred Claus | Max |
| Holiday Affair | Max |
| Holiday Baking Championship, Seasons 1-9 (Food Network) | Max |
| Holiday Baking Championship: Gingerbread Showdown, Seasons 1-2 (Food Network) | Max |
| Holiday Wars, Seasons 1-4 (Food Network) | Max |
| Jack Frost | Max |
| Kids Baking Championship: Reindeer Games (Food Network) | Max |
| Tom & Jerry Snowman's Land | Max |
| Once Upon a Sesame Street Christmas | Max |
| Prancer: A Christmas Tale | Max |
| A Sesame Street Christmas Carol | Max |
| Winter's Tale | Max |
| The Great Holiday Bake War (2022) (OWN) | Max |
| A Sisterly Christmas (2021) (OWN) | Max |
| Baking Christmas (2019) (OWN) | Max |
| Candy Coated Christmas (Food Network) | Max |
| Carole's Christmas (2019) (OWN) | Max |
| Cooking Up Christmas (2020) (OWN) | Max |
| Designing Christmas (HGTV) | Max |
| First Christmas (2020) (OWN) | Max |
| Fixer to Fabulous: Holiday Surprise, Season 1 (HGTV) | Max |
| Food Network: White House Thanksgiving (Food Network) | Max |
| Help! I Wrecked My House, Season 4 (HGTV) | Max |
| Holiday Crafters Gone Wild, Season 1 (HGTV) | Max |
| Holiday Party with Andrew and Zoe (Magnolia Network) | Max |
| Home Town: Ben's Holiday Workshop, Season 1 (HGTV) | Max |
| Home Town: Christmas in Laurel, Season 1 (HGTV) | Max |
| House Hunters: Ho Ho Home (HGTV) | Max |
| Macy's Thanksgiving Cake Spectacular, Season 1 (Food Network) | Max |
| My Lottery Dream Home: Holiday Extravaganza, Season 1 (HGTV) | Max |
| One Fine Christmas (2019) (OWN) | Max |
| Our OWN Christmas (OWN) | Max |
| OWN Holiday Movie: A Christmas Serenade (OWN) | Max |
| Santa's Baking Blizzard, Season 1 (Food Network) | Max |
| Selena+Chef: Home for the Holidays (Food Network) | Max |
| Surprising Santa Claus (HGTV) | Max |
| The Big Holiday Food Fight, Season 1 (OWN) | Max |
| Turkey Day Sunny's Way, Season 1 (Food Network) | Max |
| Ultimate Hanukkah Challenge, Season 1 (Food Network) | Max |
| Ultimate Thanksgiving Challenge, Seasons 1-2 (Food Network) | Max |
| Buddy vs. Christmas, Season 1 (Food Network) | Max |
| Buddy vs. Duff Holiday, Season 1 (Food Network) | Max |
| White House Christmas, 1998-2021 (HGTV) | Max |
| Dashing Through the Snow | Disney+ |
| The Ghost and Molly McGee: White Christmess/Perfect Day (S2, 1 episode) | Disney+ |
| Isabel Preysler: My Christmas | Disney+ |
| Mickey's Christmas Tales | Disney+ |
| The Shepherd | Disney+ |
| Villains of Valley View: A Very Villain Christmas  (S2, 1 episode) | Disney+ |
| A Charlie Brown Thanksgiving | Apple TV+ |
| Frog and Toad – Christmas Eve | Apple TV+ |
| Hannah Waddingham: Home for Christmas | Apple TV+ |
| Shape Island – The Winter Blues | Apple TV+ |
| The Snoopy Show – Happiness is Holiday Traditions | Apple TV+ |
| Spirited – Sing-along | Apple TV+ |
| The Velveteen Rabbit | Apple TV+ |
| 5 More Sleeps 'Till Christmas | Peacock |
| Almost Christmas | Peacock |
| Christmas with a Kiss (Hallmark) | Peacock |
| Dr. Seuss' The Grinch (2018) | Peacock |
| Genie | Peacock |
| The Legend of Frosty the Snowman | Peacock |
| Little Drummer Boy | Peacock |
| Mr. Magoo's Christmas Carol | Peacock |
| My Norwegian Holiday (Hallmark) | Peacock |
| A Not So Royal Christmas (Hallmark) | Peacock |
| This Christmas | Peacock |
| Time for Her to Come Home for Christmas (Hallmark) | Peacock |
| Zoey's Extraordinary Christmas | Peacock |
| White House Christmas Special, 2022 (HGTV) | Paramount+ |
| 12 Dates of Christmas | Paramount+ |
| Bad Santa | Paramount+ |
| Bad Santa 2 | Paramount+ |
| Christmas by Candlelight | Paramount+ |
| Christmas Casanova | Paramount+ |
| The Christmas Classic | Paramount+ |
| Christmas Cupid | Paramount+ |
| Christmas Eve | Paramount+ |
| Christmas in Scotland | Paramount+ |
| Coupled Up for Christmas | Paramount+ |
| Ernest Saves Christmas | Paramount+ |
| Happy Christmas | Paramount+ |
| Just Like a Christmas Movie | Paramount+ |
| Mistletoe Ranch | Paramount+ |
| Santa Stole Our Dog | Paramount+ |
| Saving Christmas | Paramount+ |
| SpongeBob Twas the Night Before SpongeMas | Paramount+ |
| Teaching Mrs. Tingle | Paramount+ |
| A Very English Christmas | Paramount+ |
| A Very Harold & Kumar Christmas | Paramount+ |
| A Vineyard Christmas | Paramount+ |