Features
Bridgerton Recap: Anthony, Lord Featherington, & Lady Whistledown Revealed
As season two arrives, here's a refresher on the balls, romances, intrigues and scandals of Bridgerton season one. Spoilers!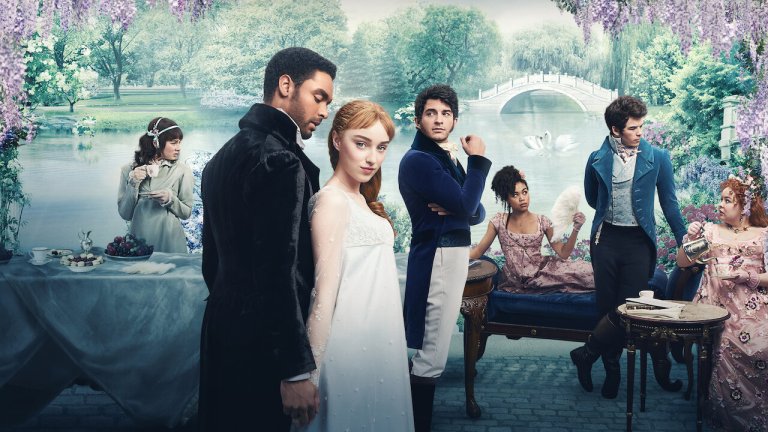 Warning: contains spoilers for Bridgerton season one.
December 2020 was a hundred years ago at least, so we can all be forgiven for not quite remembering everything that happened in Bridgerton's first season. Daphne and the Duke were but one spoke in the show's fancy wheel of romance, intrigue, scandal and pastries shaped like swans. There was also the fake-French modiste and the saucy opera singer, the gambling Lord murdered over his debts, the revelation of who was behind the titillating pen of anonymous social commentator Lady Whistledown, Queen Charlotte's sad marriage, the nasty Cowpers, the nice boxer and his wife, and much more.
With season two out now, here's a memory-jog on the major stories you'll need to recall. Spoilers.
Anthony Bridgerton and Opera Singer Siena Rosso
The Right Honourable The Viscount Bridgerton – Anthony to his friends – is season two's romantic lead as the story pivots away from Regé-Jean Page and Phoebe Dynevor's Simon and Daphne, and towards Anthony's search for a wife.
In season one, the eldest Bridgerton Anthony (Jonathan Bailey) refused to bow to pressure from his mother to marry, instead watching over his younger sister's society debut and attempting to broker her match. Anthony was secretly (though not so secretly as his mother eventually found out) seeing Siena Rosso (Sabrina Bartlett), an opera singer with whom he enjoyed a robust sexual relationship, but whom would never prove socially respectable enough to become his Viscountess.
After Lady Violet discovered Anthony and Siena's affair, he broke things off, and Siena did everything she could to drive him mad with jealousy. That worked, and their affair resumed to the point that Anthony promised that he would bring their relationship into the open. This time, Siena refused him, saying that he needed to let her go and she needed to make practical plans for her future.
Lord Featherington's Death
Archibald Featherington (played by actor and author Ben Miller) was a gambling addict with a line in withering put-downs for his wife Portia and three daughters Prudence, Philippa and Penelope. He was in serious debt throughout season one, and having gambled away his girls' dowries, attempted to sabotage their chances of marriage to avoid having to admit to his financial situation. In one final attempt to regain his losses, he paid boxer Will (Martins Imhangbe) to throw a fight and placed a hefty bet including the deeds to the family home on his rival 'The Beast'. Needing to provide for his family, Will agreed to lose the match, took a dive, and Lord Featherington raked in his winnings. The bookies with which Featherington had placed the bet though, smelt a rat and later ambushed the Lord at a brothel, forcing him to drink an overdose of laudanum. He died, leaving his wife and daughters penniless, with no dowries. At the beginning of season two, the Featherington estate is entailed on a male heir, upon whom the four women and maid Varley are now reliant for their futures.
Lady Whistledown Revealed
In the closing moments of season one, the mysterious Lady Whistledown – the hitherto anonymous writer of a social pamphlet detailing the gossip of "the ton" – was revealed to be Penelope Featherington (Nicola Coughlan). So far, nobody knows Penelope's secret, even Queen Charlotte (Golda Rosheuvel), who was determined to discover Lady Whistledown's identity, and set Penelope's best friend Eloise Bridgerton on the case. Eloise failed to unveil Penelope in season one, disappointing the queen, but in season two, the search continues…
Benedict Bridgerton and the Modiste Madame Delacroix
The second Bridgerton son, Benedict (the eight kids are named alphabetically from A to H, Anthony to Hyacinth) is a painter drawn to the bohemian world. In season one, he attended a saucy party where he ended up having a threesome with Lucy Granville – the wife of closeted gay man Henry Granville – and Genevieve Delacroix, the most fashionable dressmaker in Mayfair. Benedict and Genevieve continued their affair after the party. Like Penelope Featherington, Madame Delacroix also harboured a secret in season one – the French modiste is actually English and faking her accent to give her dressmaking business a bit of je ne sais quoi. Marina Thompson worked it out in season one when she had her own secret – an illegitimate pregnancy – to conceal, but who'll be next?
Penelope, Colin and Marina Thompson
Poor Penelope is hopelessly in love with her best friend's brother Colin Bridgerton, who so far sees her as only a friend. In season one, Colin's head was turned by the Featherington's new house guest Marina Thompson, a beautiful young lady making her social debut under the Featheringtons' sponsorship (actually a deal the profligate gambling lord was forced to make to settle a family debt). The fly in the ointment was that Marina came to the Featherington house already pregnant by a soldier who was overseas fighting and who had not replied to her letters. Fearing a scandal in their home, Portia and Varney forged a cruel letter to Marina from the soldier refusing to take any responsibility for the baby, which convinced a reluctant Marina to accept a proposal from the very earnest Colin Bridgerton. Colin and Marina announced their engagement, breaking Penelope's heart, and prompting her to reveal Marina's secret pregnancy to the town through Lady Whistledown's latest pamphlet. Colin told Marina if she'd only come to him with the truth, he'd have married her despite the pregnancy.
Daphne to the rescue! She used her connections to contact Marina's soldier's family, and learned that he had been killed in battle but had left behind a half-written letter proposing that he and Marina marry and raise their child. The soldier's brother Philip, Lord Crane, then proposed to Marina, doing the honourable thing in his brother's memory, and she accepted. That left Penelope relieved, Colin heart-broken and Marina and her child with a place in the world. Colin then took the opportunity to go travelling on a grand tour of Europe, leaving Penelope behind.
Philippa Featherington and Mr Finch
Albion Finch proposed to Philippa Featherington, but her father sabotaged the arrangement, fearing the discovery that he had gambled away his daughters' dowries. That left Philippa attached to Mr Finch, but unmarried until a dowry could be provided.
Lady and Cressida Cowper
You'll remember the blonde queen bees Lady and Cressida Cowper for their ardent pursuit of the Prussian Prince Friedrich and initially, the Duke of Hastings, in season one? They're back in season two, making snide remarks, trying to catch Cressida a husband, and causing trouble all over again.
Daphne, Simon and Prince Friedrich
It's not of particular relevance to season two as Regé-Jean Page, the actor who played the Duke of Hastings in season one, is no longer among the cast, but as Daphne's character endures on-screen, here's their history in a nutshell: Simon refused to ever marry but was continually hounded by society mothers pushing their daughters on him, and as debutante Daphne did not wish to marry the man her brother Anthony had selected for her, they teamed up to create the illusion of a fake attachment. Soon though, they developed real feelings. After some business that almost saw Daphne married to Prussian Prince Friedrich, she and Simon were forced into a quickie marriage to save her reputation, and she did so on the understanding that he wasn't able to have children. In fact, Simon had merely decided against having children due to his hatred of his cruel father, having sworn never to continue the family name. Simon used Daphne's lack of sex education to ensure she didn't become pregnant, until she discovered the truth and confronted him. It all worked out in the end, Simon started to heal from the pain his father had inflicted on him, and in the finale, Daphne gave birth to their son.
Bridgerton Season 2 is available to stream now on Netflix.