Features
Bridgerton Season 2's Corgi is More Important Than You Think
Corgis as companions to British monarchy is a modern association—one poised to be put to good use in Bridgerton Season 2.
This Bridgerton article contains no spoilers for Season 2 or the novels. Any novel quotes and paraphrased details are solely for additional context for promotional images/descriptions.
Netflix recently released new photos teasing what's to come on Bridgerton Season 2, which is scheduled for a March 25th release. The second season of the streamer's massively popular show will adapt The Viscount Who Loved Me, the second book in Julia Quinn's bestselling romance series, and fans of the series are eagerly anticipating the love story of Kate (Simone Ashley) and Anthony Bridgerton (Jonathan Bailey). We got some photos of Kate and Anthony in the stills release, but animal lovers gravitated towards the photo of Kate, Edwina Sharma (Charithra Chandran), and an adorable corgi book-readers know as Newton.
For Bridgerton fans who did not read the book, the dog is definitely an important detail. Last season, Queen Charlotte's Pomeranians were clearly accessories to her royal lifestyle. Kate's devotion to her dog on the other hand is an important part of her character. In The Viscount Who Loved Me, Kate's animal friend is first described as "Newton… a somewhat overweight corgi." Newton greets visitors, and often his first impressions of guests will become Kate's first impression as well. Newton's barks, belly flops, and climbing onto shins are the way she determines a person's overall demeanor. She also pays close attention to how Newton reacts to gentleman callers and potential suitors.
Did corgis exist in Regency Era England? Yes. (Sorry, historical accuracy sticklers—this is one thing Bridgerton cannot be attacked for.) There are two major breeds of corgis: the Pembroke corgi, which Newton is, and the Cardigan Welsh corgi. Both breeds are from Wales and documentation for corgis first appears in 1107. They were initially bred for herding cattle and sheep. In the Regency Era, however, corgis were not as common as other breeds as companion dogs to the elite classes. Jane Austen's Mansfield Park features a pug owner. Pomeranians and various terrier breeds were also common.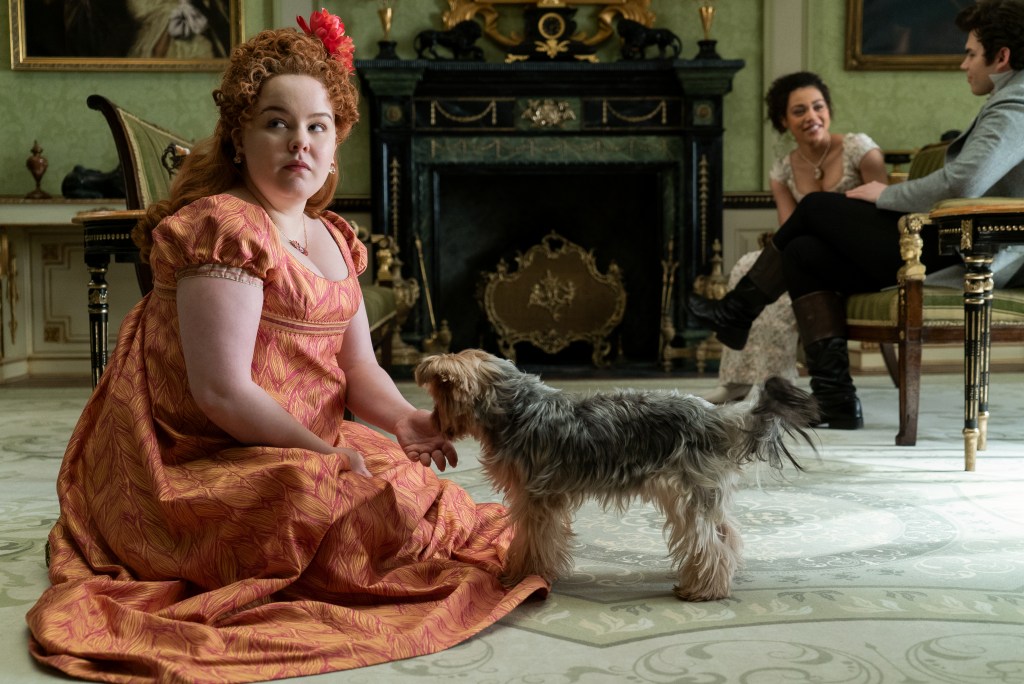 If chonky corgis were not a fad in Regency England, where did Julia Quinn get the idea to write Kate as owning a corgi? The association of corgis with the British monarchy and elite is a more modern invention. Queen Elizabeth II is well known for breeding and keeping Pembroke corgis by her side. In 1933, the Windsors acquired Dookie and Jane, the first of many royal corgis. Throughout its seasons, The Crown has shot many scenes in which corgis follow the Queen around. (Olivia Colman said in an interview that Lily, one of the corgis used in Series 4, was quite the troll on the set).
Aside from Newton, there are some more interesting character tidbits about Kate based on these photos. In the photo with Newton, Kate is wearing a cerulean blue Spencer jacket with jacquard embroidery. This jacket is very similar in fashion to a few of Lady Danbury's jackets from Season 1. There is also the outfit Kate is wearing while shooting with the Bridgerton brothers. Kate in the novel loved lounging around with Newton but she also has a feisty streak. She doesn't shrink away from challenges, especially from potential suitors. Novel readers and show-only fans alike will definitely appreciate that Kate is a different sort of leading lady than Daphne in Season 1.
Drawing upon this modern and more historical imagery is important as Bridgerton is shifting the backstory on Kate's family away from what was in the novel. Writers have already revealed that they chose to feature the Sharmas as being elites with South Asian ancestry.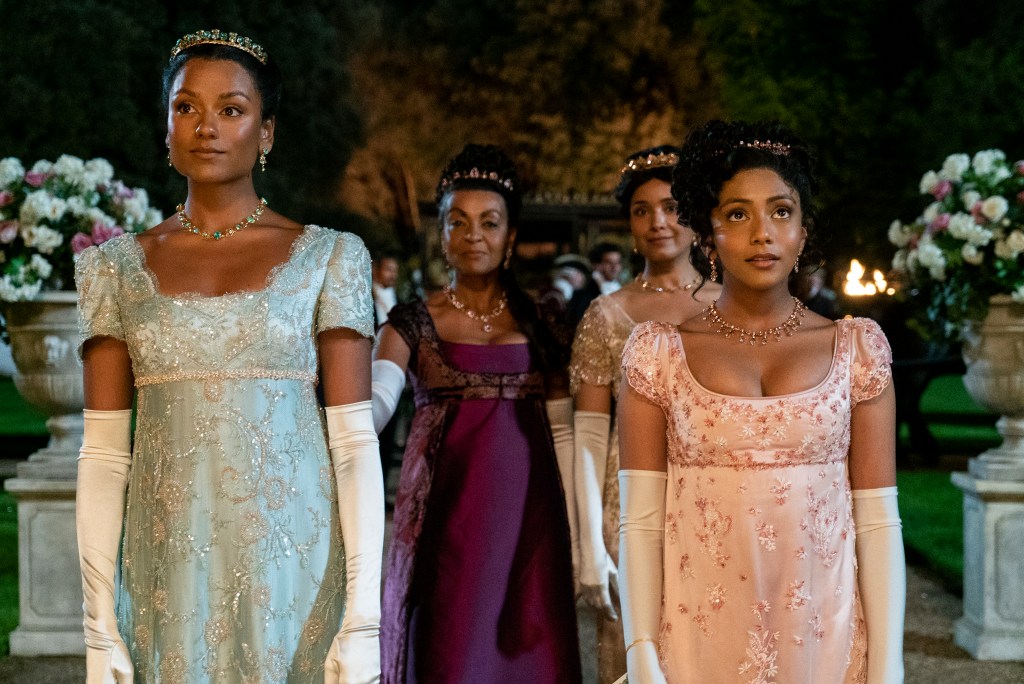 Historians and pop culture critics alike have already pointed out that these changes are historically accurate. For viewers that are less familiar with the history, these pictures of Kate and Edwina with intricately embroidered dresses and Newton as a lap dog are clearly designed to normalize the world of Bridgerton as a place where elites of color are completely normalized. Will the series address the way the Regency Era set the stage for the development of imperialism in India in later eras? That's still up in the air.
Dog lovers and devoted Bridgerton fans alike are already falling in love with these teaser photos. What can fans expect from Newton this season? Lots of barking, looking super cute as the Sharmas talk to guests, and even some swimming action. Will Kate's suitors pass the all-important Newton Test? We'll find out on March 25th!