Features
Black Mirror Season 6 Soundtrack: Songs Call Back to the Series' Past
With songs from artists like Art Garfunkel, Saweetie, Muse, Boney M, and more, the Black Mirror season 6 soundtrack is full of surprises.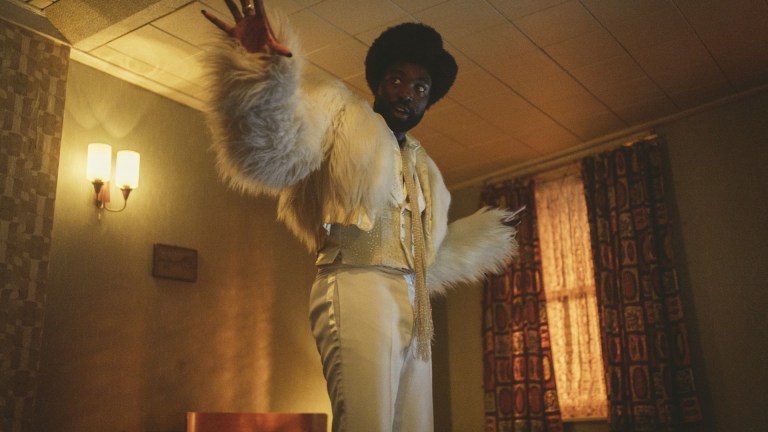 This article contains spoilers for season 6 of Black Mirror.
The long-awaited return of Black Mirror has finally arrived, and with it a soundtrack of songs as varied as the stories this show tells. Season 6 features the return of an Irma Thomas classic, a Muse song known for its ties to the best baseball scene in cinema, Art Garfunkel's emotional Watership Down tune, and so many others.
Here are all of the songs featured throughout this season of Black Mirror:
Episode 1 – Joan is Awful
"Anyone Who Knows What Love Is (Will Understand)" – Irma Thomas
The Irma Thomas song "Anyone Who Knows What Love Is (Will Understand)" has become a sort of easter egg in Black Mirror, with the song appearing at least once per season. In the first episode of season six "Joan is Awful," the song can be heard playing when Joan (Annie Murphy) first walks into the restaurant to meet Mac (Rob Delaney) for drinks. After a four year hiatus, it feels right that this song plays so early in the first episode. Even though each episode of Black Mirror is different, "Anyone Who Knows What Love Is (Will Understand)" is a great way to bring us back into the dystopian universe the show takes place in.
Other Notable Songs:
Episode 2 – Loch Henry
"Give It Up" – KC and the Sunshine Band
"People in the Front Row" – Melanie
"Ultraviolet" – George FitzGerald
Episode 3 – Beyond the Sea
"La Mer" – Charles Trenet
"Quand on n'a que l'amour" – Jacques Brel
Episode 4 – Mazey Day
"Supermassive Black Hole" – Muse
"1 Thing" – Amerie
"I Don't Feel Like Dancin'" – Scissor Sisters
"My Give a Damn's Busted" – Jo Dee Messina
Episode 5 – Demon 79
"Rasputin" – Boney M
The Russian Monk who this Boney M song is named after has become a sort of mythical figure with rumored ties to the occult and is well-known for supposedly surviving being poisoned, shot, and thrown into a river. For being about such a mysterious figure, Boney M's Rasputin is a surprisingly upbeat bop and the perfect song to lead up to the demon Gaap's (Paapa Essiedu) appearance. Nida (Anjana Vasan) is clearly enamored by the group's performance of the song on TV, so it makes sense that Gaap would use their costuming to make Nida feel more at ease.
"Ma Baker" – Boney M
The second Boney M song to appear in this episode, "Ma Baker" plays while Nida storms out of the store she works at. The kick-ass vibes of the song signify that Nida has shed her meek demeanor and is ready to kill some dudes to prevent the end of the world. With lyrics like "Here is a special bulletin, Ma Baker is the FBI's most wanted woman. Her photo is hanging on every post office wall. If you have any information about this woman, please contact the nearest police station," it's hard to think of a more appropriate song to show Nida going all-in on Gaap's mission.
Other Notable Songs:
"Bright Eyes" – Art Garfunkel
"I Don't Like Mondays" – The Boomtown Rats
"One Step Beyond" – Madness
"Gangsters" – The Specials
"Tiptoes" – Madness
"Lucky Number" – Lene Lovich
"Hit Me With Your Rhythm Stick" – Ian Dury and The Blockheads
"When I Need You" – Leo Sayer
Black Mirror season 6 is now streaming on Netflix